Researchers at Yale University in the US are set to initiate a clinical trial of ibudilast (MN-166) to treat acute respiratory distress syndrome (ARDS) in Covid-19 patients.
Free Case Study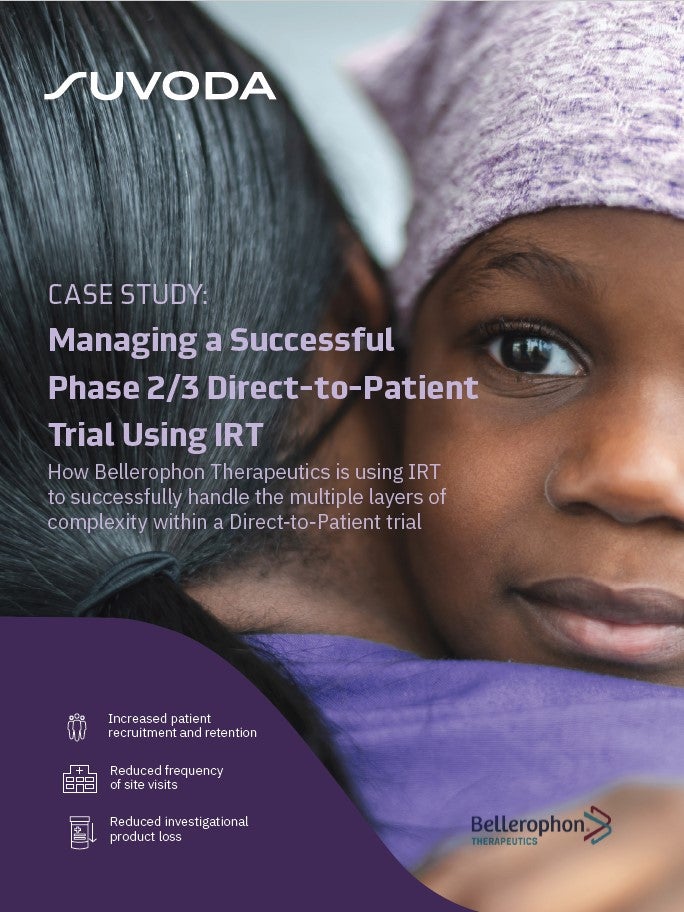 Direct-to-Patient Trials: How IRT Plays an Important Role in Bellerophon's Direct-to-Patient Trials
As the industry strengthens its focus on patient centricity, Direct-to-Patient clinical trials have emerged as a popular trial design that have the potential to increase patient recruitment and retention. IRT plays a crucial role in the success of a Direct-to-Patient trial. Because drug supplies are being managed and shipped from distribution facilities directly to patients' homes, a sponsor must have a high-quality system in place to accurately track the chain of custody, ensure patient-blinding and handle other logistical challenges. What You Will Learn Benefits and challenges associated with the Direct-to-Patient model Bellerophon's top considerations when implementing this trial design How IRT can equip study teams to successfully track chain of custody, ensure patient blinding, and handle logistical challenges
by Suvoda
The trial will be conducted at Yale-New Haven Hospital to assess the drug's effectiveness.
Ibudilast, which has approvals in Japan and Korea to treat asthma, demonstrated promise in decreasing inflammation related ARDS in mouse models.
The researchers, part of Yale's Advanced Therapies Group that formed identify and study potential Covid-19 treatments, partnered with MediciNova to perform the trial.
MediciNova was developing ibudilast as a multiple sclerosis and neuroinflammation treatment before focusing on the novel coronavirus infection.
The Covid-19 trials will have a controlled design to asses the safety and efficacy of the drug.
Researchers expect to soon receive US Food and Drug Administration (FDA) approval to treat Covid-19 pneumonia before disease progresses to severe respiratory distress and requires mechanical ventilation.
Yale School of Medicine rheumatology, allergy and immunology chief Dr Richard Bucala said: "We are excited for this partnership opportunity to initiate this study, given the high morbidity and mortality of Covid-19, and the present lack of any evidence-based therapies.
"We additionally hope that insights from this trial will help us to better understand how ARDS develops, irrespective of its underlying cause."
Ibudilast is an inhibitor of the MIF gene, which regulates the immune response known to drive inflammation and the 'cytokine storm'.
Over-expression of macrophage inhibitory factor (MIF) is linked to multiple disease, including ARDS, asthma, rheumatoid arthritis, lupus and multiple sclerosis.
Yale University medicine assistant professor Maor Sauler noted: "We have designed a placebo-controlled trial to see if blocking the effects of macrophage inhibitory factor, or MIF, can protect patients with Covid-19 from developing ARDS."
Free Case Study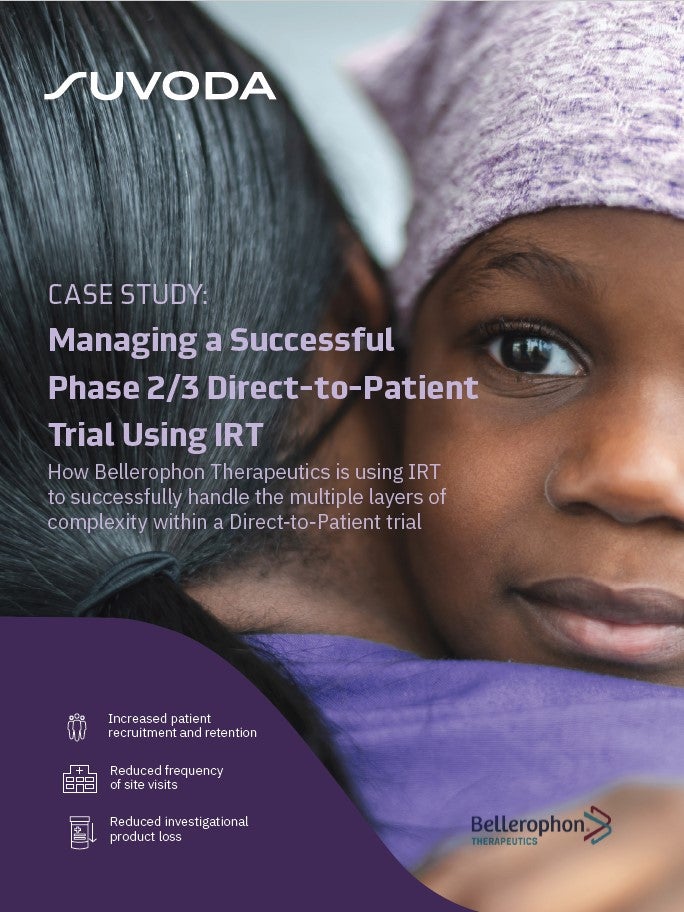 Direct-to-Patient Trials: How IRT Plays an Important Role in Bellerophon's Direct-to-Patient Trials
As the industry strengthens its focus on patient centricity, Direct-to-Patient clinical trials have emerged as a popular trial design that have the potential to increase patient recruitment and retention. IRT plays a crucial role in the success of a Direct-to-Patient trial. Because drug supplies are being managed and shipped from distribution facilities directly to patients' homes, a sponsor must have a high-quality system in place to accurately track the chain of custody, ensure patient-blinding and handle other logistical challenges. What You Will Learn Benefits and challenges associated with the Direct-to-Patient model Bellerophon's top considerations when implementing this trial design How IRT can equip study teams to successfully track chain of custody, ensure patient blinding, and handle logistical challenges
by Suvoda