Yale School of Medicine has announced a randomised clinical trial led by the Yale Cardiovascular Research Group (YCRG) to study a therapy combination to reduce complications in Covid-19 patients.
Free Case Study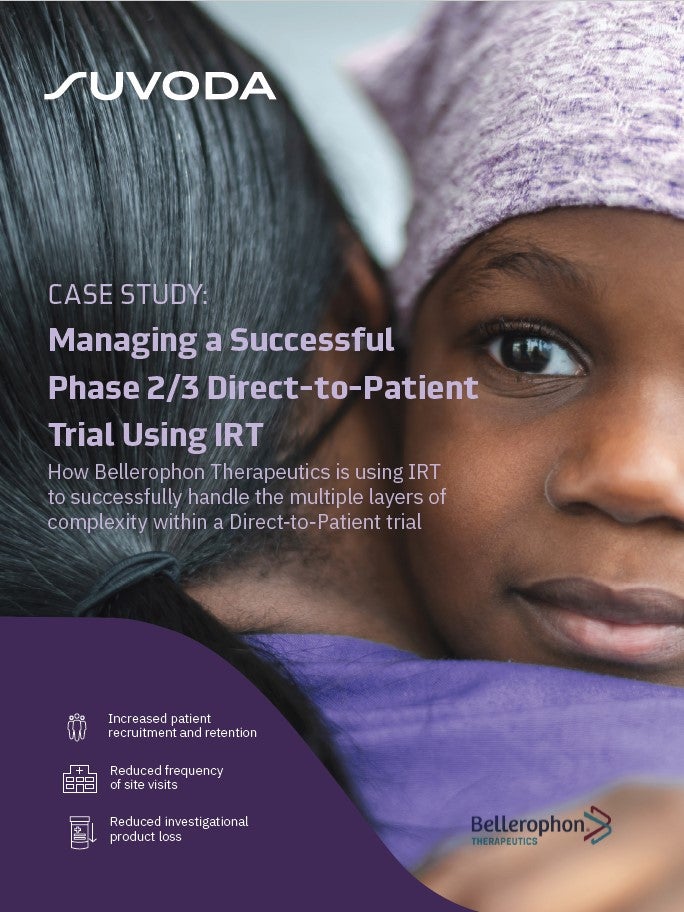 Direct-to-Patient Trials: How IRT Plays an Important Role in Bellerophon's Direct-to-Patient Trials
As the industry strengthens its focus on patient centricity, Direct-to-Patient clinical trials have emerged as a popular trial design that have the potential to increase patient recruitment and retention. IRT plays a crucial role in the success of a Direct-to-Patient trial. Because drug supplies are being managed and shipped from distribution facilities directly to patients' homes, a sponsor must have a high-quality system in place to accurately track the chain of custody, ensure patient-blinding and handle other logistical challenges. What You Will Learn Benefits and challenges associated with the Direct-to-Patient model Bellerophon's top considerations when implementing this trial design How IRT can equip study teams to successfully track chain of custody, ensure patient blinding, and handle logistical challenges
by Suvoda
YCRG director and medicine professor Alexandra Lansky is leading the COLSTAT clinical trial (Colchicine/Statin for the Prevention of COVID-19 Complications).
The trial will combine two broadly available medications, colchicine and rosuvastatin, to help reduce complications in Covid-19 infected patients.
For the study, a total of 466 patients will be enrolled across five different Yale New Haven Hospital sites for identifying a potential treatment for Covid-19.
Both medications have been used for decades and do not have adverse effects on patients infected with Covid-19.
Yale noted that the pandemic had sent shockwaves all over the global healthcare community, creating an urgent requirement for potential therapies to help infected patients.
Lansky and Tayyab Shah, a resident at Yale New Haven Hospital, have developed an idea to combine colchicine with the cholesterol-lowering medication rosuvastatin.
This was developed depending on an early report from the University of Athens published on 24 June stating the clinical benefit of colchicine.
Colchicine, an anti-inflammatory drug used to treat gout, inhibits the protein-coding genes on a molecular level and has the potential to reduce the SARS-CoV-2-induced inflammatory response.
Meanwhile, statins have direct anti-inflammatory effects by reducing chemokine or signalling proteins and adhesion molecules and preventing the hyperactivation of T-cells.
By combining the two with standard care, colchicine and rosuvastatin could reduce complications associated with acute respiratory distress syndrome (ARDS) and myocardial injury or heart attack.
Alexandra Lansky said: "Everyone has come together and stepped up to the task of setting new standards, with enthusiasm and excitement to be part of a common mission to help win the battle against Covid-19."
Free Case Study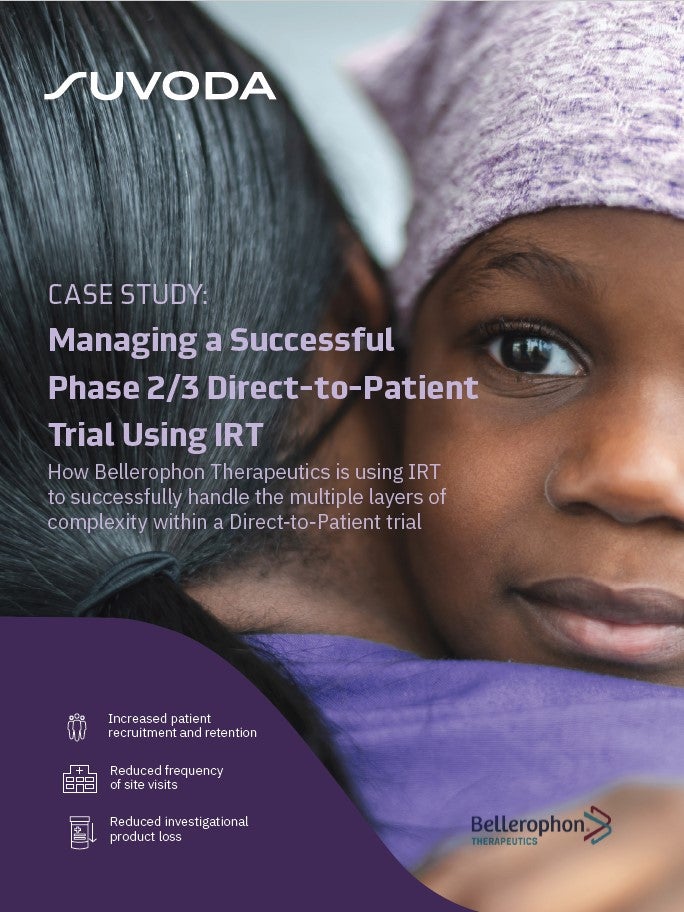 Direct-to-Patient Trials: How IRT Plays an Important Role in Bellerophon's Direct-to-Patient Trials
As the industry strengthens its focus on patient centricity, Direct-to-Patient clinical trials have emerged as a popular trial design that have the potential to increase patient recruitment and retention. IRT plays a crucial role in the success of a Direct-to-Patient trial. Because drug supplies are being managed and shipped from distribution facilities directly to patients' homes, a sponsor must have a high-quality system in place to accurately track the chain of custody, ensure patient-blinding and handle other logistical challenges. What You Will Learn Benefits and challenges associated with the Direct-to-Patient model Bellerophon's top considerations when implementing this trial design How IRT can equip study teams to successfully track chain of custody, ensure patient blinding, and handle logistical challenges
by Suvoda