YPrime has acquired software development company Tryl to expand its expertise to support decentralised clinical trials.
Free Case Study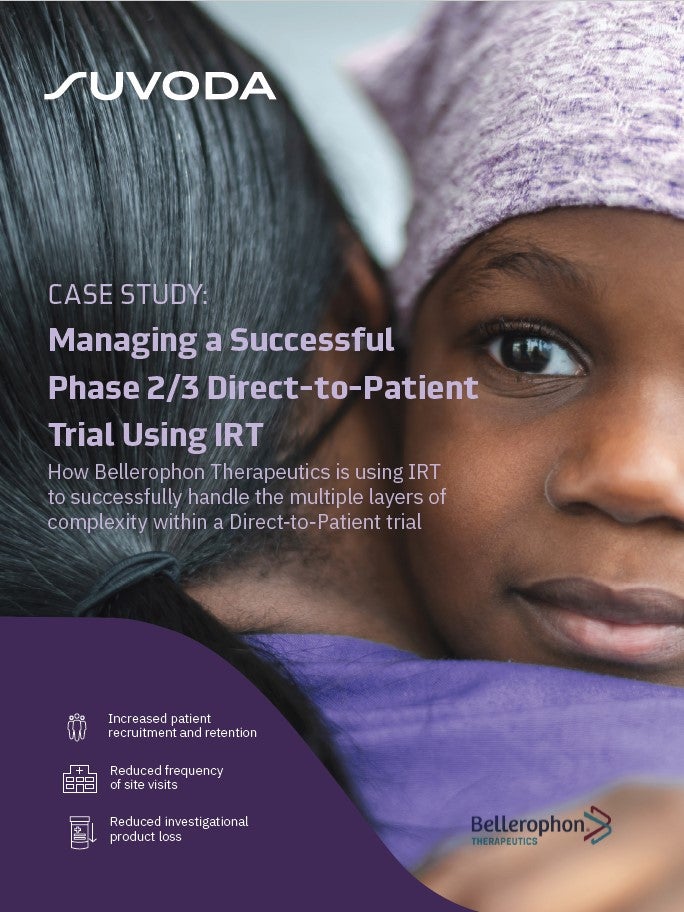 Direct-to-Patient Trials: How IRT Plays an Important Role in Bellerophon's Direct-to-Patient Trials
As the industry strengthens its focus on patient centricity, Direct-to-Patient clinical trials have emerged as a popular trial design that have the potential to increase patient recruitment and retention. IRT plays a crucial role in the success of a Direct-to-Patient trial. Because drug supplies are being managed and shipped from distribution facilities directly to patients' homes, a sponsor must have a high-quality system in place to accurately track the chain of custody, ensure patient-blinding and handle other logistical challenges. What You Will Learn Benefits and challenges associated with the Direct-to-Patient model Bellerophon's top considerations when implementing this trial design How IRT can equip study teams to successfully track chain of custody, ensure patient blinding, and handle logistical challenges
by Suvoda
Tryl's patient engagement solution combines personalisation and applied behavioural science to increase engagement, cut down dropouts, and provide results in clinical trials. 
With the Tryl takeover, YPrime will gain access to all the development expertise, staff and intellectual properties and will merge with Patient Engagement Technologies solutions of the latter.
The tools of Tryl offer a tailored, predictive and relative experience to the complete journey of the patient.
Furthermore, its engagement score could lower the rate of patient dropouts. 
YPrime CEO Shawn Blackburn said: "YPrime's major priority has always been to anticipate the needs of tomorrow's clinical trials and create powerful eClinical tools that simplify the lives of sponsors, sites, and patients.
"This combination with Tryl helps us leap ahead in fulfilling our vision of creating the industry's first-of-its-kind solution to help keep patients more informed and engaged throughout the entire clinical trial process, especially as our industry accelerates toward decentralised clinical trial models."
The Tryl team uses established behavioural principles from other industries such as professional sports and consumer finance to boost patient adherence to trial protocols.
Its predictive analytics aid clinicians to intervene before the dropout of the study subjects. This method lowers the burden of participants while also increasing value for sponsors as well as researchers.
Tryl CEO Ian Greenfield said: "An ever-increasing focus on patient centricity demands an integrated approach to how patients are engaged.
"YPrime has a strong vision for the future and by bringing together offerings from our two companies, we can create a novel solution that takes head on the most pressing challenges associated with attracting, engaging, and retaining patients."
Free Case Study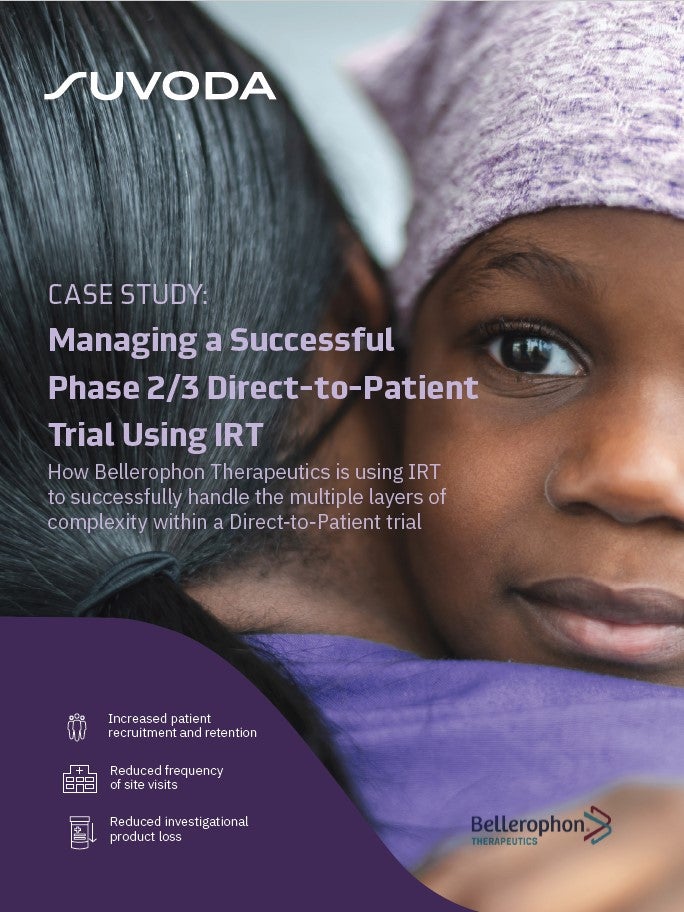 Direct-to-Patient Trials: How IRT Plays an Important Role in Bellerophon's Direct-to-Patient Trials
As the industry strengthens its focus on patient centricity, Direct-to-Patient clinical trials have emerged as a popular trial design that have the potential to increase patient recruitment and retention. IRT plays a crucial role in the success of a Direct-to-Patient trial. Because drug supplies are being managed and shipped from distribution facilities directly to patients' homes, a sponsor must have a high-quality system in place to accurately track the chain of custody, ensure patient-blinding and handle other logistical challenges. What You Will Learn Benefits and challenges associated with the Direct-to-Patient model Bellerophon's top considerations when implementing this trial design How IRT can equip study teams to successfully track chain of custody, ensure patient blinding, and handle logistical challenges
by Suvoda