Zelira Therapeutics has reported positive data from the Phase I a/I I b clinical trial of medicinal cannabis for the treatment of insomnia.
Free Case Study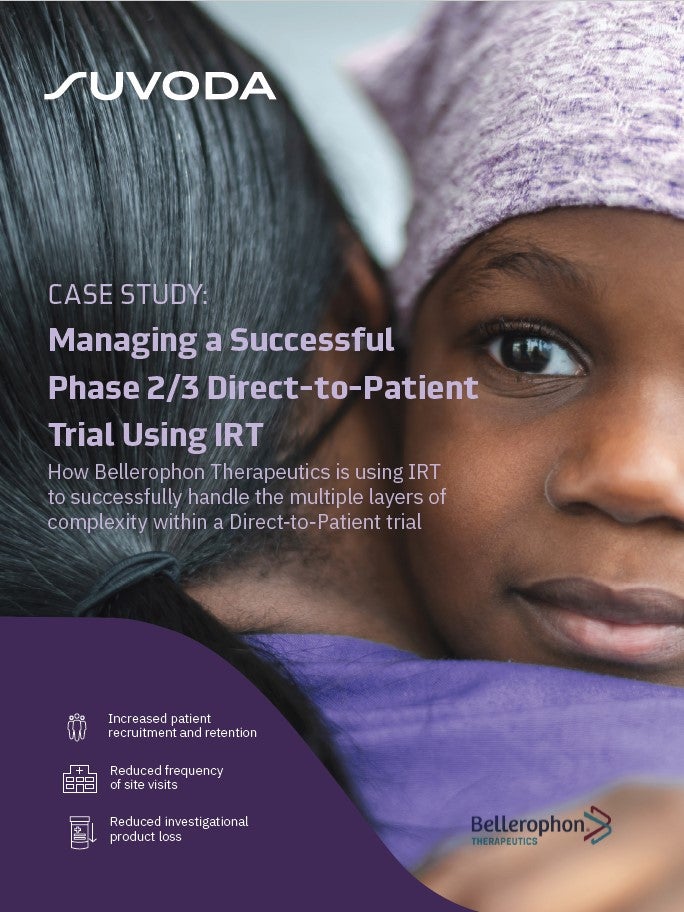 Direct-to-Patient Trials: How IRT Plays an Important Role in Bellerophon's Direct-to-Patient Trials
As the industry strengthens its focus on patient centricity, Direct-to-Patient clinical trials have emerged as a popular trial design that have the potential to increase patient recruitment and retention. IRT plays a crucial role in the success of a Direct-to-Patient trial. Because drug supplies are being managed and shipped from distribution facilities directly to patients' homes, a sponsor must have a high-quality system in place to accurately track the chain of custody, ensure patient-blinding and handle other logistical challenges. What You Will Learn Benefits and challenges associated with the Direct-to-Patient model Bellerophon's top considerations when implementing this trial design How IRT can equip study teams to successfully track chain of custody, ensure patient blinding, and handle logistical challenges
by Suvoda
The trial, which was conducted at University of Western Australia (UWA) Centre for Sleep Science, met the primary and secondary endpoints.
During the study, the company's cannabis formulation ZTL-101 was assessed for its efficacy in treating patients with chronic insomnia symptoms.
ZTL-101 was given to 23 participants for 14 nights and was followed by 14 nights of placebo. Each participant received 0.5ml of 11.5mg total cannabinoids or 1ml of 23mg total cannabinoid sublingually.
According to the trial data, the medication was well-tolerated without any serious adverse events.
Treatment with ZTL-101 was observed to be dose responsive, with a statistically significant decrease in I SI scores found with all doses compared to placebo.
The medication also led to an improvement in time spent asleep and sleep quality, as well as a decrease in wake time during the night.
Zelira Therapeutics chairman Osagie I masogie said: "These positive results add ZLT-101to the portfolio of Zelira products being commercialised, including the recently launched HOPE range, in the US and globally, as a result of rigorous scientific work by the Zelira team.
"Zelira will continue to deploy its unique launch, learn and develop strategy to launch more scientifically validated products, targeting various conditions, into the market in 2020. Zelira's clinically validated products, such as ZLT-101, continue to play a disruptive role in the traditional pharmaceutical industry."
The company plans to offer its medicinal cannabis for insomnia patients in countries where the medication is legalised, including the US, Germany, the UK and Australia.
I t is expected that the launch in Australia will occur in the third quarter of this year.
Free Case Study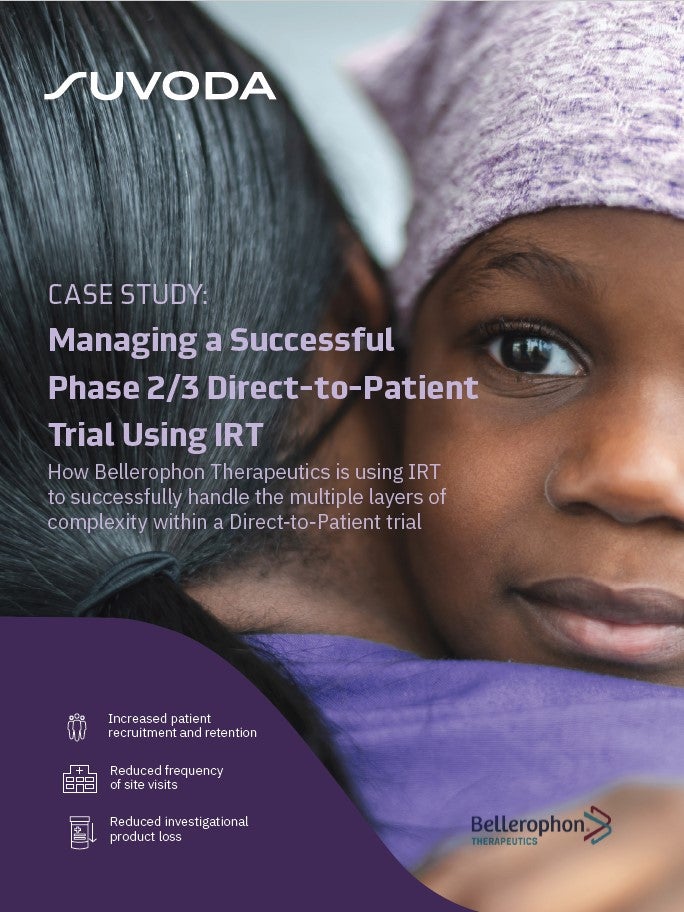 Direct-to-Patient Trials: How IRT Plays an Important Role in Bellerophon's Direct-to-Patient Trials
As the industry strengthens its focus on patient centricity, Direct-to-Patient clinical trials have emerged as a popular trial design that have the potential to increase patient recruitment and retention. IRT plays a crucial role in the success of a Direct-to-Patient trial. Because drug supplies are being managed and shipped from distribution facilities directly to patients' homes, a sponsor must have a high-quality system in place to accurately track the chain of custody, ensure patient-blinding and handle other logistical challenges. What You Will Learn Benefits and challenges associated with the Direct-to-Patient model Bellerophon's top considerations when implementing this trial design How IRT can equip study teams to successfully track chain of custody, ensure patient blinding, and handle logistical challenges
by Suvoda