Top-line results from the Phase III clinical trial of Zogenix's Fintepla have demonstrated that the primary endpoint was met in patients with Lennox-Gastaut Syndrome (LGS), a type of childhood-onset epilepsy.
Free Case Study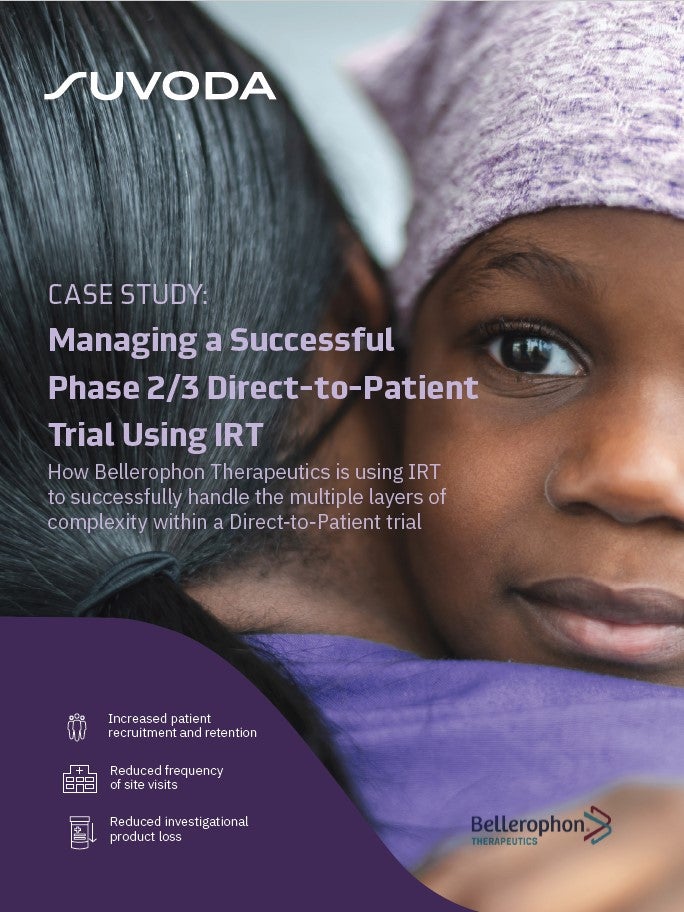 Direct-to-Patient Trials: How IRT Plays an Important Role in Bellerophon's Direct-to-Patient Trials
As the industry strengthens its focus on patient centricity, Direct-to-Patient clinical trials have emerged as a popular trial design that have the potential to increase patient recruitment and retention. IRT plays a crucial role in the success of a Direct-to-Patient trial. Because drug supplies are being managed and shipped from distribution facilities directly to patients' homes, a sponsor must have a high-quality system in place to accurately track the chain of custody, ensure patient-blinding and handle other logistical challenges. What You Will Learn Benefits and challenges associated with the Direct-to-Patient model Bellerophon's top considerations when implementing this trial design How IRT can equip study teams to successfully track chain of custody, ensure patient blinding, and handle logistical challenges
by Suvoda
Fintepla is an oral solution made up of ZX008 and fenfluramine. It is being developed to treat seizures caused by Dravet and Lennox-Gastaut syndromes.
The first part of the global, multi-centre Phase III trial evaluated the safety, tolerability and efficacy of the drug when given with a patient's anti-epileptic regimen.
A total of 263 patients aged two to 35 years who had seizures that were uncontrollable using anti-epileptic drugs participated in the trial. Participants were treated with 0.7mg/kg/day or 0.2mg/kg/day Fintepla or placebo.
The primary endpoint was met with a statistically significant decrease in the median percent change in monthly drop seizure frequency from baseline compared to placebo.
Patients on a 0.7mg/kg/day dose of the drug experienced a 26.5% median reduction compared to 7.8% on placebo. The 0.2mg/kg/day dose did not achieve statistical significance on the median percent decrease in monthly drop seizures when compared to placebo.
Fintepla was generally well-tolerated during the trial. The adverse events were observed to be consistent with prior Phase III data in Dravet syndrome.
The most common adverse events in the investigational drug arm were decreased appetite, somnolence, fatigue, vomiting, diarrhoea and pyrexia.
Zogenix president and CEO Stephen Farr said: "We are pleased with the top-line efficacy and safety results from Study 1601, which highlight FINTEPLA's potential to be an important new treatment option for one of the most difficult to treat rare epilepsies. We look forward to working with regulatory agencies to potentially bring Fintepla to the LGS patient community."
In October last year, Zogenix reported that Fintepla led to a long-term, clinically meaningful decrease in seizures of study participants with Dravet syndrome.
Free Case Study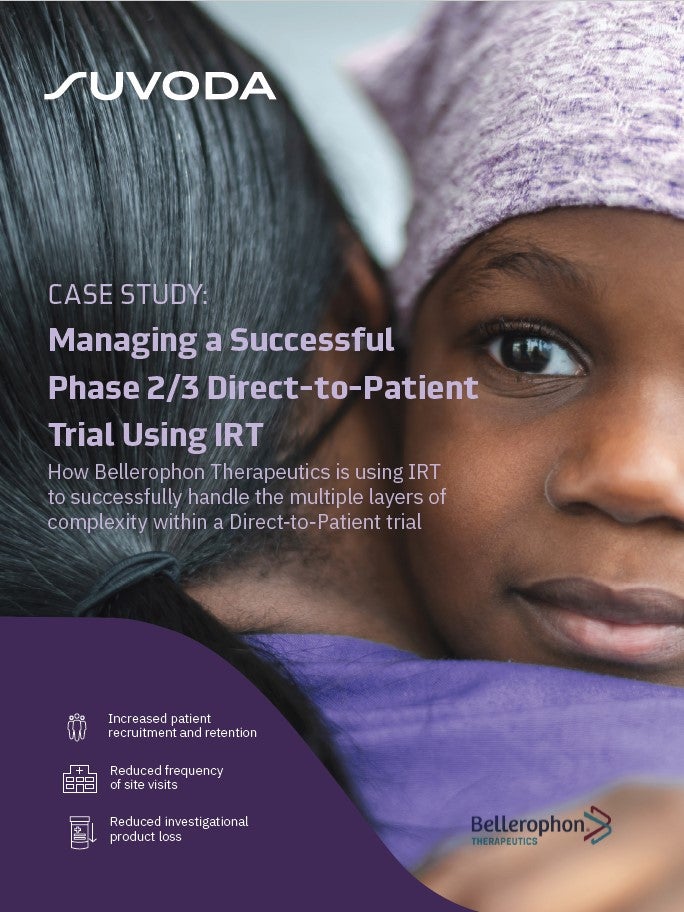 Direct-to-Patient Trials: How IRT Plays an Important Role in Bellerophon's Direct-to-Patient Trials
As the industry strengthens its focus on patient centricity, Direct-to-Patient clinical trials have emerged as a popular trial design that have the potential to increase patient recruitment and retention. IRT plays a crucial role in the success of a Direct-to-Patient trial. Because drug supplies are being managed and shipped from distribution facilities directly to patients' homes, a sponsor must have a high-quality system in place to accurately track the chain of custody, ensure patient-blinding and handle other logistical challenges. What You Will Learn Benefits and challenges associated with the Direct-to-Patient model Bellerophon's top considerations when implementing this trial design How IRT can equip study teams to successfully track chain of custody, ensure patient blinding, and handle logistical challenges
by Suvoda