Zydus (Cadila Healthcare) is to commence a Phase IIa clinical trial of its drug, ZYIL1, to treat individuals with cryopyrin-associated periodic syndrome (CAPS) in Australia.
Free Case Study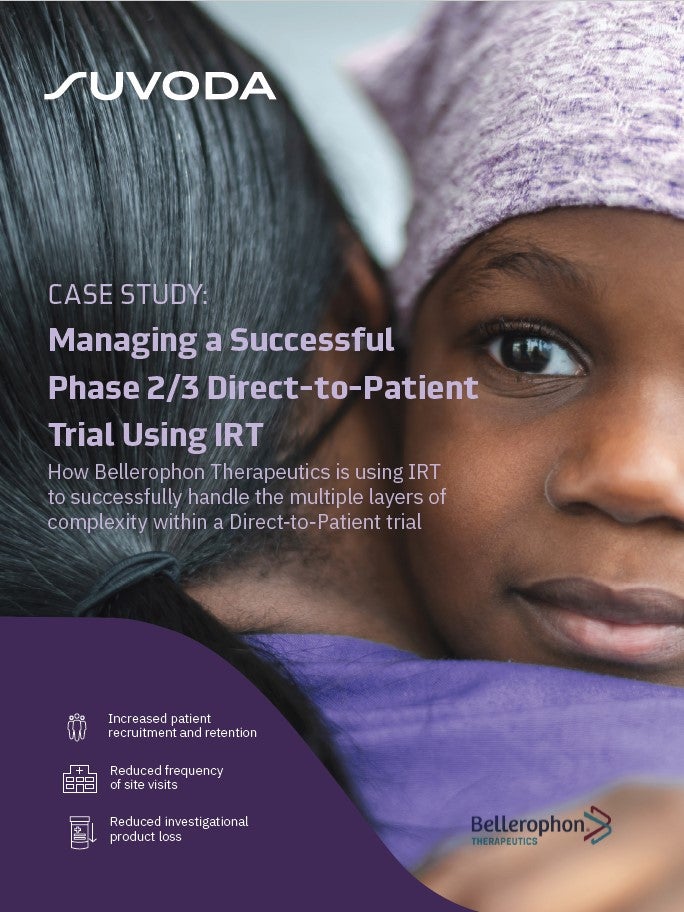 Direct-to-Patient Trials: How IRT Plays an Important Role in Bellerophon's Direct-to-Patient Trials
As the industry strengthens its focus on patient centricity, Direct-to-Patient clinical trials have emerged as a popular trial design that have the potential to increase patient recruitment and retention. IRT plays a crucial role in the success of a Direct-to-Patient trial. Because drug supplies are being managed and shipped from distribution facilities directly to patients' homes, a sponsor must have a high-quality system in place to accurately track the chain of custody, ensure patient-blinding and handle other logistical challenges. What You Will Learn Benefits and challenges associated with the Direct-to-Patient model Bellerophon's top considerations when implementing this trial design How IRT can equip study teams to successfully track chain of custody, ensure patient blinding, and handle logistical challenges
by Suvoda
The move comes after the company obtained approval to begin the trial in the country.
A new oral small-molecule inhibitor of NLRP3, ZYIL1 demonstrated greater binding affinity in human whole blood and can specifically suppress NLRP3 inflammasome-induced inflammation.
The trial is designed to analyse the safety, tolerability, pharmacokinetics (PK) and pharmacodynamics (PD) of the drug in CAPS patients.
Cadila Healthcare chairman Pankaj Patel said: "The Cryopyrin Associated Periodic Syndromes patient community has very limited treatment options and there is a huge unmet medical need.
"We are committed to developing novel therapies, and ZYIL1 has the potential to treat several autoimmune diseases."
In Phase I trials, ZYIL1 was demonstrated to be safe and well-tolerated.
Another Phase I trial with differing doses of ZYIL1 assessed the safety, tolerability, PK and PD after administering repeated doses for 14 days in healthy participants.
In the trial, ZYIL1 was found to have quick rapid oral absorption and a stable state was attained at 48 hours.
The drug showed brain penetration in non-clinical species such as mice, rats and non-human primates.
Its efficacy was proven in various pre-clinical models of Parkinson's disease, neuroinflammation, inflammatory bowel disease and multiple sclerosis among others.
NLRP3 activating mutations lead to cryopyrin inflammasome activation and production of inflammatory cytokines such as IL-1β, resulting in CAPS, a rare life-long auto-inflammatory ailment.
Last month, Cadila Healthcare submitted a New Drug Application to the Drug Controller General of India seeking approval for Desidustat for treating chronic kidney disease-associated anaemia.
Free Case Study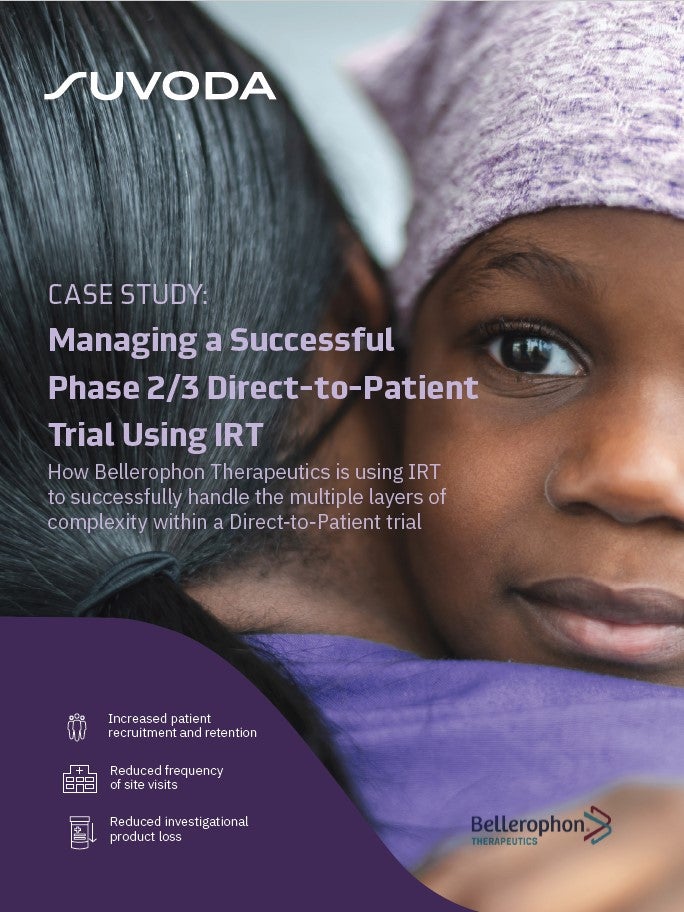 Direct-to-Patient Trials: How IRT Plays an Important Role in Bellerophon's Direct-to-Patient Trials
As the industry strengthens its focus on patient centricity, Direct-to-Patient clinical trials have emerged as a popular trial design that have the potential to increase patient recruitment and retention. IRT plays a crucial role in the success of a Direct-to-Patient trial. Because drug supplies are being managed and shipped from distribution facilities directly to patients' homes, a sponsor must have a high-quality system in place to accurately track the chain of custody, ensure patient-blinding and handle other logistical challenges. What You Will Learn Benefits and challenges associated with the Direct-to-Patient model Bellerophon's top considerations when implementing this trial design How IRT can equip study teams to successfully track chain of custody, ensure patient blinding, and handle logistical challenges
by Suvoda