India-based pharmaceutical company Zydus Cadila has filed for regulatory approval to conduct clinical trials of its drug candidate, ZRC-3308 (Covimabs), for the treatment of mild Covid-19.
Free Case Study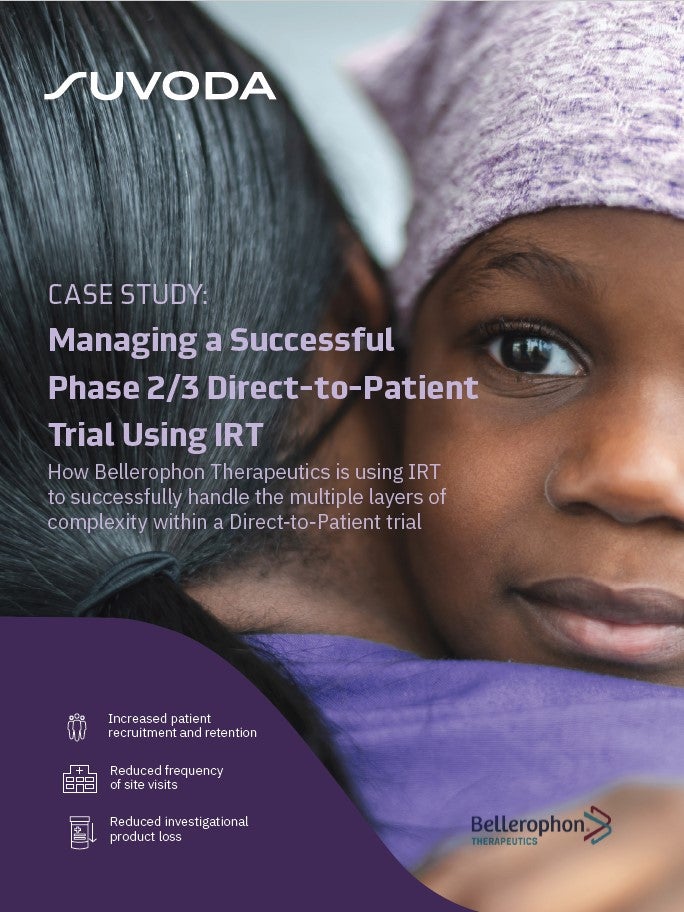 Direct-to-Patient Trials: How IRT Plays an Important Role in Bellerophon's Direct-to-Patient Trials
As the industry strengthens its focus on patient centricity, Direct-to-Patient clinical trials have emerged as a popular trial design that have the potential to increase patient recruitment and retention. IRT plays a crucial role in the success of a Direct-to-Patient trial. Because drug supplies are being managed and shipped from distribution facilities directly to patients' homes, a sponsor must have a high-quality system in place to accurately track the chain of custody, ensure patient-blinding and handle other logistical challenges. What You Will Learn Benefits and challenges associated with the Direct-to-Patient model Bellerophon's top considerations when implementing this trial design How IRT can equip study teams to successfully track chain of custody, ensure patient blinding, and handle logistical challenges
by Suvoda
The company is seeking approval from the Drugs Controller General of India (DCGI) for the Phase I/III trials.
ZRC-3308 is a combination of two monoclonal antibodies (mAbs) that target the SARS-CoV-2 spike protein. It is designed to exhibit an extended half-life and offer long-term protection.
The drug candidate also has decreased immune-effector activity to mitigate potential tissue damage and lower the risk of severe disease.
It was able to neutralise the Covid-19 virus in vitro and in animal studies. Furthermore, in animal studies, ZRC-3308 lowered the damage to the lungs caused by the Covid-19 virus in prophylactic and therapeutic settings.
Neutralising monoclonal antibodies that act on the viral spike protein are known to considerably decrease viral load and hospitalisation rate in patients with mild Covid-19, Zydus noted.
This characteristic led to emergency use authorisation of these treatments for this indication in the US, Europe and India. Two of these treatments contain a pair of mAbs that attach to two separate epitopes on the SARS-CoV-2 spike protein.
Zydus, the first Indian company to develop a neutralising mAb cocktail, added that two mAb-based products could better act against variants compared to single mAb products, which could result in lower efficacy with fast producing variants.
Cadila Healthcare managing director Dr Sharvil Patel said: "At this juncture, there is a critical need to explore safer and more efficacious treatments to combat Covid.
"It is important to look at different stages of the disease progression and look at options that can reduce patient's suffering and discomfort. We believe that ZRC-3308 has the potential to address these concerns and provide a safe treatment."
This announcement comes after another Indian company, Natco Pharma, launched a Phase III trial of Molnupiravir capsules to treat mild Covid-19 patients in the country.
In pre-clinical studies, Molnupiravir demonstrated wide anti-influenza activity, including potent inhibition of SARS-CoV-2 replication.
In December 2020, Zydus secured DCGI approval for a Phase III trial of a biological therapy to treat Covid-19.
Free Case Study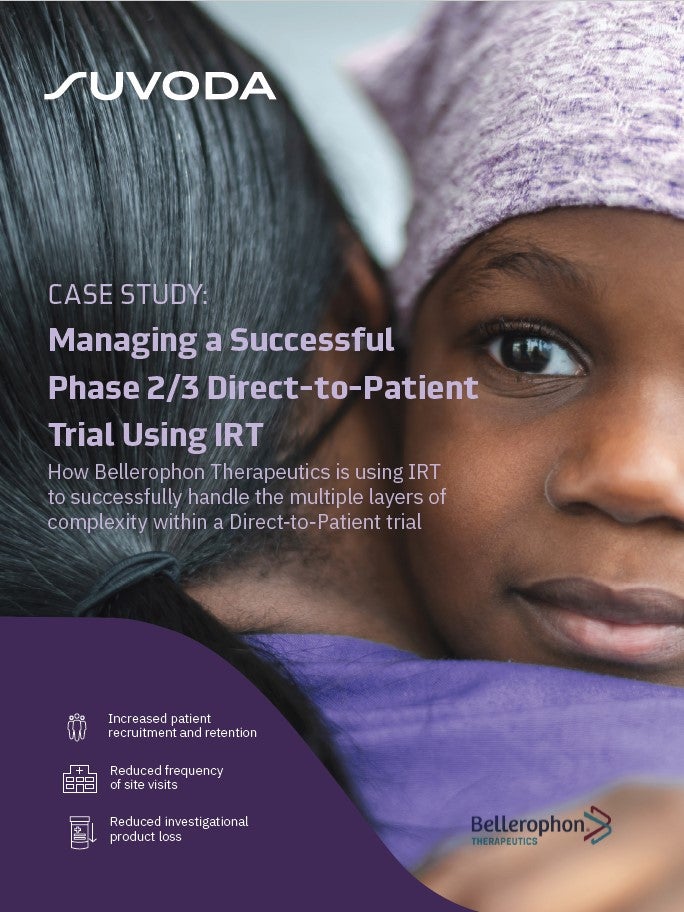 Direct-to-Patient Trials: How IRT Plays an Important Role in Bellerophon's Direct-to-Patient Trials
As the industry strengthens its focus on patient centricity, Direct-to-Patient clinical trials have emerged as a popular trial design that have the potential to increase patient recruitment and retention. IRT plays a crucial role in the success of a Direct-to-Patient trial. Because drug supplies are being managed and shipped from distribution facilities directly to patients' homes, a sponsor must have a high-quality system in place to accurately track the chain of custody, ensure patient-blinding and handle other logistical challenges. What You Will Learn Benefits and challenges associated with the Direct-to-Patient model Bellerophon's top considerations when implementing this trial design How IRT can equip study teams to successfully track chain of custody, ensure patient blinding, and handle logistical challenges
by Suvoda