Amgen, a biotechnology company, has announced the termination of its Phase III Gemcitabine and AMG 479 in Metastatic Adenocarcinoma of the Pancreas (GAMMA) trial.
Free Case Study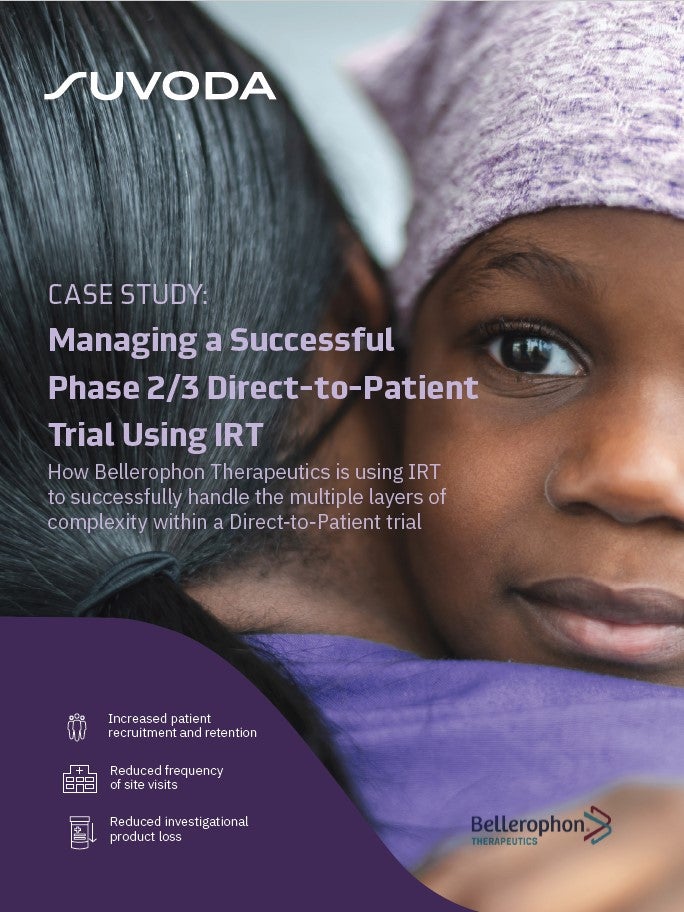 Direct-to-Patient Trials: How IRT Plays an Important Role in Bellerophon's Direct-to-Patient Trials
As the industry strengthens its focus on patient centricity, Direct-to-Patient clinical trials have emerged as a popular trial design that have the potential to increase patient recruitment and retention. IRT plays a crucial role in the success of a Direct-to-Patient trial. Because drug supplies are being managed and shipped from distribution facilities directly to patients' homes, a sponsor must have a high-quality system in place to accurately track the chain of custody, ensure patient-blinding and handle other logistical challenges. What You Will Learn Benefits and challenges associated with the Direct-to-Patient model Bellerophon's top considerations when implementing this trial design How IRT can equip study teams to successfully track chain of custody, ensure patient blinding, and handle logistical challenges
by Suvoda
AMG 479, or ganitumab, is an investigational, fully-human, monoclonal antibody that targets type 1 insulin-like growth factor receptor (IGF1R).
The decision to terminate the Phase III GAMMA trial follows the recommendation of an independent Data Monitoring Committee (DMC) overseeing the study.
Amgen research and development executive vice president Dr Sean Harper said the disappointing results highlight problems treating pancreatic cancer, which continues to be a significant unmet medical need.
"We would like to thank the patients, caregivers and investigators for their participation and engagement in the study," Dr Harper said.
On the basis of a pre-planned interim analysis, the DMC concluded that the addition of ganitumab to gemcitabine is unlikely to demonstrate a statistically significant improvement in the primary endpoint of overall survival compared to gemcitabine alone.
No safety concerns were raised in the DMC review of the randomised, multicentre, double-blind study.
The Phase III trial was designed to determine if ganitumab and gemcitabine improves overall survival, when compared to placebo and gemcitabine, in the first-line treatment of patients with metastatic adenocarcinoma of the pancreas.
Amgen is in the process of notifying study investigators that treatment with ganitumab should be discontinued in the GAMMA trial. It will also be withdrawn from a separate ongoing Phase II trial in locally advanced pancreatic cancer.
---
Image: Amgen headquarters: the company are discontinuing the GAMMA trial. Photo: courtesy of Coolcaesar.
Free Case Study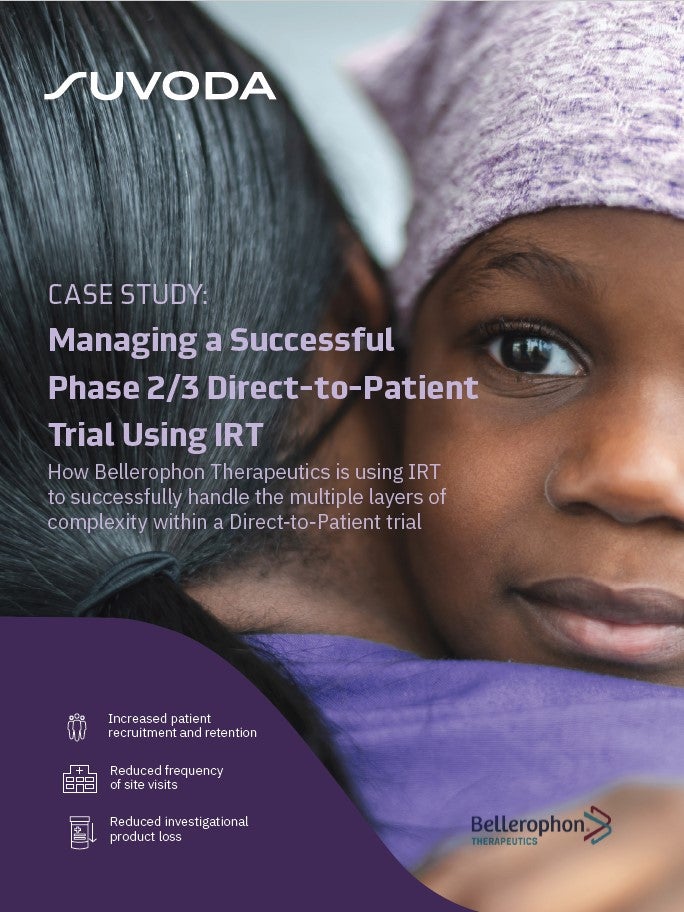 Direct-to-Patient Trials: How IRT Plays an Important Role in Bellerophon's Direct-to-Patient Trials
As the industry strengthens its focus on patient centricity, Direct-to-Patient clinical trials have emerged as a popular trial design that have the potential to increase patient recruitment and retention. IRT plays a crucial role in the success of a Direct-to-Patient trial. Because drug supplies are being managed and shipped from distribution facilities directly to patients' homes, a sponsor must have a high-quality system in place to accurately track the chain of custody, ensure patient-blinding and handle other logistical challenges. What You Will Learn Benefits and challenges associated with the Direct-to-Patient model Bellerophon's top considerations when implementing this trial design How IRT can equip study teams to successfully track chain of custody, ensure patient blinding, and handle logistical challenges
by Suvoda