Glycotope's tomuzotuximab in epidermal growth factor receptor (EGFR) expressing solid tumours saw its Phase Transition Success Rate (PTSR) drop five points to 63%. The update occurred on 11 June on the heels of Phase Ib data reported at the 2021 American Society of Clinical Oncology (ASCO) Annual Meeting, held virtually on 4–8 June. PTSR is the probability, given as a percentage, of a drug progressing successfully from one development stage to the next.
Free Case Study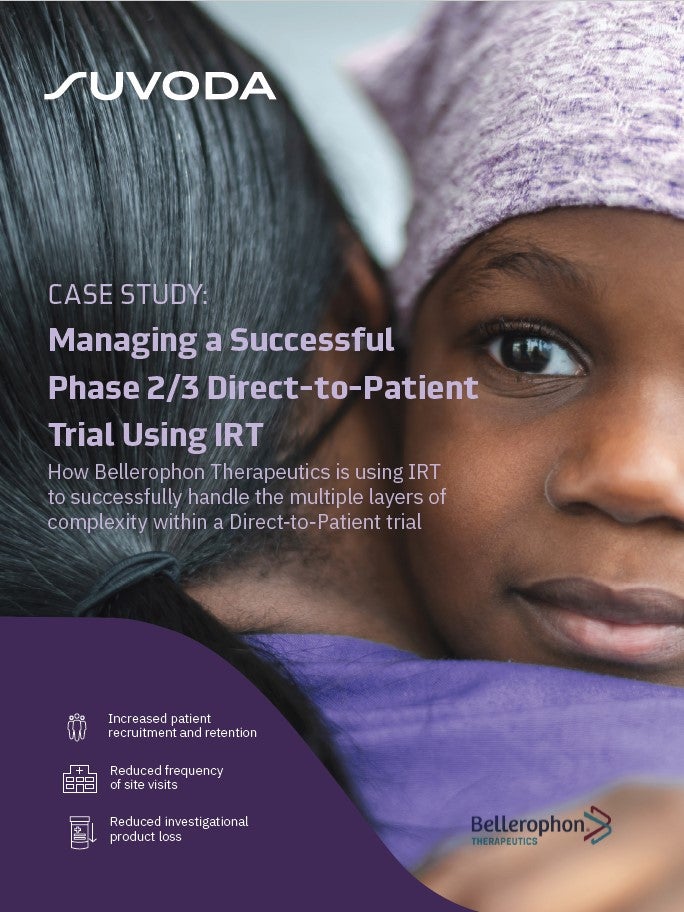 Direct-to-Patient Trials: How IRT Plays an Important Role in Bellerophon's Direct-to-Patient Trials
As the industry strengthens its focus on patient centricity, Direct-to-Patient clinical trials have emerged as a popular trial design that have the potential to increase patient recruitment and retention. IRT plays a crucial role in the success of a Direct-to-Patient trial. Because drug supplies are being managed and shipped from distribution facilities directly to patients' homes, a sponsor must have a high-quality system in place to accurately track the chain of custody, ensure patient-blinding and handle other logistical challenges. What You Will Learn Benefits and challenges associated with the Direct-to-Patient model Bellerophon's top considerations when implementing this trial design How IRT can equip study teams to successfully track chain of custody, ensure patient blinding, and handle logistical challenges
by Suvoda
The Berlin, Germany-based company updated Phase Ib GATTO trial's secondary endpoint data, showing patients who received tomuzotuximab had a median progression free survival (PFS) of 1.9 months and a 3.8-month duration of response (abstract no 2522). The 50-patient, single-arm trial studied the combination of tomuzotuximab and Daiichi Sankyo's gatipotuzumab.
Despite the PTSR change, the data did not result in any change to the drug's Likelihood of Approval (LoA), which remained at 7%. LoA is identified via GlobalData's analysis using a combination of machine learning and its proprietary algorithm and is calculated by compounding the PTSR at each stage the drug is yet to progress through. Both LoA and PTSR can be calculated for a drug by considering characteristics like therapy area, indication and molecule type.
William Newton is a Healthcare Reporter for Clinical Trials Arena parent company GlobalData's investigative journalism team. A version of this article originally appeared on the Insights module of GlobalData's Pharmaceutical Intelligence Center. To access more articles like this, visit GlobalData.
Free Case Study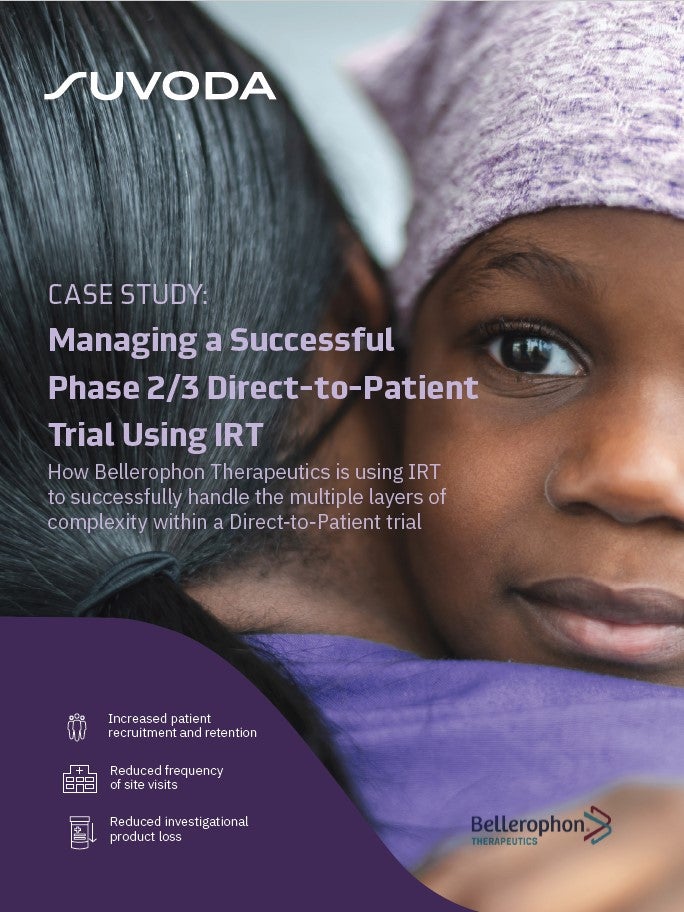 Direct-to-Patient Trials: How IRT Plays an Important Role in Bellerophon's Direct-to-Patient Trials
As the industry strengthens its focus on patient centricity, Direct-to-Patient clinical trials have emerged as a popular trial design that have the potential to increase patient recruitment and retention. IRT plays a crucial role in the success of a Direct-to-Patient trial. Because drug supplies are being managed and shipped from distribution facilities directly to patients' homes, a sponsor must have a high-quality system in place to accurately track the chain of custody, ensure patient-blinding and handle other logistical challenges. What You Will Learn Benefits and challenges associated with the Direct-to-Patient model Bellerophon's top considerations when implementing this trial design How IRT can equip study teams to successfully track chain of custody, ensure patient blinding, and handle logistical challenges
by Suvoda