Whether you are new to clinical research agreements or a contracts ninja, at any given moment there is at least one agreement you can think of that could have been worded differently.
Free Case Study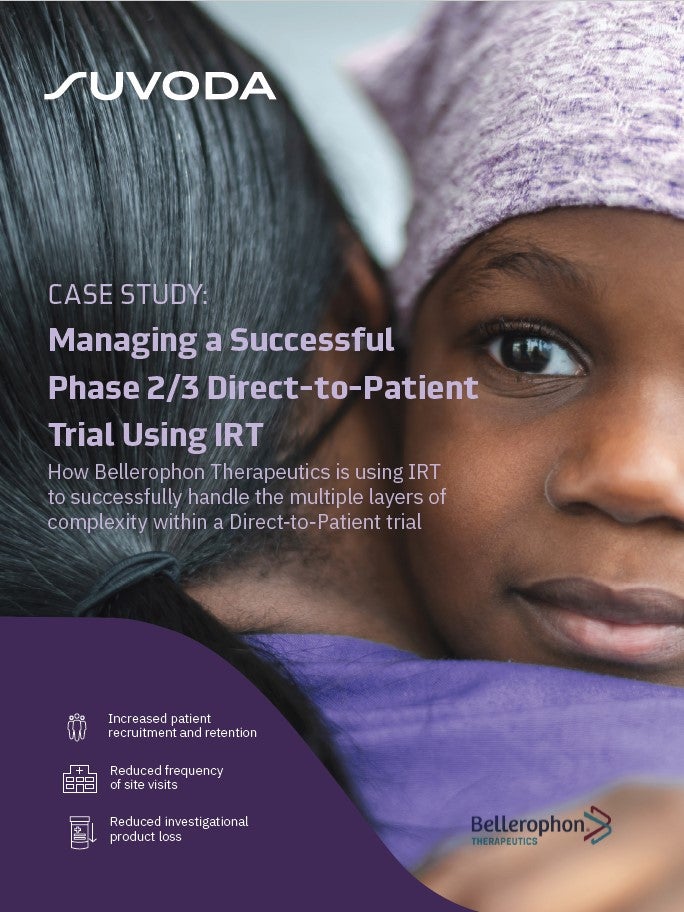 Direct-to-Patient Trials: How IRT Plays an Important Role in Bellerophon's Direct-to-Patient Trials
As the industry strengthens its focus on patient centricity, Direct-to-Patient clinical trials have emerged as a popular trial design that have the potential to increase patient recruitment and retention. IRT plays a crucial role in the success of a Direct-to-Patient trial. Because drug supplies are being managed and shipped from distribution facilities directly to patients' homes, a sponsor must have a high-quality system in place to accurately track the chain of custody, ensure patient-blinding and handle other logistical challenges. What You Will Learn Benefits and challenges associated with the Direct-to-Patient model Bellerophon's top considerations when implementing this trial design How IRT can equip study teams to successfully track chain of custody, ensure patient blinding, and handle logistical challenges
by Suvoda
You either have scars from overpaying for services or not receiving expected payment for the services rendered.
Or a clinical site ended up publishing data from trial subjects without giving the sponsor an opportunity to review the results.
In this post, I'll share nine essential components of a clinical trial agreement (CTA). You'll learn the purpose of these components and how they can protect you in the event of a conflict or a disagreement.
So let's get started.
1. Description of the Project
This section of the agreement is often overlooked by sponsors, CROs and sites. The purpose of this section is to explicitly state the research project description. You want to document the overarching purpose of the agreement in this section.
In the United States, with the Sunshine Act, there is an increased scrutiny on payments made to health care organizations and health care professionals. The project description provides the necessary details on the nature of the agreement.
In the event there is a compliance audit questioning financial payments to the research site, the project description can provide clarity.
2. Payment Terms and Schedule
Sites want to get paid for their research services. In the case of a multi-year clinical trial, sponsors and CROs want to manage their budget and expense projections for current and future years.
This is where the payment schedule comes handy.
The payment schedule lists the project deliverables and expected payments for each deliverable.
Additionally, in some cases, payments are triggered when certain milestones are met. For example, once the site is activated for enrollment, a site start-up payment is triggered.
The payment terms and schedule will also state what the research site will NOT get paid for. For example, for a post-approval clinical study, the sponsor may not want to provide the medical device for free.
Finally, this section of the agreement should clearly state where the site needs to send invoices (name and contact information of the person), as well as the payment terms (example: payment will be made within 45 days).
3. Sponsor, CRO and Site Responsibilities
It's no surprise to us that clinical research is a regulated industry.
There is serious responsibility on the part of sponsors, CROs and sites to comply with the study protocol, government laws and regulations.
The purpose of this section is to document that the research site will comply with laws, the participating physicians and institution are qualified to conduct research, and the institution will inform the sponsor of Institutional Review Board (IRB)/Ethics Committee (EC) approval (or denial).
On the other hand, sponsors and CROs are required to notify the IRB/EC directly of any non-compliance that could impact the safety and well-being of trial subjects.
4. Publication and Intellectual Property (IP) Terms
A CTA must include the sponsor's take on publication and presentation of clinical trial data.
Sponsors are committed to reporting trial results on ethical grounds. Clinical site investigators, on the other hand, are excited with the idea of publishing research data.
Generally speaking, sites have to wait for the entire study results to be released before they can publish data on their subset of enrolled subjects. Also sites would be required to submit the manuscript to the sponsor review prior to making a journal submission.
This section of the CTA will spell out how many days the sponsor has to review and comment on the manuscripts. Once the sponsor review period has lapsed, the site can go ahead and publish the results.
The data from a clinical trial is owned the trial sponsor, unless the agreement states otherwise.
5. Indemnification and Insurance
Indemnification may be a fancy word you've never heard before, but the concept behind this term is fairly straightforward.
If a third party, such as a clinical trial subject, is negatively affected as a result of the CTA that is between the sponsor and site, the sponsor will compensate for loss and assume full responsibility.
There may be limitations to the indemnification language. For instance, the sponsor may not agree to indemnify the site if it fails to follow the protocol or sells subject personal health information (PHI) to a third party.
Just like your auto or health insurance policy, sites, CROs and sponsors generally carry clinical trial insurance to protect themselves or the parties involved in a clinical trial.
6. Recordkeeping and Inspection
Generally speaking, the purpose of a clinical trial is to collect safety and effectiveness data on a given medical product.
But what happens if the clinical site provides incomplete or incorrect data to the sponsor? Or is hesitant to allow a CRO to monitor the data at the site?
That's where the recording keeping section of the CTA comes handy.
The purpose of this section is to document the agreement between the site and the sponsor on how long the trial data will be stored for after the trial is completed (typically two years at a minimum).
Additionally, this section includes other agreements, such as the sponsor's right to audit the site or verify data on a regular basis, and the site's responsibility to cooperate with the sponsor or a regulatory agency, such as the FDA.
7. Guidelines for Dispute Resolution
What happens if the sponsor or the site has a dispute?
The purpose of this section to explain how issues will be escalated and attempts will be made to resolve them through mutual resolution.
If either party to the agreement decides to take legal action, this agreement will specify under which jurisdiction the case will be handled.
8. Grounds for Contract Termination
As sponsor and site, you want to prepare yourself for contract termination.
Below are some reasons for which contract termination may be necessary:
Fraud
Non-compliance with national, state or local laws and regulations
Change in business strategy requiring the sponsor to terminate a trial early
EC or IRB may determine the trial is no longer safe for the subjects
All parties on the CTA could be required to provide 30-45 day notice depending on the reason for termination.
If agreed on a signed CTA, sponsors will have the right to data collected prior to contract termination and sites will receive compensation for trial activities performed by the research staff.
9. Amendment of Contract Terms
New and unexpected situations always arise.
Site may realize there is more work involved on a trial than they had anticipated. Or sponsors decide to revise the protocol, which in turn impacts the milestone payment schedule in the CTA.
Contract amendments are not fun. But they may be necessary. You want to have provisions in your CTA that allow you to request for an amendment of contract terms.
Conclusion
We've covered a lot of useful information here. Incorporate these nine essential components and you'll have a robust CTA.
Description of the Project
Sponsor, CRO and Site Responsibilities
Publication and Intellectual Property Terms
Indemnification and Insurance
Recording Keeping and Inspection
Guidelines for Dispute Resolution
Grounds for Contract Termination
Amendment of Contract Terms
Use this post as a guide when reviewing or drafting your next clinical trial agreement. However, you must always seek guidance from a qualified attorney on all terms within the CTA.
Which of these nine CTA components did you find most useful? Let me know by leaving a comment below.
Author Bio:
Kunal is the founder of the Clinical Trial Podcast, a podcast and blog platform for clinical research professionals. His goal is to interview leading experts in clinical trial management to help you accelerate your career and be a more effective leader. He enjoys connecting like-minded people, introducing new ideas, and immersing himself in an environment of continuous learning.
Free Case Study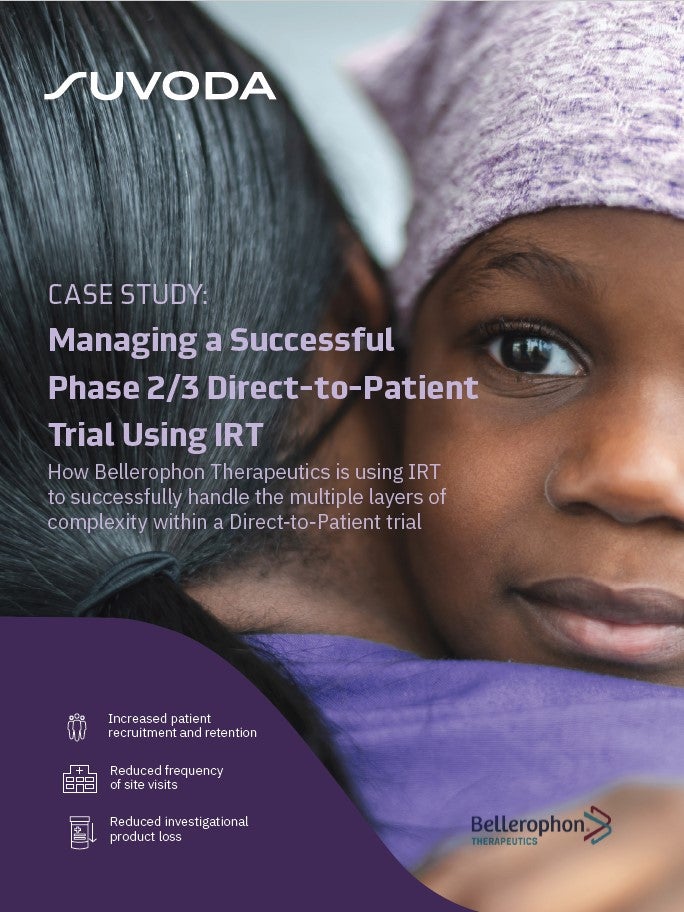 Direct-to-Patient Trials: How IRT Plays an Important Role in Bellerophon's Direct-to-Patient Trials
As the industry strengthens its focus on patient centricity, Direct-to-Patient clinical trials have emerged as a popular trial design that have the potential to increase patient recruitment and retention. IRT plays a crucial role in the success of a Direct-to-Patient trial. Because drug supplies are being managed and shipped from distribution facilities directly to patients' homes, a sponsor must have a high-quality system in place to accurately track the chain of custody, ensure patient-blinding and handle other logistical challenges. What You Will Learn Benefits and challenges associated with the Direct-to-Patient model Bellerophon's top considerations when implementing this trial design How IRT can equip study teams to successfully track chain of custody, ensure patient blinding, and handle logistical challenges
by Suvoda