It seems a new age is dawning in the pharma industry. Advanced therapy medicinal products (ATMPs), are receiving major coverage in the media [i]. This article discusses the massive supply chain challenges ahead and whether they could burst the bubble of patient and media expectations.
Free Case Study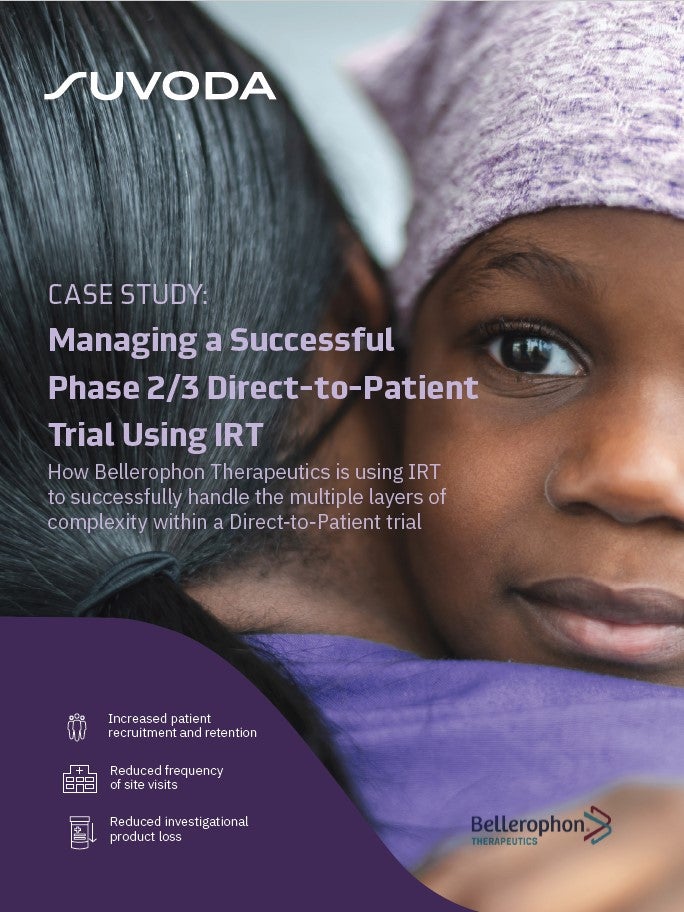 Direct-to-Patient Trials: How IRT Plays an Important Role in Bellerophon's Direct-to-Patient Trials
As the industry strengthens its focus on patient centricity, Direct-to-Patient clinical trials have emerged as a popular trial design that have the potential to increase patient recruitment and retention. IRT plays a crucial role in the success of a Direct-to-Patient trial. Because drug supplies are being managed and shipped from distribution facilities directly to patients' homes, a sponsor must have a high-quality system in place to accurately track the chain of custody, ensure patient-blinding and handle other logistical challenges. What You Will Learn Benefits and challenges associated with the Direct-to-Patient model Bellerophon's top considerations when implementing this trial design How IRT can equip study teams to successfully track chain of custody, ensure patient blinding, and handle logistical challenges
by Suvoda
On exploring the issues in some depth, we conclude that only re-engineering the pharma supply chain can offer a sustainable solution to advanced therapy challenges.
Advanced Therapies hit the US Market: What of the Supply Chain?
On Aug. 30, 2017, the Food and Drug Administration (FDA) approved the first gene therapy product to launch in the U.S. Novartis' drug—brand name Kymriah—is now out of the clinic and available to patients. Eye-watering price aside, it has been hailed as a landmark event in the history of the U.S. pharma industry.
The clinical trials leading up to approval had to surmount the massive supply chain challenges posed by gene therapy, and other ATMPs, which can be summarized as follows:
It starts with the fact that ATMPs are biologics, made from living things, using processes far more variable and complex than the traditional small molecule products produced by chemical synthesis.
As biologics, their manufacture is an order of magnitude trickier than making drugs based on synthesis alone. Even seemingly minor alterations in the process can change the product, with potentially devastating effect. This has led to the mantra in biologics that "the process is the product."
This draws a stark contrast with small molecule compounds, where a particular molecule can be reproduced reasonably accurately, independent of the facility and equipment used to make it. In biologics, the molecules are so large and complex that it is often impossible to define their molecular structures by analysis. All that is known is that a particular process has produced something that has a particular biological effect on a patient. Other manufacturers may not be able to replicate that product and its effect, even if the process appears to be exactly the same.
A second complication is the sensitivity of biologics to temperature variation and other factors in the environment. They can be lost in the blink of an eye. A moment's failure in concentration, from an operator or material handler, can mean months of work wasted. A temperature data logger not properly validated, activated, or downloaded can yield the same result; valuable product in the bin.
Input materials can also be problematic. They can dramatically affect yield, potency, and quality of output, as the strength (titre) of each new supply of materials can vary widely, depending on factors that are not always obvious to the acquiring company. Getting good pedigree information from suppliers, especially when the upstream supply chain leads to seemingly anonymous donors, can be a nightmare and sometimes even impossible.
This is not the end of it. The cost of goods can often make a promising compound commercially nonviable and lead to catastrophic outcomes for the sponsoring company.
The final complication relates to ATMPs that are termed autologous; they are patient-specific.
The net result of all the factors is that ATMPs are an order of magnitude more difficult to develop, supply, maintain safe, and produce cost-effectively than a small molecule product.
The Pharma Supply Chain was founded on Small Molecule Drugs
Having heard the issues, the following is not good news. The foundations for the pharma supply chain were set in an era where small molecule drugs predominated. Unfortunately, there was no re-engineering to cope properly with biologics when they arrived on the scene; they were basically shoehorned into what already existed.
One of the outcomes of this is that biologics have never been an easy fit in the world of the pharma supply chain. The relative predictability of the 'one-size-fits-all' small molecule supply chain meant that biologics had to have special treatment. The chain of custody still relies on 'babysitting' the product and materials through the various storage and transportation steps. Even then, it is hard keep a handle on all the various regulatory compliance issues that exist and the protective measures needed to be taken to counter them.
Advanced Therapy Medicinal Products Arrive on the Scene
Now these complications have been amplified by the emerging world of ATMPs. In the Kymriah case above, the treatment IS patient-specific. These are often termed vein-to-vein supply chains, whereby a patient's own cells are removed, genetically modified, and then re-introduced into the patient.
This represents a step change in the supply chain challenge. The shelf life of materials can be measured in hours and days, not the two years plus in the world of chemical drugs. Temperature excursions are a constant threat to product integrity, in contrast to the 'store below +25°C' as is prevalent in the small molecule world. If excursions occur, it is often impossible to detect the impact on quality.
Regulations are in their infancy, as are most of the clinical trials running at this present time. Relative immaturity of manufacturing processes makes for the kind of uncertainty that can bring supply chains to their knees.
Some would say shoehorning is not an option this time, and who would argue against that?
Time to Re-Engineer the Pharma Supply Chain?
So, is it time to re-think the pharma supply chain? Yes, it is, but not just the supply chain, the entire industry is in need of re-engineering [ii].
Over the last 40 or so years, far too much attention has been paid to generating clinical data to meet the next clinical endpoint, to the detriment of the supply chain. This lack of attention, or parental neglect shall we call it, has resulted in supply chain architectures and processes that have been frozen in time, not recognizing that the world, and therapies therein, has changed.
So, what needs to change? We need to turn new product development on its head and start with the end-users of the products being developed, not a patented molecule (other sectors do it this way around).
The patient needs should be captured, and from that, an outline of the drug's characteristics—safety, efficacy and manufacturability—should be formed into a prototype, using the best predictive technology money can buy. This should allow an outline supply chain to be mapped out, identifying material suppliers, processes, specifications, etc. that would be required to get to market, not just the next clinical endpoint. This would require R&D to re-integrate from the functional silos that currently exist.
In the case of an advanced therapy, the end-to-end supply chain should have minimum handovers and strong agreements on responsibilities within the chain of custody. Manufacturing would be located as close to the point of administration as possible, potentially, even, using a postponement strategy whereby the hospital carries out any patient-specific manufacture.
Prototypes would then be pressure tested by the cross-functional team responsible for bringing the product to market. If it doesn't cut the mustard, R&D must go back and identify more fruitful molecules, materials and processes.
The prototype eventually selected by the team will then enter 'commercial supply status.' At this point, barring some essential controlled changes, the supply chain will be locked-in. There will be no distinction between the clinical and commercial supply chain; it will be a single continuum working to GMP and recognized supply chain best practice.
In Conclusion
There is insufficient scope here to explain in detail what is required, but hopefully the principle is set. For those with an interest in exploring further, a full account can be found in my book "Find It, File It, Flog It," shown in the end note below [iii].
The parting message is that it would be premature to believe supply chain challenges have been met in the field of advanced therapy with the approval of Kymriah. There is still much to be done at the heart of the industry and in the meantime, we should all remain vigilant in this potentially curative therapy area.
References:
1) European Commission, Advanced Therapies: https://ec.europa.eu/health/human-use/advanced-therapies_en
2) Hedley Rees, "Transforming Pharma fortunes by Replacing Patents with Patients" European Industrial Pharmacy Issue 28 (March 2016): https://issuu.com/eipg/docs/eip28_mar16/14
3) Rees, Hedley, "Find It, File It, Flog It: Pharma's Crippling Addiction and How to Cure it, Amazon CreateSpace, December 2015: https://www.amazon.co.uk/Find-File-Flog-Crippling-Addiction-ebook/dp/B019E4FTH6/ref=sr_1_1?ie=UTF8&qid=1505224781&sr=8-1&keywords=hedley+rees
Free Case Study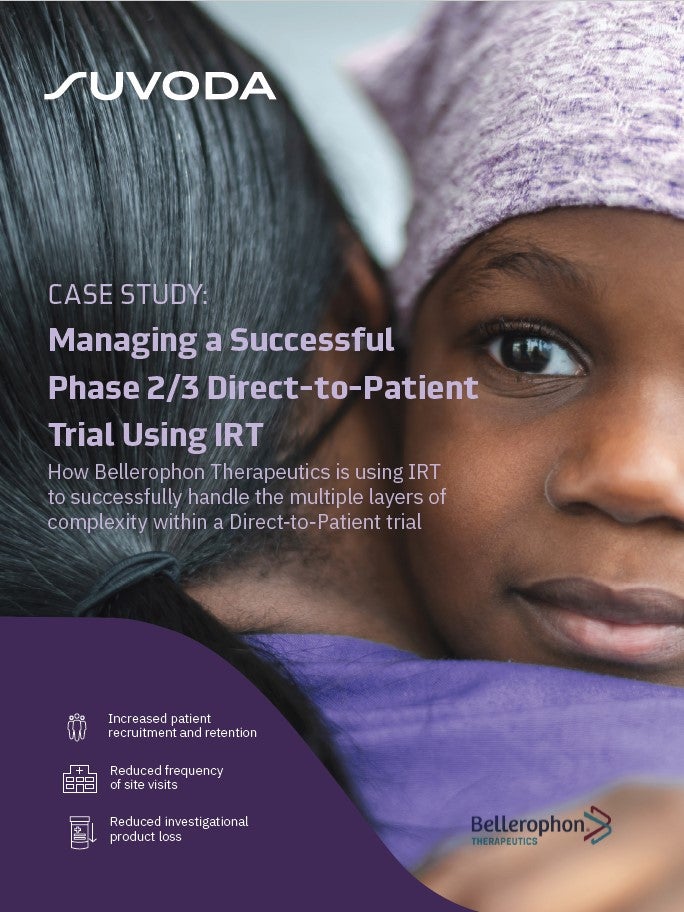 Direct-to-Patient Trials: How IRT Plays an Important Role in Bellerophon's Direct-to-Patient Trials
As the industry strengthens its focus on patient centricity, Direct-to-Patient clinical trials have emerged as a popular trial design that have the potential to increase patient recruitment and retention. IRT plays a crucial role in the success of a Direct-to-Patient trial. Because drug supplies are being managed and shipped from distribution facilities directly to patients' homes, a sponsor must have a high-quality system in place to accurately track the chain of custody, ensure patient-blinding and handle other logistical challenges. What You Will Learn Benefits and challenges associated with the Direct-to-Patient model Bellerophon's top considerations when implementing this trial design How IRT can equip study teams to successfully track chain of custody, ensure patient blinding, and handle logistical challenges
by Suvoda