Aptinyx has concluded subject enrolment in its ongoing Phase IIb clinical trial of NYX-2925 for the treatment of patients with fibromyalgia. 
Free Case Study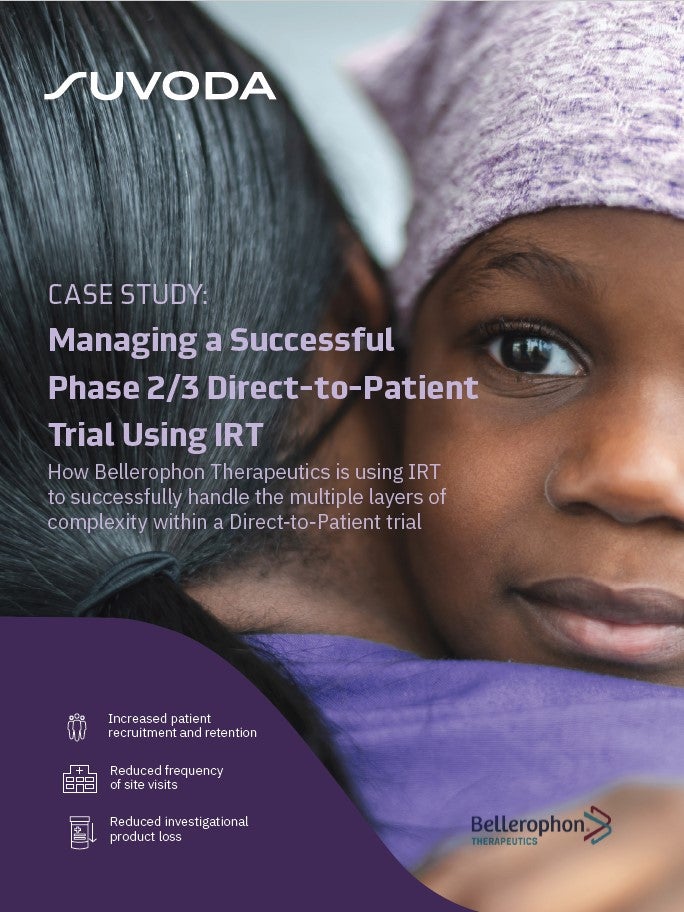 Direct-to-Patient Trials: How IRT Plays an Important Role in Bellerophon's Direct-to-Patient Trials
As the industry strengthens its focus on patient centricity, Direct-to-Patient clinical trials have emerged as a popular trial design that have the potential to increase patient recruitment and retention. IRT plays a crucial role in the success of a Direct-to-Patient trial. Because drug supplies are being managed and shipped from distribution facilities directly to patients' homes, a sponsor must have a high-quality system in place to accurately track the chain of custody, ensure patient-blinding and handle other logistical challenges. What You Will Learn Benefits and challenges associated with the Direct-to-Patient model Bellerophon's top considerations when implementing this trial design How IRT can equip study teams to successfully track chain of custody, ensure patient blinding, and handle logistical challenges
by Suvoda
A total of 305 subjects were enrolled into the trial with results anticipated in the early to the mid third quarter of this year.
The double-blind, randomised, placebo-controlled trial is analysing the safety and efficacy of NYX-2925 in fibromyalgia patients. NYX-2925 is a new oral NMDA receptor positive allosteric modulator.
On concluding the screening period, eligible subjects are randomised to receive either once a day oral doses of 50mg or 100 mg NYX-2925 or placebo.
Subjects who were enrolled recently are nearing completion of the 12-week treatment period and a safety follow-up for 30 days.
The variation in average daily pain scores from baseline to week 12 as assessed on the ten-point numeric rating scale (NRS) will be the primary endpoint of the trial.
The trial will also analyse various other secondary endpoints linked to fatigue, pain, cognitive performance and quality of life of the subject.
Aptinyx president and CEO Andy Kidd said: "Fibromyalgia is one of the most common chronic pain conditions and can severely impair quality of life and function for those who suffer from it.
"Based on the results of our previous fibromyalgia study, in which NYX-2925 alleviated patients' symptoms and improved biomarkers of centralized pain processing, we believe it has the potential to deliver meaningfully improved outcomes for fibromyalgia patients."
A chronic condition, fibromyalgia is linked to widespread pain, tenderness and fatigue.
NYX-2925 was found to possess activity that impacts central pain processing, offering reduction in pain and other symptoms linked to chronic pain conditions in clinical trials.
Furthermore, the treatment was found to have a favourable safety and tolerability profile across various dose ranges in trials till date.
In October last year, Aptinyx concluded subject enrolment in the Phase IIb trial of NYX-2925 for treating painful diabetic peripheral neuropathy.
Free Case Study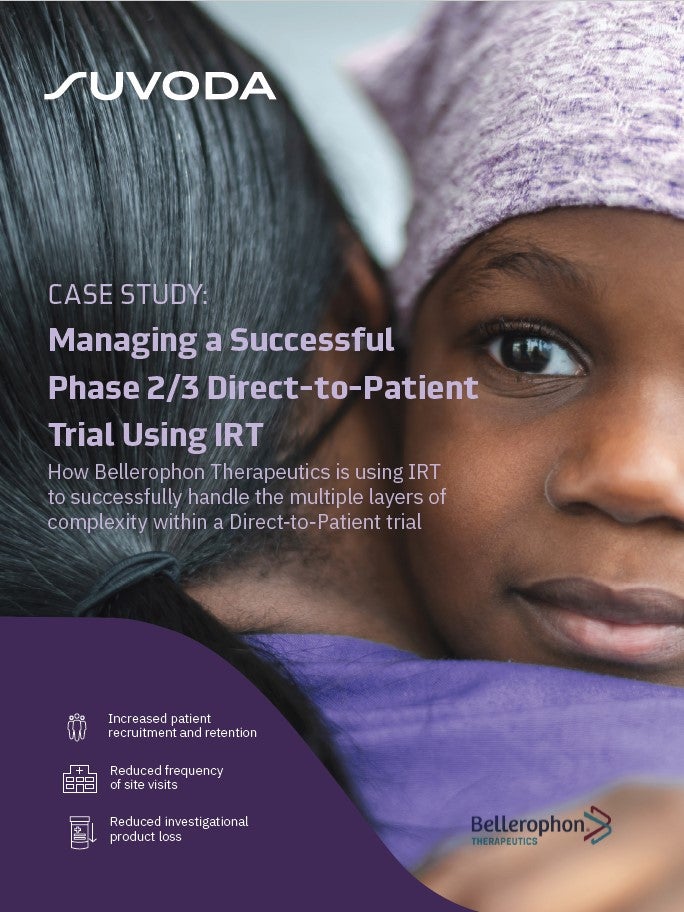 Direct-to-Patient Trials: How IRT Plays an Important Role in Bellerophon's Direct-to-Patient Trials
As the industry strengthens its focus on patient centricity, Direct-to-Patient clinical trials have emerged as a popular trial design that have the potential to increase patient recruitment and retention. IRT plays a crucial role in the success of a Direct-to-Patient trial. Because drug supplies are being managed and shipped from distribution facilities directly to patients' homes, a sponsor must have a high-quality system in place to accurately track the chain of custody, ensure patient-blinding and handle other logistical challenges. What You Will Learn Benefits and challenges associated with the Direct-to-Patient model Bellerophon's top considerations when implementing this trial design How IRT can equip study teams to successfully track chain of custody, ensure patient blinding, and handle logistical challenges
by Suvoda