BerGenBio and Oslo University Hospital in Norway have executed a collaborative agreement to analyse the former's AXL inhibitor, bemcentinib, in a trial in hospitalised Covid-19 patients.
Free Case Study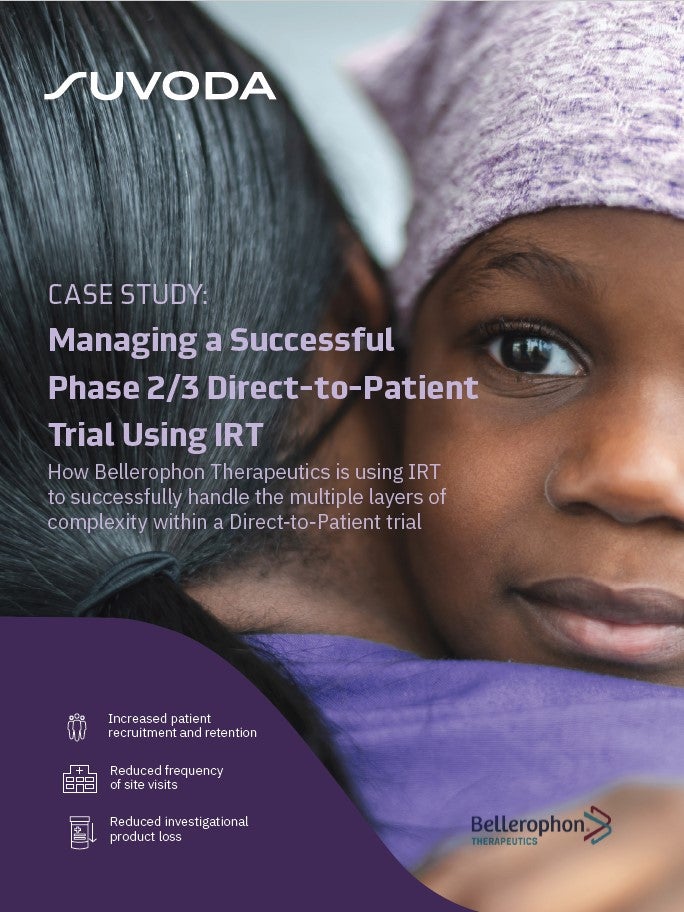 Direct-to-Patient Trials: How IRT Plays an Important Role in Bellerophon's Direct-to-Patient Trials
As the industry strengthens its focus on patient centricity, Direct-to-Patient clinical trials have emerged as a popular trial design that have the potential to increase patient recruitment and retention. IRT plays a crucial role in the success of a Direct-to-Patient trial. Because drug supplies are being managed and shipped from distribution facilities directly to patients' homes, a sponsor must have a high-quality system in place to accurately track the chain of custody, ensure patient-blinding and handle other logistical challenges. What You Will Learn Benefits and challenges associated with the Direct-to-Patient model Bellerophon's top considerations when implementing this trial design How IRT can equip study teams to successfully track chain of custody, ensure patient blinding, and handle logistical challenges
by Suvoda
Named European DisCoVeRy for Solidarity: An Adaptive Pandemic and Emerging Infection Platform Trial (EU-SolidAct), the randomised, multicentre, adaptive Phase II and III platform trial is part of EU-RESPONSE.
A pan-European research project, EU-RESPONSE is associated with the quick and synchronised analysis of therapies for treating Covid-19.
With study centres established in 15 countries, EU-SolidAct has a master protocol designed to analyse potential therapies in hospitalised Covid-19 patients.
The trial is sponsored by Oslo University Hospital along with the Institut National de la Santé Et de la Recherche Médicale (Inserm), France and the European Clinical Research Infrastructure Network (ECRIN).
In the trial, bemcentinib will be assessed in up to 500 such individuals.
Bemcentinib was opted as the second compound to be studied in the EU-SolidAct platform by an international expert group.
To support the study, BerGenBio will offer bemcentinib drug material as well as incremental funding of expenses linked to the sub-protocol of the therapy.
Initially, Eli Lilly and Company's baricitinib was evaluated under the EU-SolidAct platform as the first drug.
Baricitinib is currently being examined for market authorisation by the European Medicines Agency (EMA) for usage in Covid-19 patients in the hospital setting.
BerGenBio CEO Martin Olin said: "As the Covid-19 pandemic continues to evolve, it is even more important to identify new therapies for hospitalised patients that have a mechanism of action effective across disease variants.
"The EU-SolidAct platform provides BerGenBio with a unique opportunity to rapidly study the effectiveness of bemcentinib and to evaluate the promising signals of efficacy that were observed in the hospitalised patients requiring oxygen in earlier studies."
In September last year, the company concluded enrolment of participants in a Phase Ib/II BGBC003 trial of bemcentinib to treat patients with acute myeloid leukaemia and myelodysplastic syndrome.
Free Case Study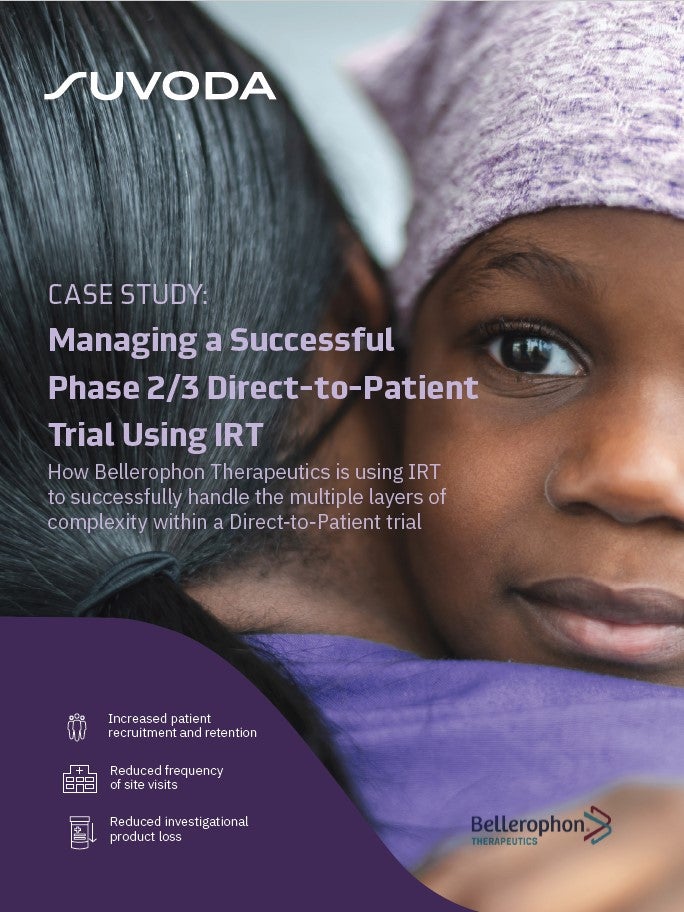 Direct-to-Patient Trials: How IRT Plays an Important Role in Bellerophon's Direct-to-Patient Trials
As the industry strengthens its focus on patient centricity, Direct-to-Patient clinical trials have emerged as a popular trial design that have the potential to increase patient recruitment and retention. IRT plays a crucial role in the success of a Direct-to-Patient trial. Because drug supplies are being managed and shipped from distribution facilities directly to patients' homes, a sponsor must have a high-quality system in place to accurately track the chain of custody, ensure patient-blinding and handle other logistical challenges. What You Will Learn Benefits and challenges associated with the Direct-to-Patient model Bellerophon's top considerations when implementing this trial design How IRT can equip study teams to successfully track chain of custody, ensure patient blinding, and handle logistical challenges
by Suvoda