On Tuesday, the All India Institute of Medical Sciences (AIIMS) in Patna started clinical trials of India's homegrown Covid-19 vaccine Covaxin in children between the ages of two to 18 years old.
Free Case Study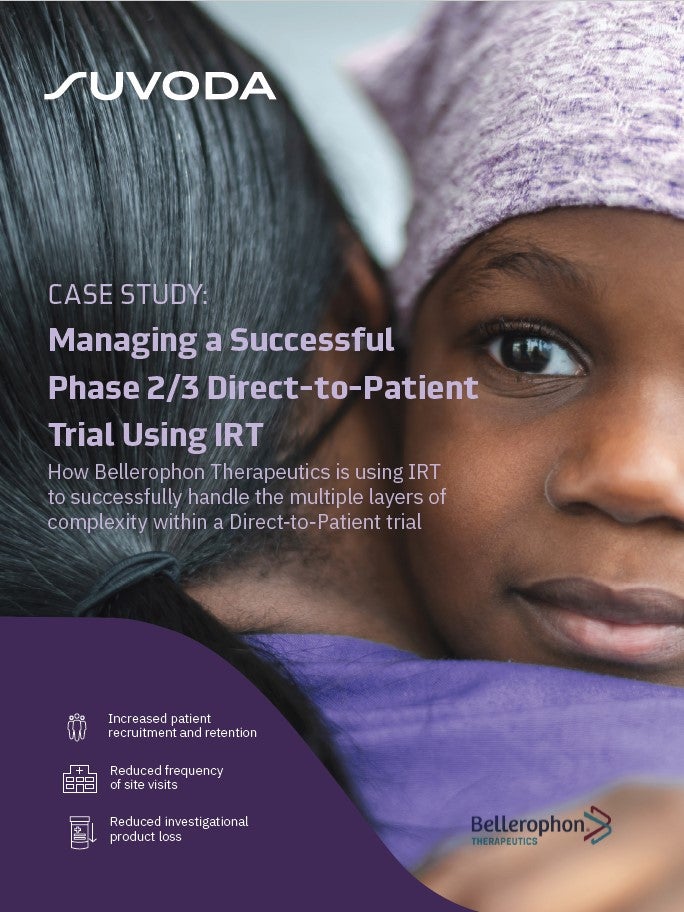 Direct-to-Patient Trials: How IRT Plays an Important Role in Bellerophon's Direct-to-Patient Trials
As the industry strengthens its focus on patient centricity, Direct-to-Patient clinical trials have emerged as a popular trial design that have the potential to increase patient recruitment and retention. IRT plays a crucial role in the success of a Direct-to-Patient trial. Because drug supplies are being managed and shipped from distribution facilities directly to patients' homes, a sponsor must have a high-quality system in place to accurately track the chain of custody, ensure patient-blinding and handle other logistical challenges. What You Will Learn Benefits and challenges associated with the Direct-to-Patient model Bellerophon's top considerations when implementing this trial design How IRT can equip study teams to successfully track chain of custody, ensure patient blinding, and handle logistical challenges
by Suvoda
The vaccine, developed by Hyderabad-based Bharat Biotech in association with the Indian Council of Medical Research, is to be tested in a paediatric population of 525 subjects in Phase II/III clinical trials.
The trial will take place at various sites across India. As well as at AIIMS Patna, studies will be conducted at the Prakhar Hospital in Kanpur, Mysore Medical College and Research Institute (MMCRI) in Mysuru, Pranaam Hospital in Hyderabad, and Meditrina Institute of Medical Sciences in Nagpur.
Participants will receive two doses of Covaxin administered at a 28-day interval.
The trial commenced with the vaccine being administered to three volunteers aged 12-18 years.
"We are commencing the trials today in the reverse order of age from today. Children in the 12 to 18 years age group will be given the shots first. We will then proceed with the six to 12 years age category before inoculating children in the two to six years age bracket," said professor of community and family medicine and the principal investigator of the trial at AIIMS-Patna, Dr CM Singh according to Hindustan Times.
Singh also said that not all registered participants will receive the vaccine – only those who test negative for Covid-19 or who have not had the virus previously will receive a dose.
"Besides physical examination of the child, we will conduct real-time polymerase chain reaction (RT PCR) to check them for Covid antibody and test them for any pre-existing diseases before administering the vaccine," he said.
Covaxin received the Drugs Controller General of India (DCGI) nod to conduct paediatric clinical trials on May 11. The trials come just in time, as concerns around how certain Covid-19 strains will affect children grow.
After the news that a new Covid variant was detected in Singapore, leaders such as Delhi Chief Minister Arvind Kejriwal have implored the Indian Council of Medical Research to act fast, flagging a potential "third wave" of Covid which he said could be particularly harmful to children.
"The new form of Corona that came to Singapore is being said to be extremely dangerous for children, in India it may come as a third wave. My appeal to the central government: one, air services with Singapore to be cancelled with immediate effect. Two, priority on vaccine options should be worked out for children, too," Kejriwal said.
Most countries are yet to approve any vaccine for use in children. Last month, the EU, US and Canada authorised Pfizer-BioNTech's vaccine for use in children aged 12-15. The vaccine has also just been approved in the UK for the same age group.
Free Case Study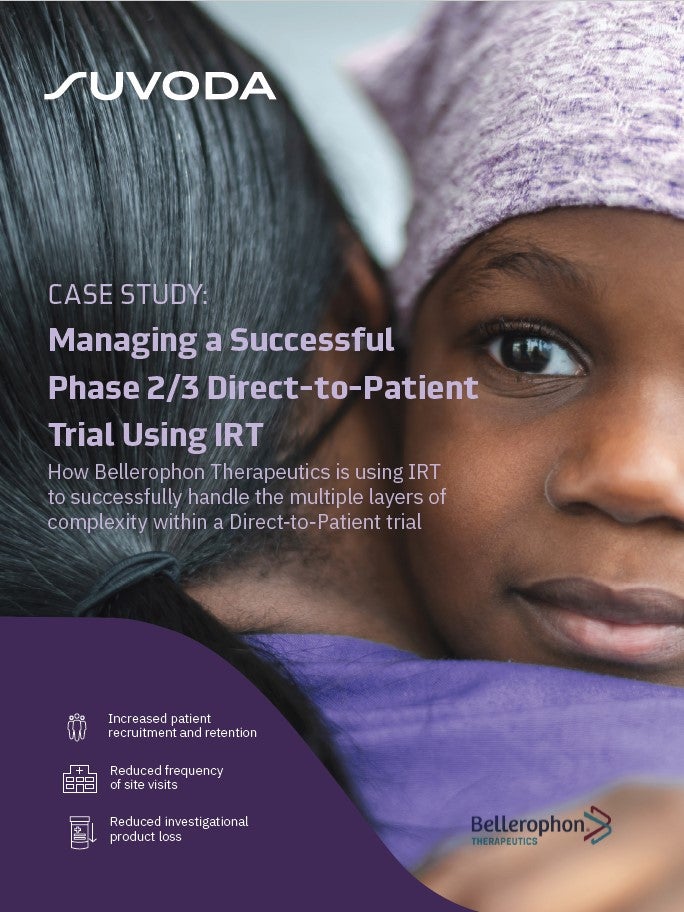 Direct-to-Patient Trials: How IRT Plays an Important Role in Bellerophon's Direct-to-Patient Trials
As the industry strengthens its focus on patient centricity, Direct-to-Patient clinical trials have emerged as a popular trial design that have the potential to increase patient recruitment and retention. IRT plays a crucial role in the success of a Direct-to-Patient trial. Because drug supplies are being managed and shipped from distribution facilities directly to patients' homes, a sponsor must have a high-quality system in place to accurately track the chain of custody, ensure patient-blinding and handle other logistical challenges. What You Will Learn Benefits and challenges associated with the Direct-to-Patient model Bellerophon's top considerations when implementing this trial design How IRT can equip study teams to successfully track chain of custody, ensure patient blinding, and handle logistical challenges
by Suvoda