CRISPR Therapeutics and ViaCyte have dosed the first subject in the Phase I clinical trial of their investigational therapy VCTX210 to treat type 1 diabetes (T1D).
Free Case Study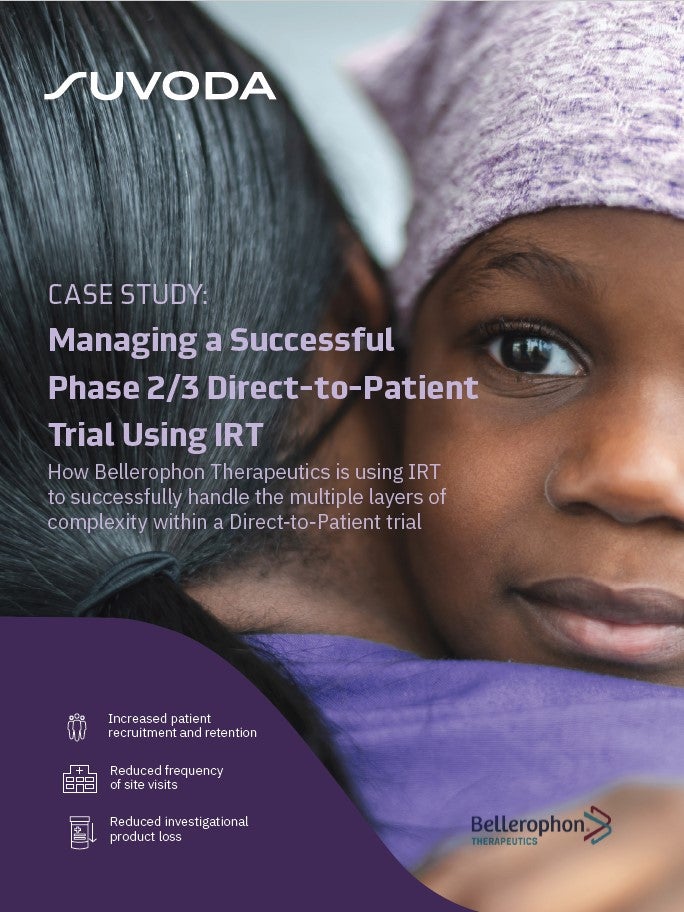 Direct-to-Patient Trials: How IRT Plays an Important Role in Bellerophon's Direct-to-Patient Trials
As the industry strengthens its focus on patient centricity, Direct-to-Patient clinical trials have emerged as a popular trial design that have the potential to increase patient recruitment and retention. IRT plays a crucial role in the success of a Direct-to-Patient trial. Because drug supplies are being managed and shipped from distribution facilities directly to patients' homes, a sponsor must have a high-quality system in place to accurately track the chain of custody, ensure patient-blinding and handle other logistical challenges. What You Will Learn Benefits and challenges associated with the Direct-to-Patient model Bellerophon's top considerations when implementing this trial design How IRT can equip study teams to successfully track chain of custody, ensure patient blinding, and handle logistical challenges
by Suvoda
Being developed jointly by the companies, VCTX210 is an allogeneic, gene-edited, immune-evasive, stem cell-derived therapy.
It was created by combining gene-editing technology of CRISPR with stem cell expertise of ViaCyte to generate pancreatic cells that can evade recognition by the immune system.
With this immune-evasive cell replacement therapy, patients will be able to make their own insulin.
The trial will evaluate the safety, tolerability and immune evasion of VCTX210 in individuals with T1D.
CRISPR and ViaCyte are progressing this programme under the agreement currently in place.
Clinical trial investigator James Shapiro said: "We are excited to work with CRISPR Therapeutics and ViaCyte to carry out this historic, first-in-human transplant of gene-edited, stem cell-derived pancreatic cells for the treatment of diabetes designed to eliminate the need for immune suppression.
"If this approach is successful, it will be a transformative treatment for patients with all insulin-requiring forms of diabetes."
In September 2018, CRISPR and ViaCyte entered a partnership to discover, develop and market gene-edited allogeneic stem cell therapies to treat diabetes.
As per the deal, the companies had agreed to co-develop an immune-evasive stem cell line as an initial step to develop an allogeneic stem-cell derived product.
The companies also assumed joint responsibility for the development and commercialisation of the identified product globally.
ViaCyte obtained approval from the US Food and Drug Administration and Health Canada for its investigational new drug (IND) application in May 2017 to commence a trial to analyse PEC-Direct in T1D patients.
Cell & Gene Therapy Coverage on Clinical Trials Arena supported by Cytiva.
Editorial content is independently produced and follows the highest standards of journalistic integrity. Topic sponsors are not involved in the creation of editorial content.
Free Case Study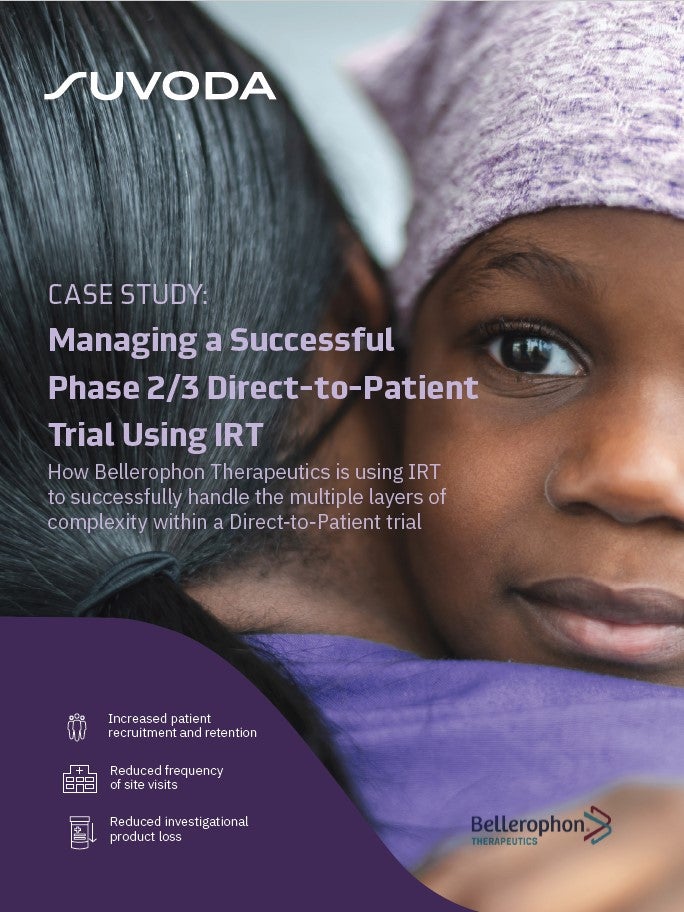 Direct-to-Patient Trials: How IRT Plays an Important Role in Bellerophon's Direct-to-Patient Trials
As the industry strengthens its focus on patient centricity, Direct-to-Patient clinical trials have emerged as a popular trial design that have the potential to increase patient recruitment and retention. IRT plays a crucial role in the success of a Direct-to-Patient trial. Because drug supplies are being managed and shipped from distribution facilities directly to patients' homes, a sponsor must have a high-quality system in place to accurately track the chain of custody, ensure patient-blinding and handle other logistical challenges. What You Will Learn Benefits and challenges associated with the Direct-to-Patient model Bellerophon's top considerations when implementing this trial design How IRT can equip study teams to successfully track chain of custody, ensure patient blinding, and handle logistical challenges
by Suvoda