As the actual number of industry sponsored clinical trials continues to decline, more evidence suggests that this can't be singly blamed on the financial crisis. Broader issues suggest a disjointed relationship between sponsor companies and vendors.
It's clear that the time has come to start working on different approaches to get drug or medical device candidates into trials. Getting clinical trials into a small country or region can be a challenge and the need for collaboration across public and private partnerships is the key.
Background
It became quite apparent here in Denmark that something needed to be done as the industry sponsored clinical trials appeared to almost pass us by. In 2010 we had only 140 industry initiated clinical trials at our hospital sites whereas in 2006 the number was around 230.
To dispel myths surrounding the impact of the financial crisis, one should keep in mind that a pharmaceutical pipeline is based on long term planning across many years. The activity level in terms of industry initiated studies should therefore be more or less stable and continuous, aside from some natural fluctuations. In turn, not everything should be blamed on the economic instability which has spread almost throughout the entire world.
The Danish government and the interest organisation for the five Danish Regions agreed that steps must be taken within the pharmaceutical industry to secure the progress of clinical trials of new treatments to patients, new knowledge within the industry and for the benefit of the Danish clinicians and general economic growth. And so, the idea of an easy, single point of entry for Danish clinical studies was born.
A network of five coordinators with various backgrounds in healthcare and industry experience were given the task to implement initiatives which linked researchers, the industry, research infrastructures and administrative bodies. This team is called Clinical Trials Office Denmark.
Speed is everything and time is money
The preconceptions surrounding running clinical studies in Denmark is based around the ideas that they would be very expensive to run, and salaries would have to be high.
However, when it comes down to results; Denmark can deliver. A smart and efficient system, it offers easy access to committed investigators and nurses, flexible hospital systems and a focus on high performing clinical trials. All of these benefits can be translated into real cost saving for those who decide to run their clinical trials in Denmark.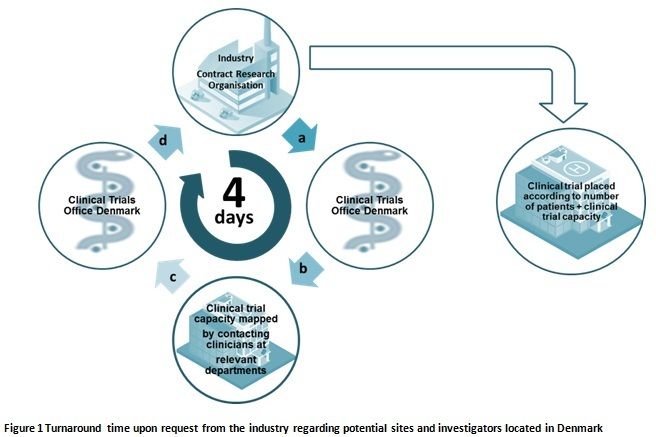 Bridging the gap between the sponsor companies and the contract research organization was the window of opportunity for Denmark. It was vital to find investigators who were willing to spend time completing feasibility requests, and most importantly, making sure they could live up to their promises and deliver results for future trials.
Acting as a single point of contact, the coordinators of the clinical trials office in Denmark cover a broad background in the industry. Some are trained nurses with extensive experience in clinical studies whilst others are doctors with expertise in epidemiology. Others have experience from the pharmaceutical industry, and they use this to help and support each other, which translates in to a fast and reliable service.
The coordinators use their knowledge and networking skills to interact with clinical departments when either a pharmaceutical company or CRO requires assistance in tracking down the right site. This could be a huge problem to a company unfamiliar with a specific therapeutic area, or unsure about which site has the capability of running a specific clinical study.
And perhaps best of all is the fact the team promise to deliver a full list of names for potential sites and investigators within four working days, sourced from every part of Denmark (See fig.1). All of these are delivered by one coordinator and one point of contact.
Once this information is received, the local pharmaceutical affiliates can deliver the full list of potential clinical sites to their headquarters and leading figures. This quick turnaround means that the local pharmaceutical company can rapidly review a feasibility request at their headquarters, and hence serve a far better chance of getting the right clinical site in Denmark for them.
However, finding the right site which can guarantee adequate enrollment rates is one thing, the legal aspect is another. To address this, the Clinical Trials Office also consists of a legal network which acts as one central negotiating body for all five regions in Denmark.
The individual companies will negotiate with one of the lawyers as a "lead" to the Agreement. They will handle any potential legal barriers (monitoring access to Electronic Journals, FDA rules in contracts, etc.), prepare standard contracts if at all possible, simplify the administrative work and generally keep the clinical coordinators informed about issues raised by the individual company
Be inspired
Clinical Trials Office Denmark has a close collaboration with the Ministry of Foreign Affairs of Denmark, the Danish Health and Medicines Authority, The Danish Ministry of Health as well as the Danish Association of the Pharmaceutical Industry. This means that we are on the same page working for the same purpose which makes the processes of running clinical studies more transparent.
We have found being a small country is by no means a downside; what is important is a country like Denmark shows the world that in future, placing clinical studies can be done in an efficient and productive manner.
Other Nordic countries could easily build a similar body, and the Nordics may have a far greater potential together. Many of the pharmaceutical industries already build their local offices as representatives for the Nordic region, and we are often seen as a cluster of nations.
Although we may be different, when it comes to individuals, we are way stronger unified. Furthermore, many of our clinicians already have academic collaboration across borders. As an example, when it comes to rare diseases one country might not have enough patients to be included into a study – but from a Nordic region as a whole we may have the resources compared to other big countries.
We are constantly in global competition, hence the need to work across borders is greater than ever. It is important to ensure the Nordics can be seen as a great site for industry sponsored clinical studies in the future.