For most medical device companies, clinical trials are the largest single area of R&D operating expense. The need to develop an accurate study budget is therefore critical, since an insufficient study budget may result in the inability to cover all expenses and this may affect the credibility within the industry, the institution, and the Principal Investigator.
Free Case Study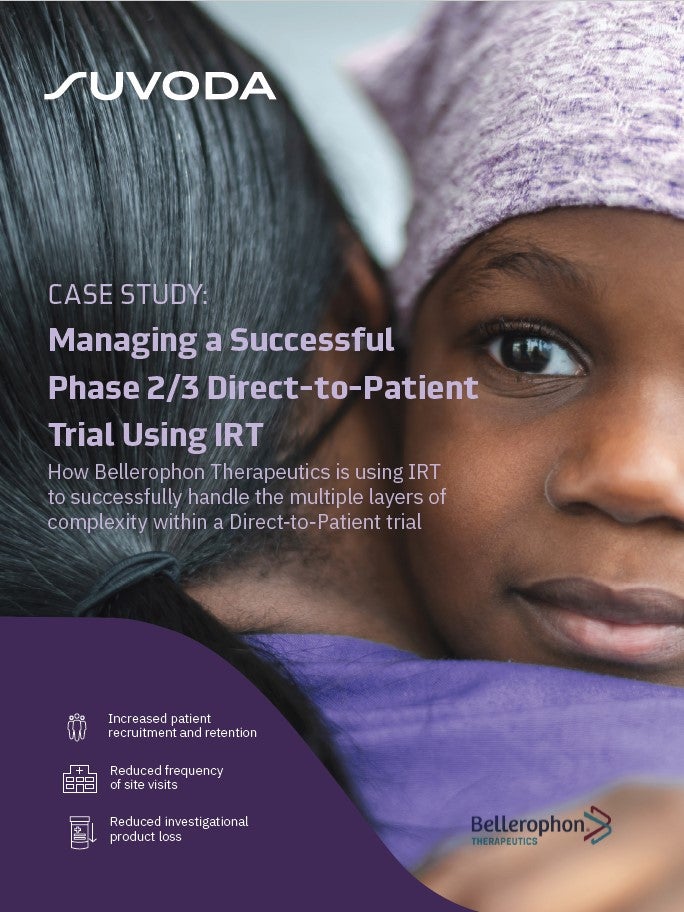 Direct-to-Patient Trials: How IRT Plays an Important Role in Bellerophon's Direct-to-Patient Trials
As the industry strengthens its focus on patient centricity, Direct-to-Patient clinical trials have emerged as a popular trial design that have the potential to increase patient recruitment and retention. IRT plays a crucial role in the success of a Direct-to-Patient trial. Because drug supplies are being managed and shipped from distribution facilities directly to patients' homes, a sponsor must have a high-quality system in place to accurately track the chain of custody, ensure patient-blinding and handle other logistical challenges. What You Will Learn Benefits and challenges associated with the Direct-to-Patient model Bellerophon's top considerations when implementing this trial design How IRT can equip study teams to successfully track chain of custody, ensure patient blinding, and handle logistical challenges
by Suvoda
Budgeting a clinical trial is therefore a challenging task. At the time of creating the budget, there are still a lot of unknown variables, making it more difficult to accurately estimate the final budget. Several study assessments may not be known, and although a draft study design is most often in place at the time of budget creation, it still remains difficult to make the 'best estimate'.
A second difficulty lies in the estimation of the amount of work for the investigational sites. A fair market value should be paid to the sites, depending on the assessments and procedures performed. It is necessary to walk a fine line – the budget needs to be fair, but not excessive. While a low budget can have a negative impact on study success, it is important to point out that "excessive budgets" can also have negative consequences. Therefore, an estimate of the amount of time to complete these assessments is required by each site staff member. But this is of course a calculation made by the sponsor; during the contract negotiation phase with the investigational sites, the final estimate may be very different! Also, this exercise is based on an estimate of hourly rates for physicians and research coordinators. Hourly rates can vary depending on the participating countries. When building the overall study budget we also start from estimates on the number of sites to be included for a selected number country, but the final list of sites/countries may look different! These geographical variances can however have a big impact on the budget.
The third challenge lies in the estimate of the internal resources cost, in case the study is managed directly by the sponsor OR in the estimate of the CRO (clinical research organisation) when the study is outsourced. Some CROs will charge costs per units or completed tasks, some CROs will charge costs per hour worked on the trial. In the latter case, the difference between planned costs and actual costs may even be bigger, since this way of budgeting requires a very accurate estimation of the resources needed for the study, which is simply impossible at the start of the trial.
It is also necessary to differentiate procedures and services which are considered standard of care and those which are not. Procedures and services routinely performed as part of the treatment or care plan are considered standard of care; those that are done solely to support the research objective are not. For standard of care procedures, only compensation for the time of the physician/research coordinator spent needs to be reimbursed since the procedure itself is being billed to the participant/insurance company. Again, it is critical to investigate upfront which procedures are considered as standard of care and which aren't, as well as to investigate if there are geographical differences. The research services – services that are not typically performed in the participant population or are performed strictly for research purposes – need to be built into the study budget since these services will be billed to the sponsor.
Last but not least, the 'hidden' study costs are often forgotten, such as:
Facility overheads
Delayed study starts
Enrolment rate changes
Increased operating costs
Salaries over time
Travel costs
Unscheduled visit costs
Administrative fees (legal/financial, etc.)
Record storage
All to name a few!
Often, research sites feel sponsors do not adequately recog¬nize the indirect costs associated with conducting a clinical study. Therefore, it is especially important to be cognizant of the indirect costs. Furthermore, it is crucial the sponsor takes these costs into account since they have a huge impact on the overall study budget. Making a detailed list of all the fixed costs is also recommended, since some can easily be forgotten. The following items should be taken into account when calculating the fixed costs:
Laboratory testing
Procedures
Supplies
Pharmacy charges
Shipping fees
Professional fees
Additionally, accounting for inflation in multiple year trials should also be considered.
Tracking study costs and study payments is equally important for keeping the budget up to date. It is not uncommon that change orders are required. So if you monitor the study budget closely, this can be avoided as much as possible.
To conclude, budgeting a trial remains a challenge and this should be seen as an ongoing exercise throughout the course of a trial.
Free Case Study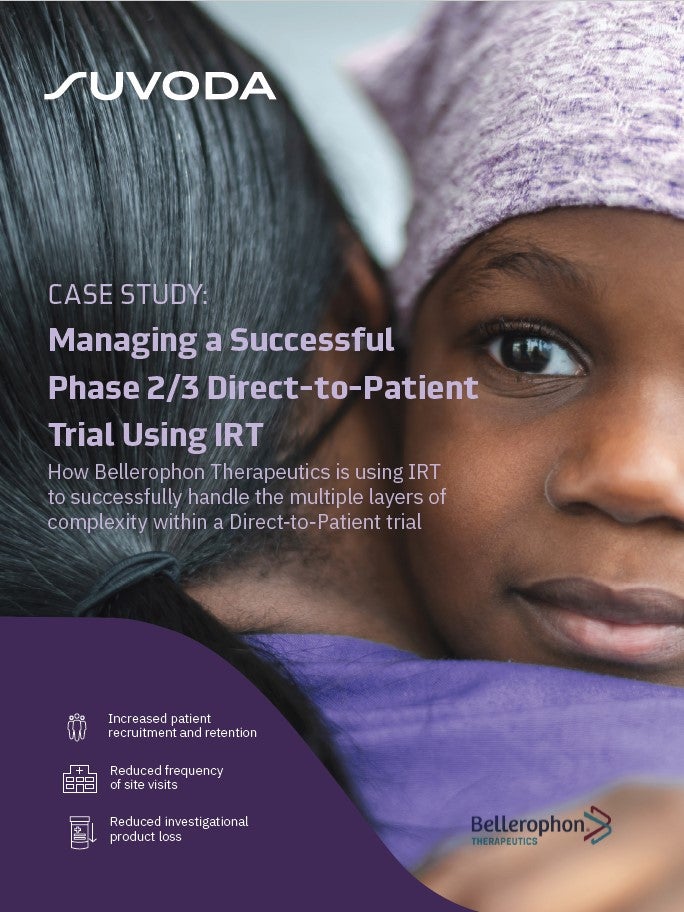 Direct-to-Patient Trials: How IRT Plays an Important Role in Bellerophon's Direct-to-Patient Trials
As the industry strengthens its focus on patient centricity, Direct-to-Patient clinical trials have emerged as a popular trial design that have the potential to increase patient recruitment and retention. IRT plays a crucial role in the success of a Direct-to-Patient trial. Because drug supplies are being managed and shipped from distribution facilities directly to patients' homes, a sponsor must have a high-quality system in place to accurately track the chain of custody, ensure patient-blinding and handle other logistical challenges. What You Will Learn Benefits and challenges associated with the Direct-to-Patient model Bellerophon's top considerations when implementing this trial design How IRT can equip study teams to successfully track chain of custody, ensure patient blinding, and handle logistical challenges
by Suvoda