Humanigen has achieved target enrolment in the Phase II/III ACTIV-5/BET-B clinical trial of its lead investigational antibody lenzilumab.
Free Case Study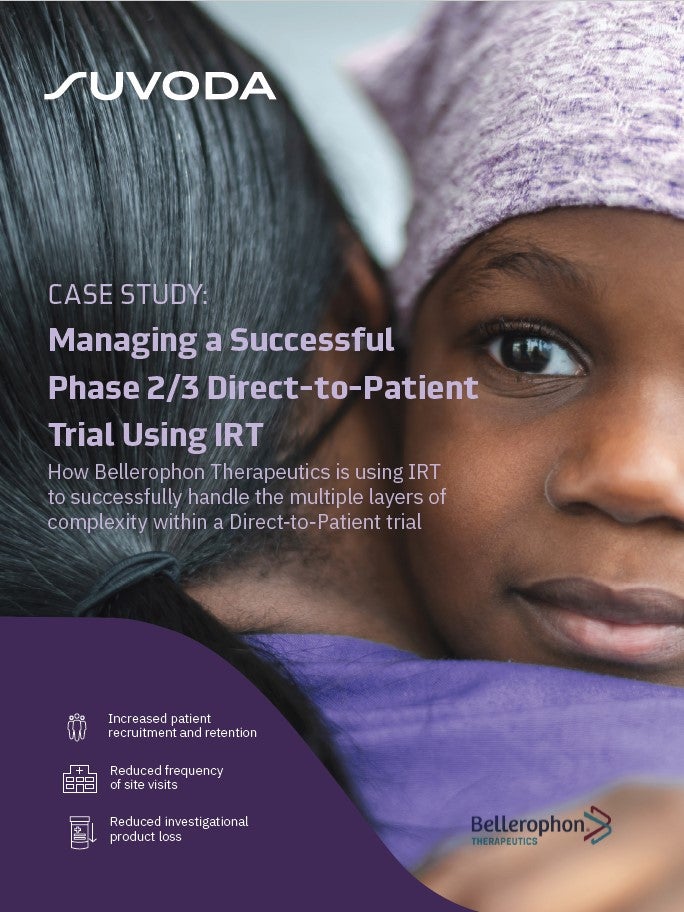 Direct-to-Patient Trials: How IRT Plays an Important Role in Bellerophon's Direct-to-Patient Trials
As the industry strengthens its focus on patient centricity, Direct-to-Patient clinical trials have emerged as a popular trial design that have the potential to increase patient recruitment and retention. IRT plays a crucial role in the success of a Direct-to-Patient trial. Because drug supplies are being managed and shipped from distribution facilities directly to patients' homes, a sponsor must have a high-quality system in place to accurately track the chain of custody, ensure patient-blinding and handle other logistical challenges. What You Will Learn Benefits and challenges associated with the Direct-to-Patient model Bellerophon's top considerations when implementing this trial design How IRT can equip study teams to successfully track chain of custody, ensure patient blinding, and handle logistical challenges
by Suvoda
The trial enrolled more than 400 subjects in the primary assessment population at nearly 55 centres, including global sites.
Acting on the dysregulated host immune response, the variant-agnostic product attaches to and neutralises granulocyte-macrophage colony-stimulating factor (GM-CSF).
In the US National Institute of Allergy and Infectious Diseases-sponsored trial, subjects were randomised to receive either a placebo plus remdesivir or lenzilumab and remdesivir.
All the participants were also given present standard of care, including corticosteroids.
Subjects with a baseline C-reactive protein (CRP) under 150mg/l, aged below 85 years, and do not need mechanical ventilation during enrolment are part of the primary assessment population.
The occurrence of invasive mechanical ventilation or mortality by day 29 is the primary goal of the trial.
Top-line results from the ACTIV-5/BET-B trial are anticipated in the first quarter or second quarter of this year.
The trial was designed to support Humanigen's Phase III LIVE-AIR trial of lenzilumab enrolling individuals with Covid-19 admitted to the hospital.
LIVE-AIR data showed that lenzilumab is expected to boost the chances of survival without requiring mechanical ventilation while the safety profile was in line with placebo.
Humanigen chairman and CEO Cameron Durrant said: "We have alignment with the FDA that, if the trial is successful, we can include the results from ACTIV-5/BET-B in an amended Emergency Use Authorization (EUA) submission for lenzilumab for hospitalised patients with Covid-19."
Last August, the company reported that the NIH advanced the ACTIV-5/BET-B study of lenzilumab to treat Covid-19 from a Phase II exploratory trial to a Phase II/III trial.
Free Case Study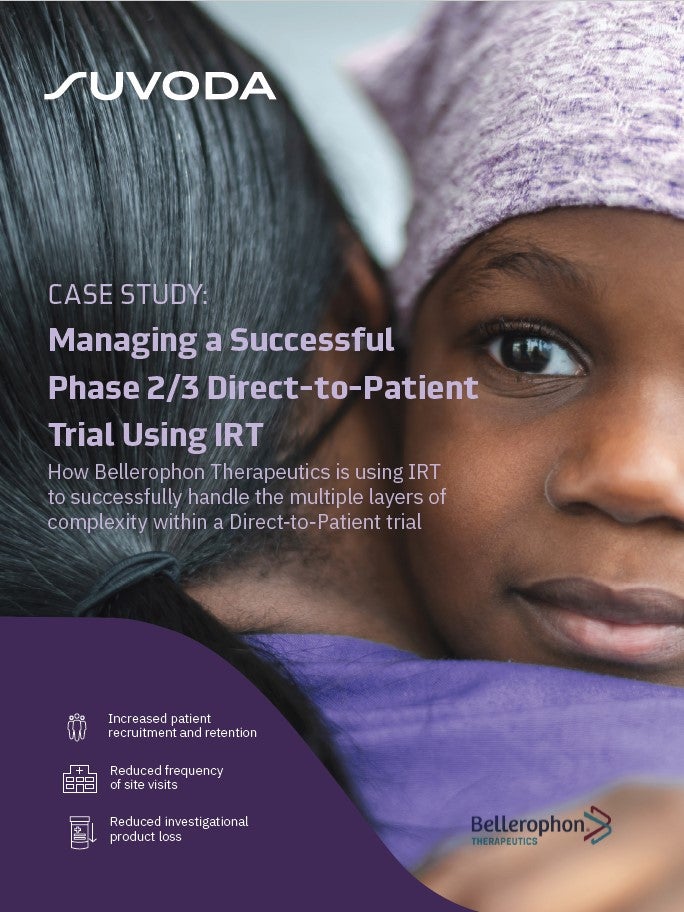 Direct-to-Patient Trials: How IRT Plays an Important Role in Bellerophon's Direct-to-Patient Trials
As the industry strengthens its focus on patient centricity, Direct-to-Patient clinical trials have emerged as a popular trial design that have the potential to increase patient recruitment and retention. IRT plays a crucial role in the success of a Direct-to-Patient trial. Because drug supplies are being managed and shipped from distribution facilities directly to patients' homes, a sponsor must have a high-quality system in place to accurately track the chain of custody, ensure patient-blinding and handle other logistical challenges. What You Will Learn Benefits and challenges associated with the Direct-to-Patient model Bellerophon's top considerations when implementing this trial design How IRT can equip study teams to successfully track chain of custody, ensure patient blinding, and handle logistical challenges
by Suvoda