Hutchmed has commenced a Phase Ib/II clinical trial of the investigational therapy, HMPL-453, along with chemotherapy or toripalimab for advanced solid tumours in China.
Free Case Study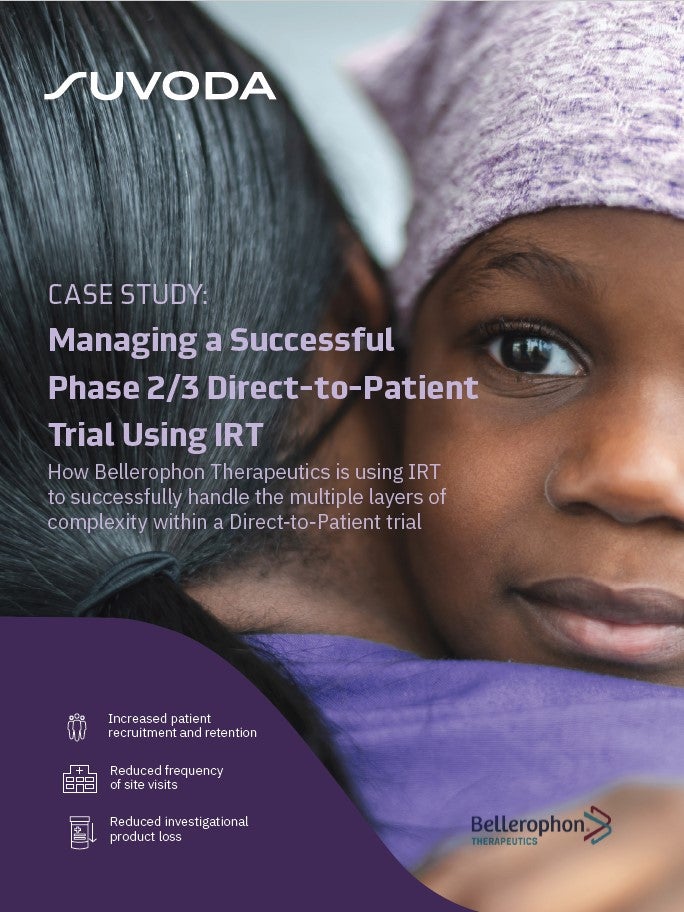 Direct-to-Patient Trials: How IRT Plays an Important Role in Bellerophon's Direct-to-Patient Trials
As the industry strengthens its focus on patient centricity, Direct-to-Patient clinical trials have emerged as a popular trial design that have the potential to increase patient recruitment and retention. IRT plays a crucial role in the success of a Direct-to-Patient trial. Because drug supplies are being managed and shipped from distribution facilities directly to patients' homes, a sponsor must have a high-quality system in place to accurately track the chain of custody, ensure patient-blinding and handle other logistical challenges. What You Will Learn Benefits and challenges associated with the Direct-to-Patient model Bellerophon's top considerations when implementing this trial design How IRT can equip study teams to successfully track chain of custody, ensure patient blinding, and handle logistical challenges
by Suvoda
The first subject in the trial was given the first dose last month.
HMPL-453 is an inhibitor that acts on targeting fibroblast growth factor receptors (FGFR) 1/2/3 while toripalimab is an anti-programmed cell death protein 1 (PD-1) therapy.
Chemotherapy will comprise gemcitabine and cisplatin.
The open-label, multicentre, two-stage trial will analyse the tolerability, safety, pharmacokinetics and initial efficacy profile of HMPL-453 combination treatment in particular advanced or metastatic solid tumour patients.
In the dose-escalation phase, the dose-limiting toxicity (DLT), as well as the recommended Phase II dose (RP2D) of HMPL-453 plus chemotherapy or toripalimab, will be established.
The dose-expansion phase will be carried out in individuals with either gastric cancer, intrahepatic cholangiocarcinoma, or urothelial carcinoma, harbouring specific FGFR gene mutations.
To further assess the initial safety, efficacy and tolerability at the RP2D, each solid tumour arm will be given a specific cocktail of HMPL‑453 and chemotherapy or anti-PD-1 treatment.
Hutchmed noted that a Phase II trial of HMPL-453 as a single agent is progressing in advanced intrahepatic cholangiocarcinoma (IHCC) patients in the country.
At present, the company retains all rights to the therapy across the globe.
Last month, Hutchmed commenced a Phase I trial of HMPL-653 to treat advanced malignant solid tumours and tenosynovial giant cell tumours (TGCT) patients in the region.
This single-arm, open-label, multicentre trial will evaluate the safety, pharmacokinetics, tolerability and preliminary efficacy of HMPL-653, a colony-stimulating factor 1 receptor inhibitor.
Free Case Study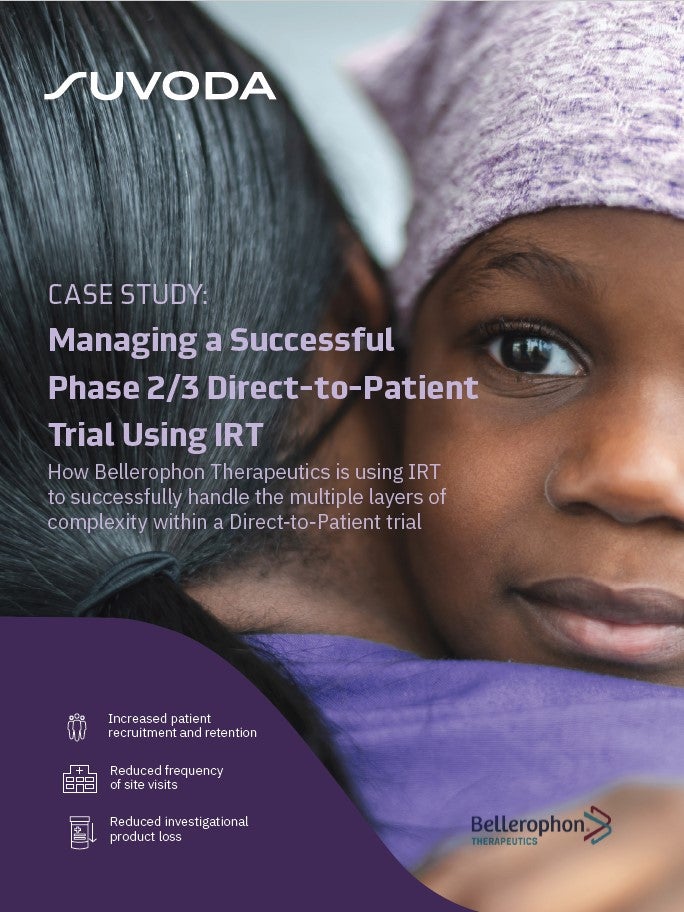 Direct-to-Patient Trials: How IRT Plays an Important Role in Bellerophon's Direct-to-Patient Trials
As the industry strengthens its focus on patient centricity, Direct-to-Patient clinical trials have emerged as a popular trial design that have the potential to increase patient recruitment and retention. IRT plays a crucial role in the success of a Direct-to-Patient trial. Because drug supplies are being managed and shipped from distribution facilities directly to patients' homes, a sponsor must have a high-quality system in place to accurately track the chain of custody, ensure patient-blinding and handle other logistical challenges. What You Will Learn Benefits and challenges associated with the Direct-to-Patient model Bellerophon's top considerations when implementing this trial design How IRT can equip study teams to successfully track chain of custody, ensure patient blinding, and handle logistical challenges
by Suvoda