Kintor Pharmaceutical has enrolled and dosed the first participant in China in its multi-regional Phase III clinical trial of proxalutamide to treat Covid-19 outpatients.
Free Case Study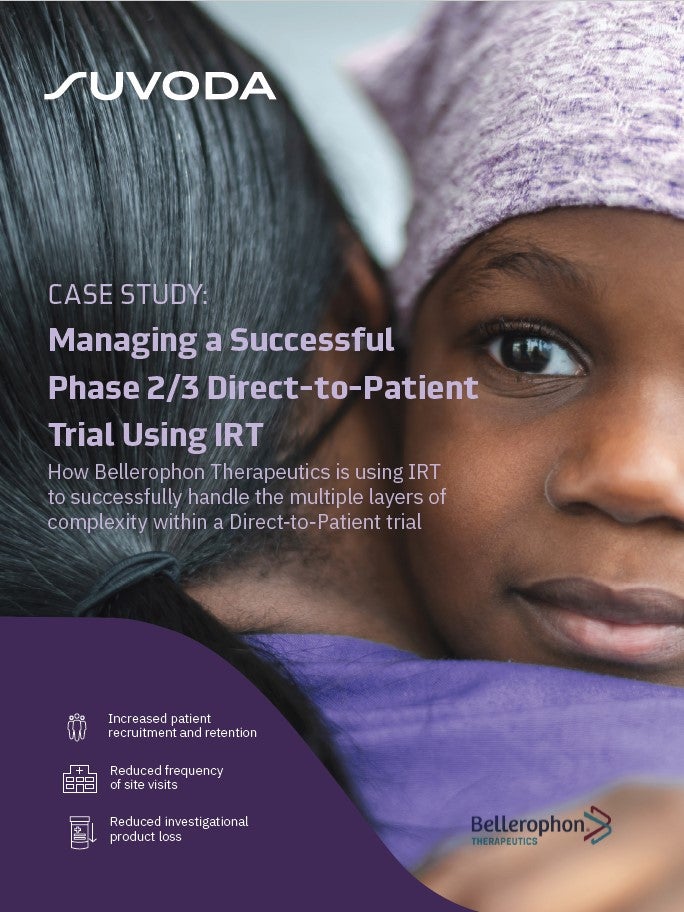 Direct-to-Patient Trials: How IRT Plays an Important Role in Bellerophon's Direct-to-Patient Trials
As the industry strengthens its focus on patient centricity, Direct-to-Patient clinical trials have emerged as a popular trial design that have the potential to increase patient recruitment and retention. IRT plays a crucial role in the success of a Direct-to-Patient trial. Because drug supplies are being managed and shipped from distribution facilities directly to patients' homes, a sponsor must have a high-quality system in place to accurately track the chain of custody, ensure patient-blinding and handle other logistical challenges. What You Will Learn Benefits and challenges associated with the Direct-to-Patient model Bellerophon's top considerations when implementing this trial design How IRT can equip study teams to successfully track chain of custody, ensure patient blinding, and handle logistical challenges
by Suvoda
The first subject was dosed at the Third People's Hospital of Shenzhen in the country.
A nonsteroidal antiandrogen, proxalutamide is a selective high-affinity silent antagonist of the androgen receptor being developed to treat Covid-19, breast cancer and prostate cancer.
It acts on the AR-ACE2/TMPRSS2 signal axis to hinder the viral entry into host cells.
The randomised, double-blind, placebo-controlled, multi-regional trial will analyse the safety and efficacy of proxalutamide in male outpatients with Covid-19.
It has so far enrolled approximately 200 subjects in trial centres in countries such as the Philippines, Brazil and Malaysia. 
Last September, the company obtained approval from the China National Medical Products Administration (NMPA) to carry out this trial. 
Apart from the Third People's Hospital of Shenzhen, the trial centres in China include Beijing Ditan Hospital, Shanghai Public Health Clinical Center, China-Japan Friendship Hospital, the Public Health Clinical Center of Chengdu, the Fifth People's Hospital of Suzhou and Hangzhou Xixi Hospital.
Kintor Pharma founder, chairman and CEO Dr Tong Youzhi said: "We would like to give special thanks to president Dr Hongzhou Lu and his team in the Third People's Hospital of Shenzhen for the first patient enrolment and dosing in proxalutamide's Phase III clinical trial for treating Covid-19 outpatients in China, which is a very important step for this multi-regional clinical trial.
"Besides, the clinical trial for Covid-19 inpatients has initiated the enrolment of patients in the US, Ukraine and the Philippines and is currently conducting patients screening before enrolment in sites in China."
The latest development comes after Kintor dosed the first subject in a US Phase I trial of GT20029 (gel) to treat androgenetic alopecia and acne.
Free Case Study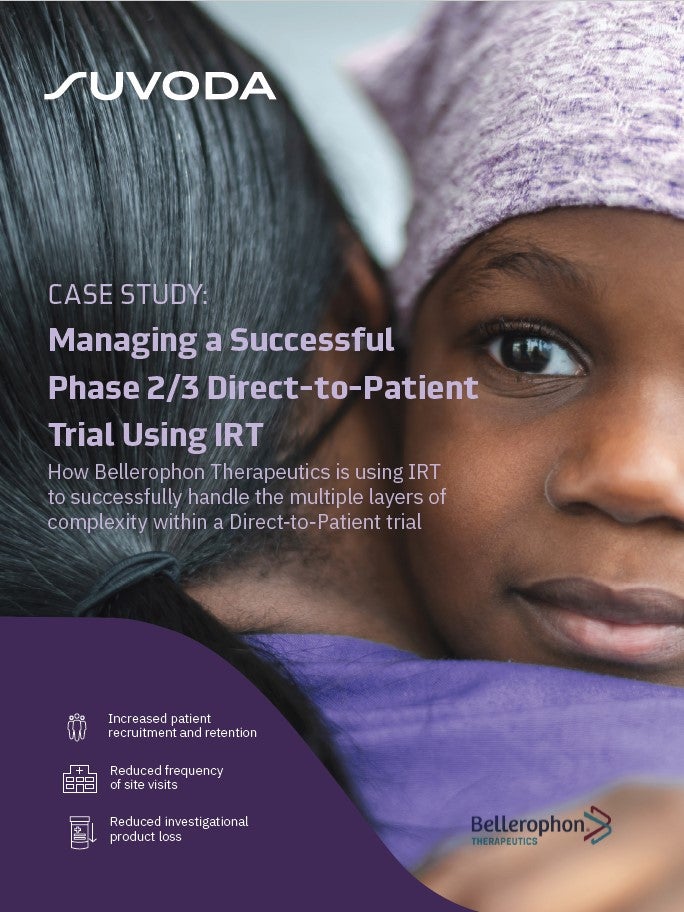 Direct-to-Patient Trials: How IRT Plays an Important Role in Bellerophon's Direct-to-Patient Trials
As the industry strengthens its focus on patient centricity, Direct-to-Patient clinical trials have emerged as a popular trial design that have the potential to increase patient recruitment and retention. IRT plays a crucial role in the success of a Direct-to-Patient trial. Because drug supplies are being managed and shipped from distribution facilities directly to patients' homes, a sponsor must have a high-quality system in place to accurately track the chain of custody, ensure patient-blinding and handle other logistical challenges. What You Will Learn Benefits and challenges associated with the Direct-to-Patient model Bellerophon's top considerations when implementing this trial design How IRT can equip study teams to successfully track chain of custody, ensure patient blinding, and handle logistical challenges
by Suvoda