American technology firm Medidata, a subsidiary of Dassault Systèmes, will support clinical trials of Moderna's Covid-19 vaccine candidate 'mRNA-1273' after the companies entered a partnership.
Free Case Study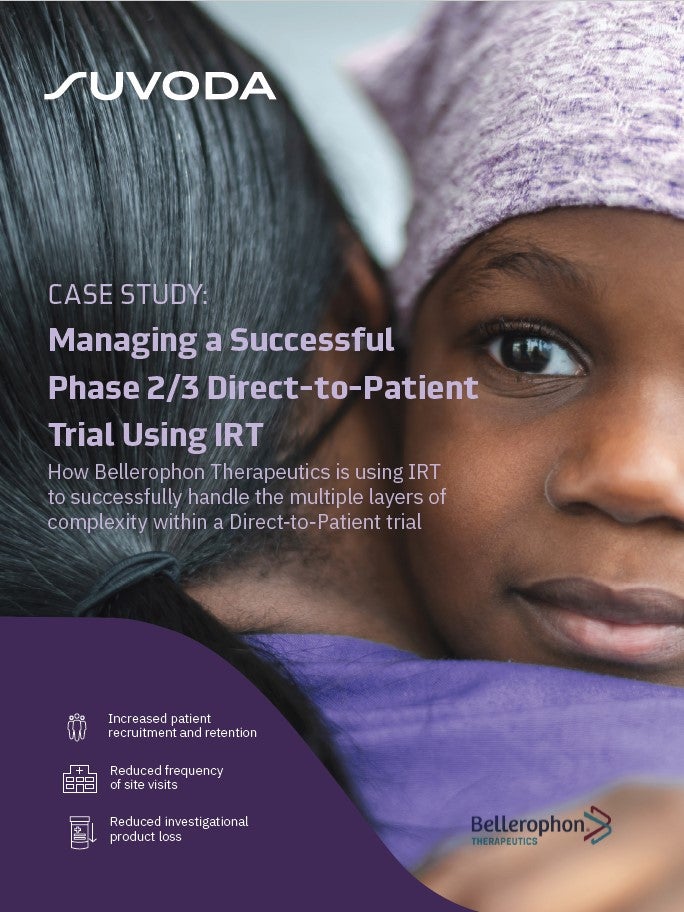 Direct-to-Patient Trials: How IRT Plays an Important Role in Bellerophon's Direct-to-Patient Trials
As the industry strengthens its focus on patient centricity, Direct-to-Patient clinical trials have emerged as a popular trial design that have the potential to increase patient recruitment and retention. IRT plays a crucial role in the success of a Direct-to-Patient trial. Because drug supplies are being managed and shipped from distribution facilities directly to patients' homes, a sponsor must have a high-quality system in place to accurately track the chain of custody, ensure patient-blinding and handle other logistical challenges. What You Will Learn Benefits and challenges associated with the Direct-to-Patient model Bellerophon's top considerations when implementing this trial design How IRT can equip study teams to successfully track chain of custody, ensure patient blinding, and handle logistical challenges
by Suvoda
Medidata's set of technologies will support in the development of Moderna's mRNA-1273 clinical trials, which also includes the Phase III trial.
The Phase III trial is expected to enrol 30,000 participants.
With the help of Medidata's Cloud platform for clinical development, teams from both companies are moving further with the urgency, which has been necessitated as a result of the global pandemic.
Medidata co-founder and co-CEO Tarek Sherif said: "We are proud to be working with Moderna on these breakthrough trials, which are so important to medical science and the health of our global society.
"The extensive partnership we've built together over many years is allowing us to support these critical clinical studies. Clearly, the faster we can arrive at answers, the better it will be for everyone, everywhere."
Medidata noted that this clinical trial incorporates data captured directly from participants, reducing the need for office visits.
The 'virtualisation' of the trial enables participants to use their own devices, relieving the burden of carrying a separate, 'provisioned' device.
Moderna chief digital and operational excellence officer Marcello Damiani said: "We are pleased to collaborate with Medidata.
"Medidata's unified platform is helping us put participants at the center of our efforts to develop a safe and effective vaccine against Covid-19."
In April this year, Medidata launched an advanced, intuitive platform called myMedidata for patients.
In February, Medidata and Project ALS entered a research partnership in order to develop new therapeutic strategies for the treatment of Amyotrophic lateral sclerosis (ALS).
Free Case Study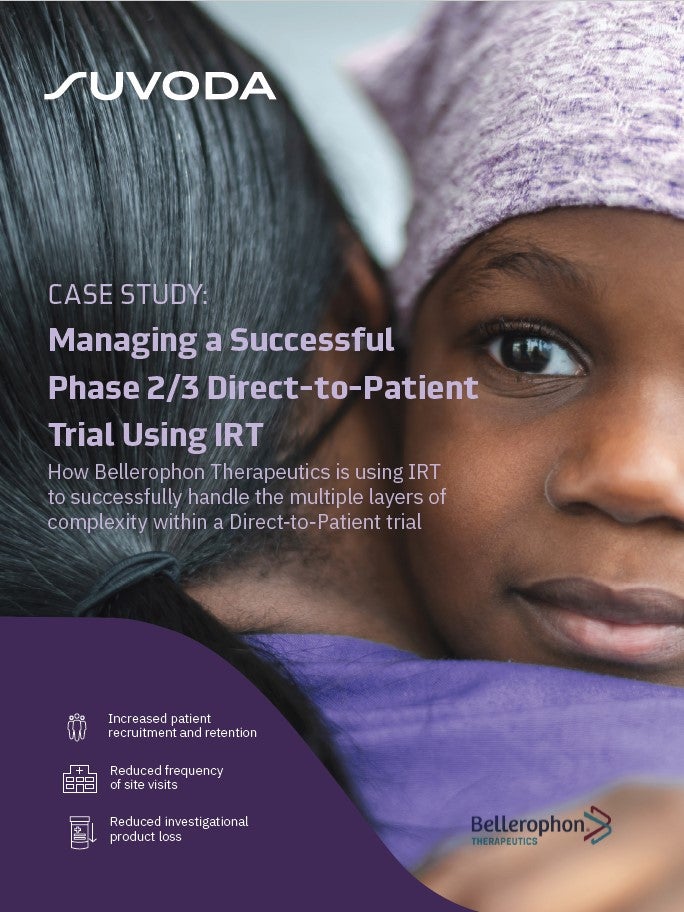 Direct-to-Patient Trials: How IRT Plays an Important Role in Bellerophon's Direct-to-Patient Trials
As the industry strengthens its focus on patient centricity, Direct-to-Patient clinical trials have emerged as a popular trial design that have the potential to increase patient recruitment and retention. IRT plays a crucial role in the success of a Direct-to-Patient trial. Because drug supplies are being managed and shipped from distribution facilities directly to patients' homes, a sponsor must have a high-quality system in place to accurately track the chain of custody, ensure patient-blinding and handle other logistical challenges. What You Will Learn Benefits and challenges associated with the Direct-to-Patient model Bellerophon's top considerations when implementing this trial design How IRT can equip study teams to successfully track chain of custody, ensure patient blinding, and handle logistical challenges
by Suvoda