SAB Biotherapeutics has reported that the US National Institutes of Health (NIH) is halting subject enrolment in the Phase III Covid-19 trial of SAB-185 under the ACTIV-2 Program.
Free Case Study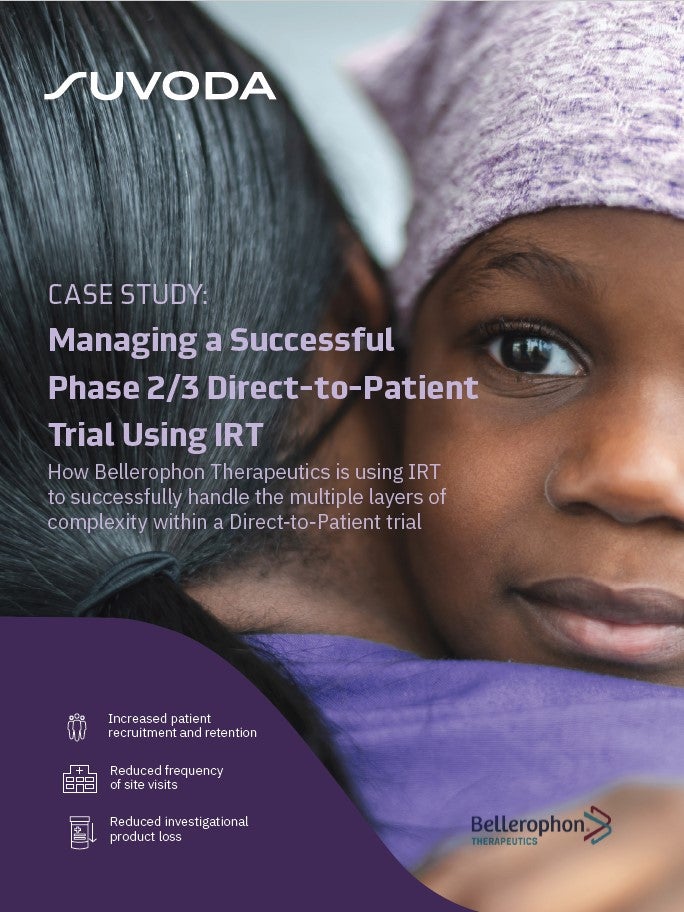 Direct-to-Patient Trials: How IRT Plays an Important Role in Bellerophon's Direct-to-Patient Trials
As the industry strengthens its focus on patient centricity, Direct-to-Patient clinical trials have emerged as a popular trial design that have the potential to increase patient recruitment and retention. IRT plays a crucial role in the success of a Direct-to-Patient trial. Because drug supplies are being managed and shipped from distribution facilities directly to patients' homes, a sponsor must have a high-quality system in place to accurately track the chain of custody, ensure patient-blinding and handle other logistical challenges. What You Will Learn Benefits and challenges associated with the Direct-to-Patient model Bellerophon's top considerations when implementing this trial design How IRT can equip study teams to successfully track chain of custody, ensure patient blinding, and handle logistical challenges
by Suvoda
SAB-185 was being analysed as part of the Phase III ACTIV-2 master protocol studying therapies for Covid-19 in people with mild-moderate disease who are at increased risk for progression to hospital admission.
It is a fully-human, specifically targeted, broadly neutralising polyclonal antibody treatment candidate.
SAB attributed the termination of enrolment by NIH to low Omicron-linked Covid-19 hospital admission and mortality rates that made the existing trial design unfeasible statistically.
The decline in hospital admission and mortality rates were the primary endpoints of the Phase III trial.
On meeting the preliminary pre-specified efficacy and safety criteria, SAB-185 was progressed into the Phase III trial. But the independent Data and Safety Monitoring Board (DSMB) advised terminating the trial due to "operational futility."
Reduced hospitalisation and mortality rates reported lately in the trial prompted the sponsors to conclude that despite the possible efficacy of SAB 185 it would be impossible to show statistically significant clinical efficacy with the current study design.
SAB Biotherapeutics co-founder, president and CEO Eddie Sullivan said: "Our team continuously monitors the evolving pandemic to plan for the further development of SAB-185, focusing on identifying Covid-19 patient groups who could potentially benefit from SAB-185, including the potential for prophylactic or therapeutic use in targeted high-risk populations and in those who will become ill from newly emerging variants, along with the potential development of an injectable formulation.
"We look forward to analysing data from the ACTIV-2 trial to help inform our future clinical initiatives when it becomes available."
In October last year, the company dosed the first subject in the Phase III ACTIV-2 trial of SAB-185 to treat Covid-19.
Free Case Study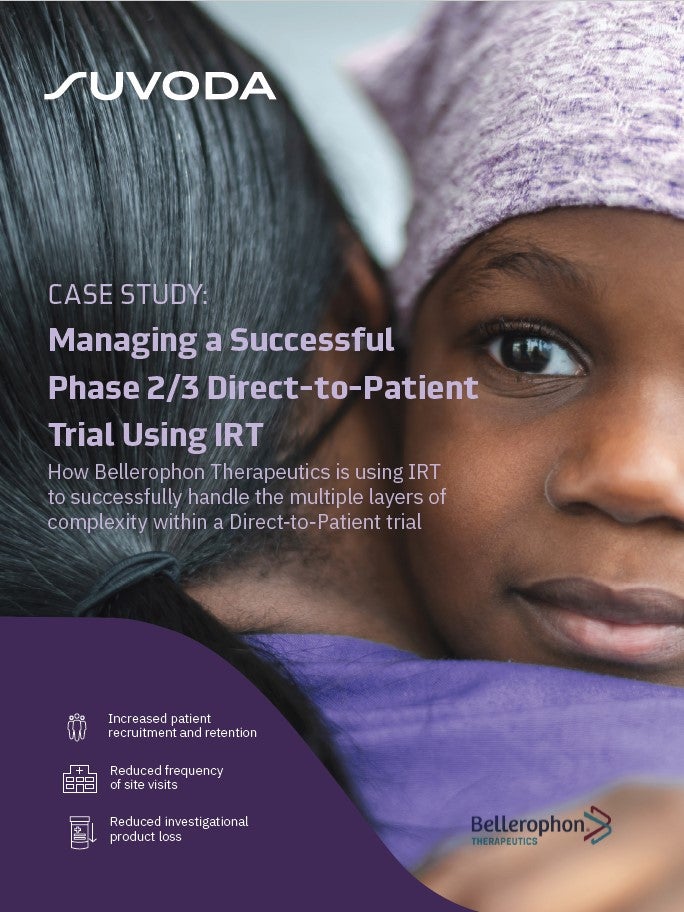 Direct-to-Patient Trials: How IRT Plays an Important Role in Bellerophon's Direct-to-Patient Trials
As the industry strengthens its focus on patient centricity, Direct-to-Patient clinical trials have emerged as a popular trial design that have the potential to increase patient recruitment and retention. IRT plays a crucial role in the success of a Direct-to-Patient trial. Because drug supplies are being managed and shipped from distribution facilities directly to patients' homes, a sponsor must have a high-quality system in place to accurately track the chain of custody, ensure patient-blinding and handle other logistical challenges. What You Will Learn Benefits and challenges associated with the Direct-to-Patient model Bellerophon's top considerations when implementing this trial design How IRT can equip study teams to successfully track chain of custody, ensure patient blinding, and handle logistical challenges
by Suvoda