US-based biotechnology firm Novavax has started enrolling participants in a Phase I/II clinical trial of its Covid-19 vaccine candidate, NVX‑CoV2373, in Australia.
Free Case Study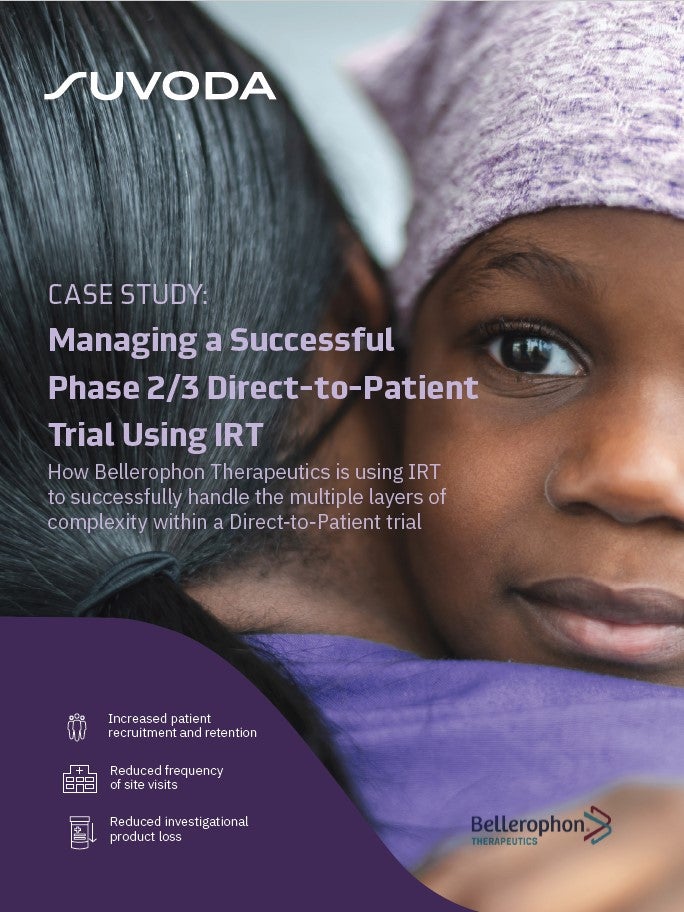 Direct-to-Patient Trials: How IRT Plays an Important Role in Bellerophon's Direct-to-Patient Trials
As the industry strengthens its focus on patient centricity, Direct-to-Patient clinical trials have emerged as a popular trial design that have the potential to increase patient recruitment and retention. IRT plays a crucial role in the success of a Direct-to-Patient trial. Because drug supplies are being managed and shipped from distribution facilities directly to patients' homes, a sponsor must have a high-quality system in place to accurately track the chain of custody, ensure patient-blinding and handle other logistical challenges. What You Will Learn Benefits and challenges associated with the Direct-to-Patient model Bellerophon's top considerations when implementing this trial design How IRT can equip study teams to successfully track chain of custody, ensure patient blinding, and handle logistical challenges
by Suvoda
Developed using the company's nanoparticle technology, NVX‑CoV2373 is engineered from the genetic sequence of SARS‑CoV‑2.
It is designed to produce antigen obtained from the coronavirus spike (S) protein and contains the company's Matrix-M adjuvant to boost the immune response and trigger high neutralising antibody levels.
In preclinical studies, the vaccine candidate showed high immunogenicity and high levels of neutralising antibodies. Based on these findings, NVX‑CoV2373 is expected to be highly immunogenic in humans.
Novavax president and CEO Stanley Erck said: "Administering our vaccine in the first participants of this clinical trial is a significant achievement, bringing us one step closer toward addressing the fundamental need for a vaccine in the fight against the global Covid‑19 pandemic."
The Phase I/II trial comprises two parts. The Phase I part is a randomised, observer-blinded, placebo-controlled study assessing the immunogenicity and safety of the vaccine candidate, adjuvanted with Matrix‑M, as well as unadjuvanted.
It is recruiting around 130 healthy participants aged 18 to 59 years at two sites in Australia.
Preliminary immunogenicity and safety data from the Phase I portion are expected in July this year. If promising, the Phase II part will be initiated in several countries, including the US.
The Phase II portion will study immunity, safety and Covid‑19 disease reduction in a wider age range. The trial is being supported by up to $384m funding from the Coalition for Epidemic Preparedness Innovations (CEPI).
CEPI CEO Dr Richard Hatchett said: "Entering clinical trials is an important step on the path to delivering a safe, effective and globally accessible vaccine against Covid-19.
"Vaccines provide our best hope of permanently defeating this pandemic, so it is encouraging to see rapid progress being made in the development of Novavax' vaccine candidate."
Hatchett added that CEPI's investment in Novavax enables simultaneous manufacturing with the clinical development of the vaccine.
Free Case Study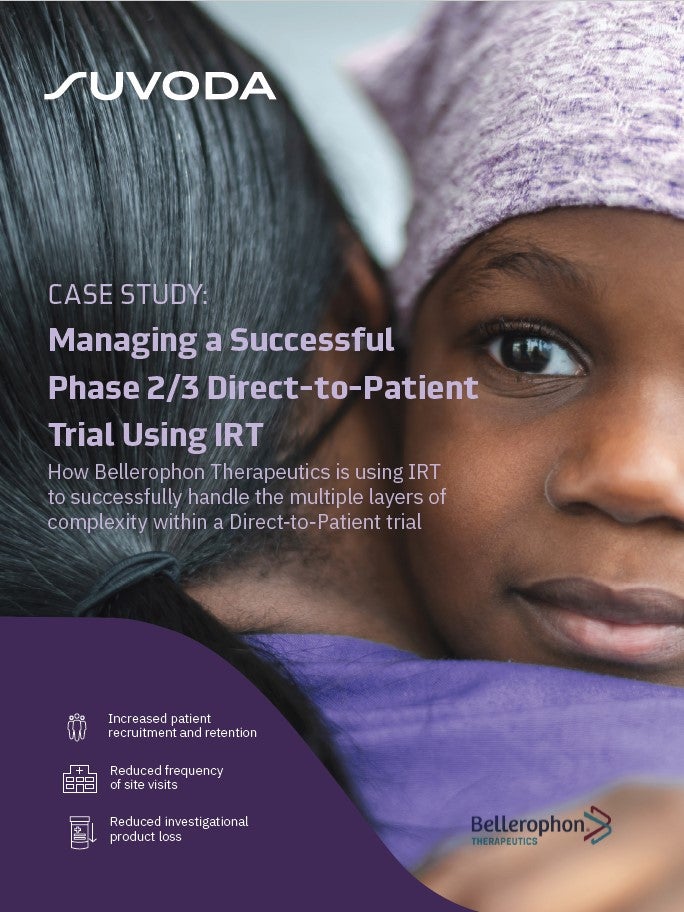 Direct-to-Patient Trials: How IRT Plays an Important Role in Bellerophon's Direct-to-Patient Trials
As the industry strengthens its focus on patient centricity, Direct-to-Patient clinical trials have emerged as a popular trial design that have the potential to increase patient recruitment and retention. IRT plays a crucial role in the success of a Direct-to-Patient trial. Because drug supplies are being managed and shipped from distribution facilities directly to patients' homes, a sponsor must have a high-quality system in place to accurately track the chain of custody, ensure patient-blinding and handle other logistical challenges. What You Will Learn Benefits and challenges associated with the Direct-to-Patient model Bellerophon's top considerations when implementing this trial design How IRT can equip study teams to successfully track chain of custody, ensure patient blinding, and handle logistical challenges
by Suvoda