Ocuphire Pharma has enrolled the first participants in the Phase III MIRA-3 clinical trial of Nyxol Eye Drops to reverse pharmacologically induced mydriasis (dilation of the pupil).
Free Case Study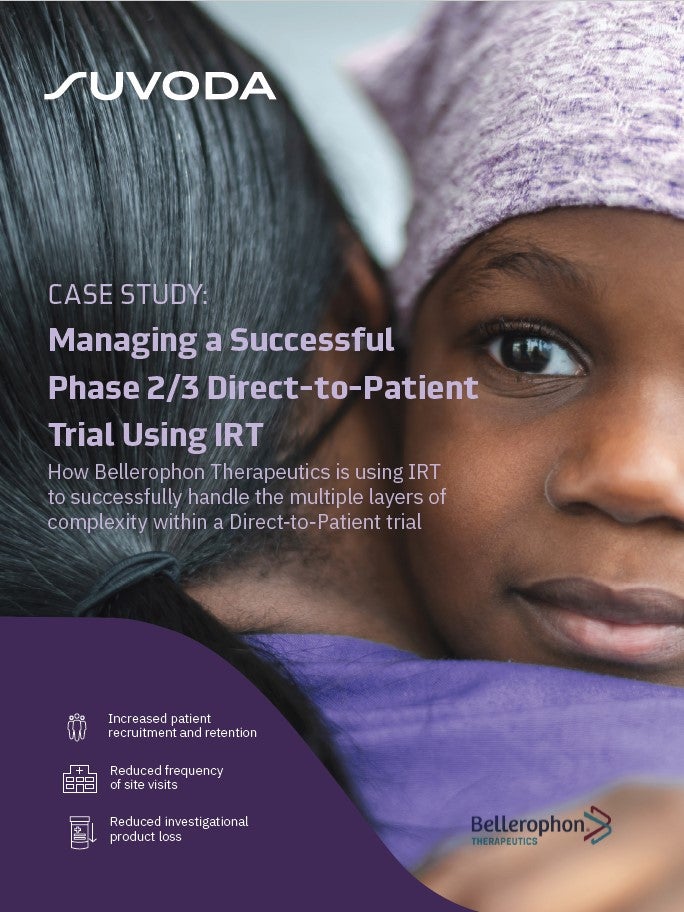 Direct-to-Patient Trials: How IRT Plays an Important Role in Bellerophon's Direct-to-Patient Trials
As the industry strengthens its focus on patient centricity, Direct-to-Patient clinical trials have emerged as a popular trial design that have the potential to increase patient recruitment and retention. IRT plays a crucial role in the success of a Direct-to-Patient trial. Because drug supplies are being managed and shipped from distribution facilities directly to patients' homes, a sponsor must have a high-quality system in place to accurately track the chain of custody, ensure patient-blinding and handle other logistical challenges. What You Will Learn Benefits and challenges associated with the Direct-to-Patient model Bellerophon's top considerations when implementing this trial design How IRT can equip study teams to successfully track chain of custody, ensure patient blinding, and handle logistical challenges
by Suvoda
Six trial centres are currently advancing subject enrolment while ten more centres are anticipated to launch soon.
A 0.75% ophthalmic formulation of phentolamine mesylate, Nyxol is claimed to reduce the size of the pupil by hindering or relaxing the iris dilator muscle.
The randomised, multicentre, parallel-arm, placebo-controlled, double-masked trial will assess the safety and efficacy of Nyxol to reverse mydriasis in healthy participants.
Nearly 330 participants aged 12 years and above will be part of the trial and categorised into a 2:1 ratio to receive Nyxol or placebo.
These subjects will be given one of the three approved mydriatic agents nearly an hour before trial drug administration.
At 90 minutes, the percentage of study eyes of patients that return to ≤ 0.2mm from baseline photopic pupil diameter is the primary efficacy goal of the trial.
Pupil diameter measured at several time intervals ranging from 30 minutes to 24 hours, accommodation, participant questionnaire, are some of the secondary goals.
The secondary endpoints also include the analysis of glare disability, glare tolerance and pupillary response to light.
Ocuphire is partnering with clinical research organisation Oculos Development Services to advance Nyxol programmes.
The company anticipates top-line data from the trial by the end of the first quarter of next year.
Ocuphire Pharma president and CEO Mina Sooch said: "Our prior data on Nyxol showed that 50% of patients returned to baseline by 90 minutes and 80% by three hours.
"A positive outcome in MIRA-3 comparable to the results achieved in MIRA-2 will position us to submit an NDA for Nyxol for reversal of mydriasis in late 2022.
"Successful completion of MIRA-3, as well as our planned smaller paediatric safety study, will bring the total number of patients treated with Nyxol to over 500, out of over 900 study subjects."
Earlier this month, Aldeyra Therapeutics reported that reproxalap met the primary goal in a Phase II trial in dry eye disease patients.
Free Case Study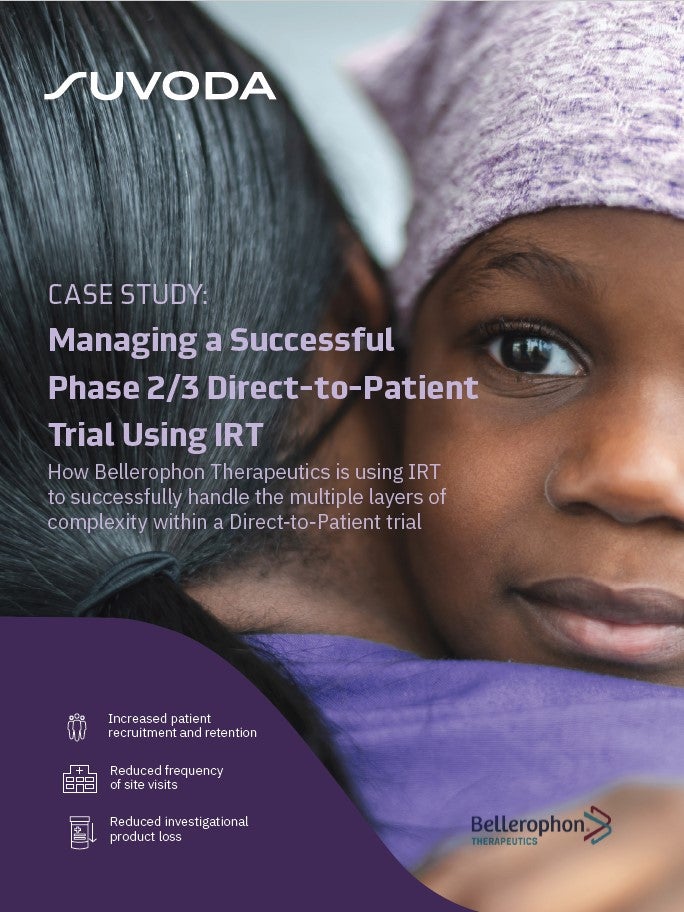 Direct-to-Patient Trials: How IRT Plays an Important Role in Bellerophon's Direct-to-Patient Trials
As the industry strengthens its focus on patient centricity, Direct-to-Patient clinical trials have emerged as a popular trial design that have the potential to increase patient recruitment and retention. IRT plays a crucial role in the success of a Direct-to-Patient trial. Because drug supplies are being managed and shipped from distribution facilities directly to patients' homes, a sponsor must have a high-quality system in place to accurately track the chain of custody, ensure patient-blinding and handle other logistical challenges. What You Will Learn Benefits and challenges associated with the Direct-to-Patient model Bellerophon's top considerations when implementing this trial design How IRT can equip study teams to successfully track chain of custody, ensure patient blinding, and handle logistical challenges
by Suvoda