Organicell Regenerative Medicine has reported positive results from the trial of its acellular biologic therapeutic Zofin for treating patients with moderate to severe Covid-19 in India.
Free Case Study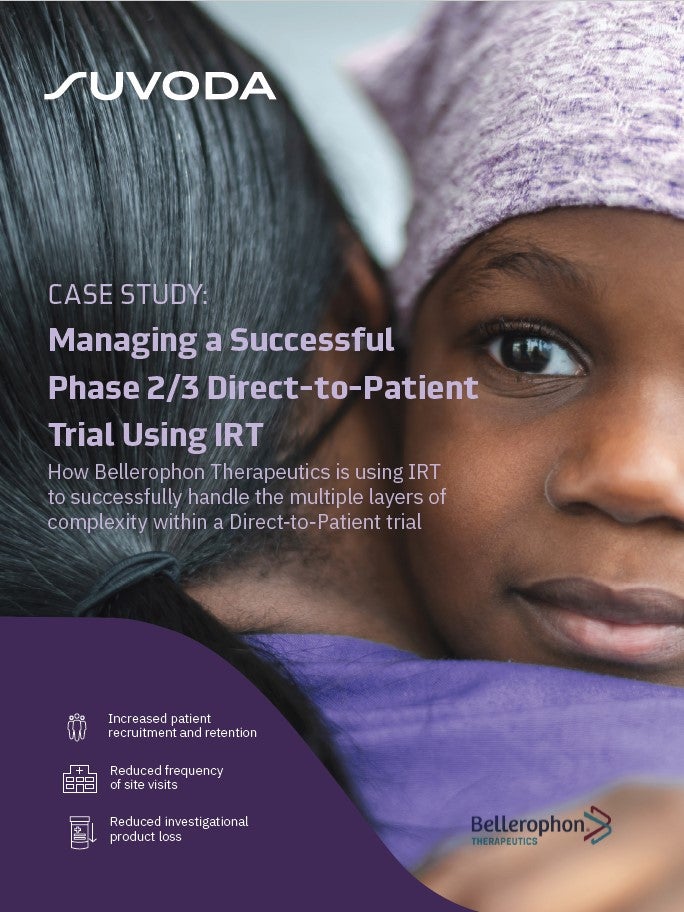 Direct-to-Patient Trials: How IRT Plays an Important Role in Bellerophon's Direct-to-Patient Trials
As the industry strengthens its focus on patient centricity, Direct-to-Patient clinical trials have emerged as a popular trial design that have the potential to increase patient recruitment and retention. IRT plays a crucial role in the success of a Direct-to-Patient trial. Because drug supplies are being managed and shipped from distribution facilities directly to patients' homes, a sponsor must have a high-quality system in place to accurately track the chain of custody, ensure patient-blinding and handle other logistical challenges. What You Will Learn Benefits and challenges associated with the Direct-to-Patient model Bellerophon's top considerations when implementing this trial design How IRT can equip study teams to successfully track chain of custody, ensure patient blinding, and handle logistical challenges
by Suvoda
Data showed that the first ten subjects who received Zofin recovered from Covid-19 symptoms and were discharged from hospital.
Zofin is obtained from perinatal sources. It is manufactured to preserve naturally occurring microRNAs, without adding any other substance or diluent.
The therapeutic contains over 300 growth factors, cytokines, and chemokines, along with other extracellular vesicles/nanoparticles obtained from perinatal tissues.
This initial trial is being carried out in collaboration with Organicell's partner, CWI India.
In February this year, the companies signed a product testing and distribution agreement to analyse the effects of Zofin on moderate to severe Covid-19 patients.
Organicell Regenerative Medicine CEO Albert Mitrani said: "The explosive spread of Covid-19 in India, and the lack of treatment that is available to help these millions of people is quite alarming and tragic.
"We are hopeful that Zofin can continue to help these patients, and we will do everything we can to expedite this process.
The trial will be expanded to include 65 subjects with moderate to severe Covid-19. They will receive treatment at various hospitals in India for the next several weeks, with completion expected by the end of June.
On obtaining positive results of the expanded trial, Organicell and CWI India plan to submit an application to the Indian Council for Medical Research seeking emergency use approval for using Zofin as a Covid-19 therapeutic.
Doctor Matthew Roshan of CWI India said: "We are very encouraged with the results shown by patients using Zofin and are hopeful that the remaining trial patients will show similar results.
"These trials could set the stage for a very quick emergency use approval to be able to use Zofin for all of our patients."
Last week, Organicell concluded patient enrolment for its expanded access trial of Zofin to treat Covid-19.
Free Case Study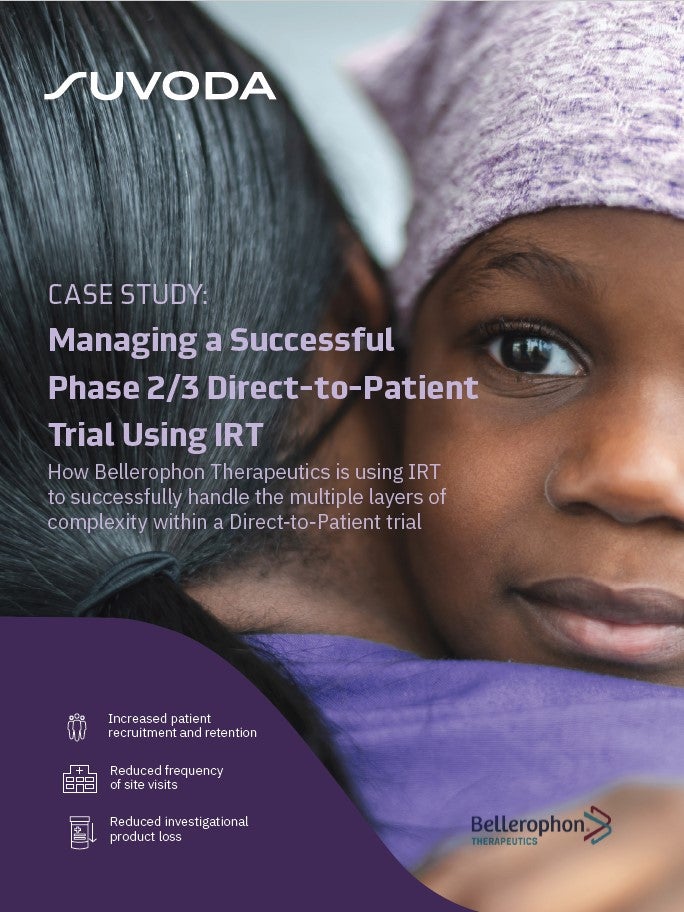 Direct-to-Patient Trials: How IRT Plays an Important Role in Bellerophon's Direct-to-Patient Trials
As the industry strengthens its focus on patient centricity, Direct-to-Patient clinical trials have emerged as a popular trial design that have the potential to increase patient recruitment and retention. IRT plays a crucial role in the success of a Direct-to-Patient trial. Because drug supplies are being managed and shipped from distribution facilities directly to patients' homes, a sponsor must have a high-quality system in place to accurately track the chain of custody, ensure patient-blinding and handle other logistical challenges. What You Will Learn Benefits and challenges associated with the Direct-to-Patient model Bellerophon's top considerations when implementing this trial design How IRT can equip study teams to successfully track chain of custody, ensure patient blinding, and handle logistical challenges
by Suvoda