Science 37 has collaborated with digital health and telemedicine company Medgate to further globalise decentralised clinical trials.
Free Case Study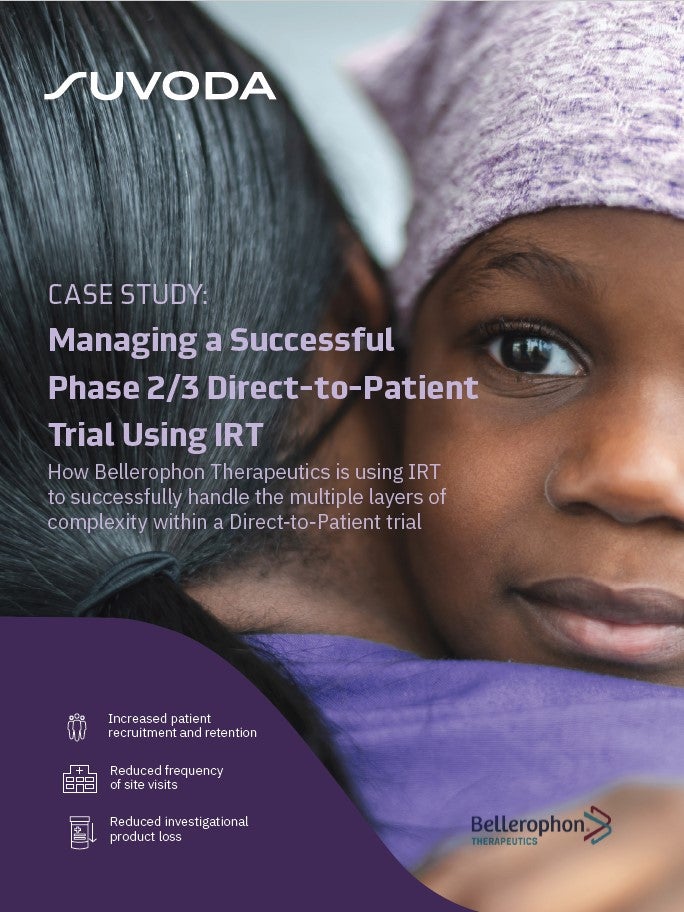 Direct-to-Patient Trials: How IRT Plays an Important Role in Bellerophon's Direct-to-Patient Trials
As the industry strengthens its focus on patient centricity, Direct-to-Patient clinical trials have emerged as a popular trial design that have the potential to increase patient recruitment and retention. IRT plays a crucial role in the success of a Direct-to-Patient trial. Because drug supplies are being managed and shipped from distribution facilities directly to patients' homes, a sponsor must have a high-quality system in place to accurately track the chain of custody, ensure patient-blinding and handle other logistical challenges. What You Will Learn Benefits and challenges associated with the Direct-to-Patient model Bellerophon's top considerations when implementing this trial design How IRT can equip study teams to successfully track chain of custody, ensure patient blinding, and handle logistical challenges
by Suvoda
With presence in Europe, Asia-Pacific, and the Middle East, Medgate partnership expands Science 37's decentralised clinical trial operating system and enables more physicians to participate in research and contribute to the improvement of treatments.
The partnership also expands Science 37's capacity to grow and execute global decentralised clinical studies.
Science 37 CEO David Coman said: "Enabling universal access for clinical research and making it easier for patients and investigators is at the core of Science 37.
"This partnership helps our aim by growing our footprint around the world, bolstering our ability to find patients, and demonstrating the possibilities that participating in clinical research, from anywhere, can mean for patients' lives and for the physicians who treat them."
Through the Decentralised Clinical Trial Operating System (DCT OS), the company provides universal access for clinical research, making it easier for both patients and providers to participate and accelerate the development of new treatments which impact patient lives.
David Coman added: "Our ability to orchestrate any component of a decentralised clinical trial with our technology-first Operating System continues to differentiate Science 37 as we accelerate research for sponsors, enable investigators, and increase access for patients to potentially life-saving therapies. We continue to lead the way, around the world."
Prior to this, Medable and healthcare technology company Seqster have partnered to integrate real-world patient data streams in decentralised clinical trials platform.
Seqster provides easy access to researchers with patient medical records, which will make it easier to recruit, consent and re-consent trial participants.
Free Case Study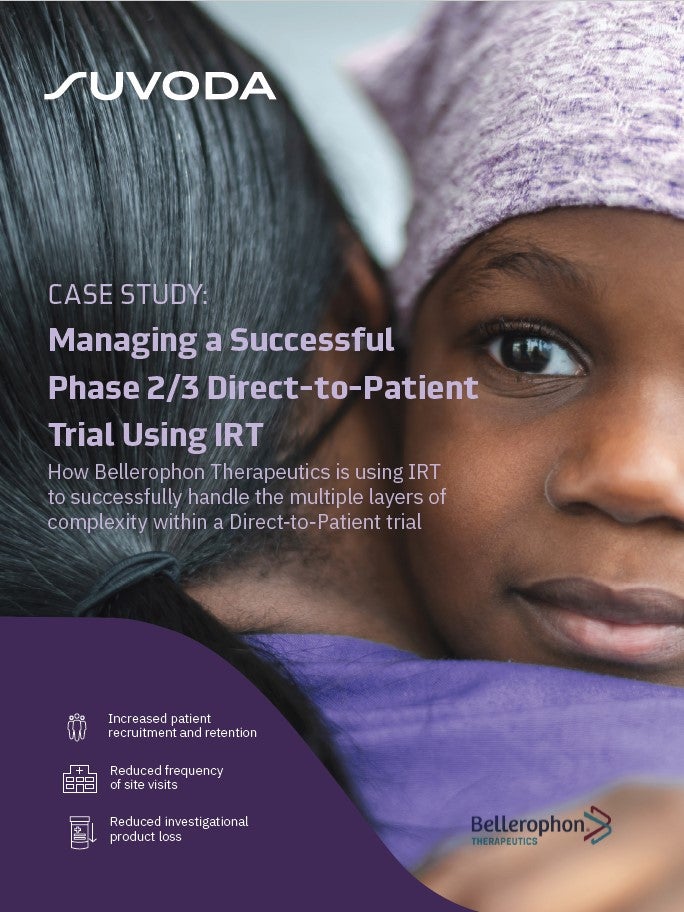 Direct-to-Patient Trials: How IRT Plays an Important Role in Bellerophon's Direct-to-Patient Trials
As the industry strengthens its focus on patient centricity, Direct-to-Patient clinical trials have emerged as a popular trial design that have the potential to increase patient recruitment and retention. IRT plays a crucial role in the success of a Direct-to-Patient trial. Because drug supplies are being managed and shipped from distribution facilities directly to patients' homes, a sponsor must have a high-quality system in place to accurately track the chain of custody, ensure patient-blinding and handle other logistical challenges. What You Will Learn Benefits and challenges associated with the Direct-to-Patient model Bellerophon's top considerations when implementing this trial design How IRT can equip study teams to successfully track chain of custody, ensure patient blinding, and handle logistical challenges
by Suvoda