CymaBay Therapeutics has reported positive data from the Phase III clinical trial of seladelpar in patients with primary biliary cholangitis (PBC).
Free Case Study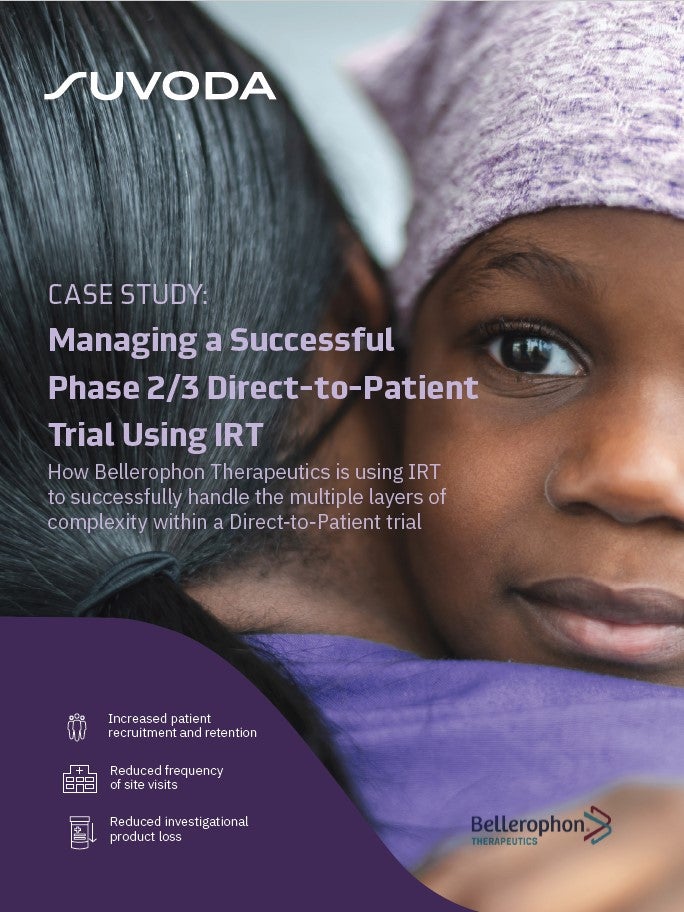 Direct-to-Patient Trials: How IRT Plays an Important Role in Bellerophon's Direct-to-Patient Trials
As the industry strengthens its focus on patient centricity, Direct-to-Patient clinical trials have emerged as a popular trial design that have the potential to increase patient recruitment and retention. IRT plays a crucial role in the success of a Direct-to-Patient trial. Because drug supplies are being managed and shipped from distribution facilities directly to patients' homes, a sponsor must have a high-quality system in place to accurately track the chain of custody, ensure patient-blinding and handle other logistical challenges. What You Will Learn Benefits and challenges associated with the Direct-to-Patient model Bellerophon's top considerations when implementing this trial design How IRT can equip study teams to successfully track chain of custody, ensure patient blinding, and handle logistical challenges
by Suvoda
Seladelpar is a selective agonist of peroxisome proliferator-activated receptor delta (PPARδ). It has shown anti-cholestatic and anti-inflammatory properties in clinical studies for PBC.
Named ENHANCE, the double-blind, placebo-controlled, randomised, global Phase III trial assessed a 5mg and 10mg once-daily dose of the drug in a total of 265 patients.
The primary outcome was the responder rate determined as an alkaline phosphatase (ALP) level < 1.67 x the upper limit of normal (ULN) with at least a 15% reduction from baseline and a normal total bilirubin level after 52 weeks.
As the study was stopped early and a small number of patients reached the 52 week timepoint, the primary outcome was updated to a three-month timepoint that was achieved by 167 of 265 patients.
Seladelpar met the primary composite outcome, demonstrating high statistical significance in 78.2% of participants treated with the 10mg dose and 57.1% in the 5mg group versus 12.5% of those who received placebo after three months.
Mean decreases of 38%, 30%, and 2% in ALP were reported in the 10mg, 5mg and placebo groups, respectively.
The drug also led to a strong, dose-dependent decrease in pruritus following three months of treatment in patients with an NRS ≥4 compared to placebo. Anti-inflammatory activity of the drug was also reported at three months.
Seladelpar showed a favourable safety and tolerability profile during the trial, with the adverse events being similar across the seladelpar and placebo groups. No grade 3 or higher ALT elevations were found.
CymaBay Therapeutics CEO and president Sujal Shah said: "These results confirm what was observed in our Phase II open-label study and serve to reinforce our confidence in developing seladelpar as a new therapy addressing the key unmet needs for patients as we re-initiate a Phase III registration study in PBC."
In November last year, the company announced the termination of Phase IIb and Phase II trials of seladelpar in non-alcoholic steatohepatitis (NASH) and primary sclerosing cholangitis (PSC), respectively.
The decision was based on biopsy findings, which showed liver damage in some NASH patients in the Phase IIb study.
Free Case Study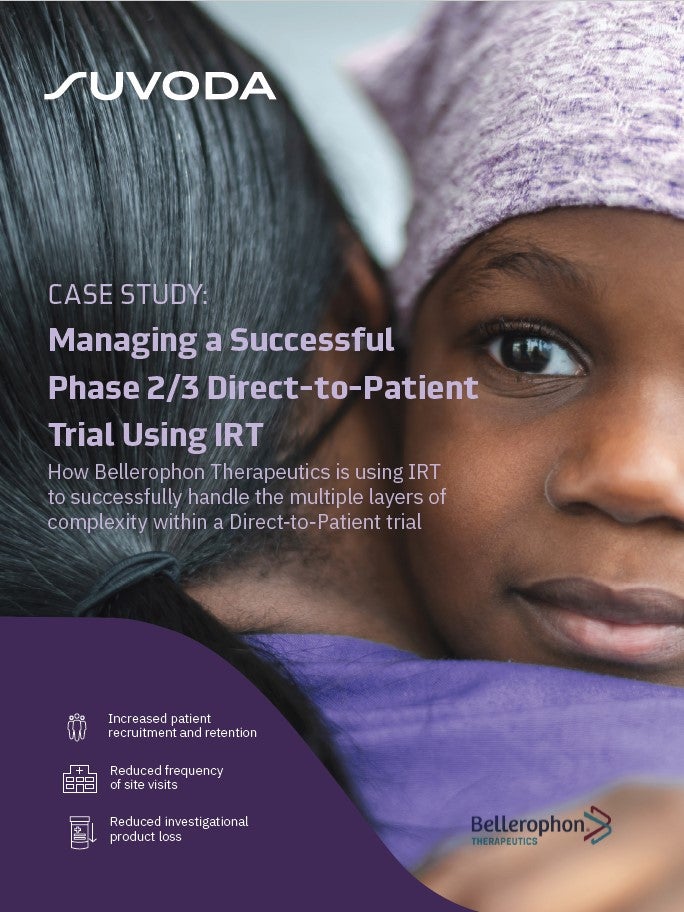 Direct-to-Patient Trials: How IRT Plays an Important Role in Bellerophon's Direct-to-Patient Trials
As the industry strengthens its focus on patient centricity, Direct-to-Patient clinical trials have emerged as a popular trial design that have the potential to increase patient recruitment and retention. IRT plays a crucial role in the success of a Direct-to-Patient trial. Because drug supplies are being managed and shipped from distribution facilities directly to patients' homes, a sponsor must have a high-quality system in place to accurately track the chain of custody, ensure patient-blinding and handle other logistical challenges. What You Will Learn Benefits and challenges associated with the Direct-to-Patient model Bellerophon's top considerations when implementing this trial design How IRT can equip study teams to successfully track chain of custody, ensure patient blinding, and handle logistical challenges
by Suvoda