India-based Sun Pharmaceutical Industries has launched a Phase II clinical trial of plant-derived (phytopharmaceutical) drug AQCH to treat patients with Covid-19.
Free Case Study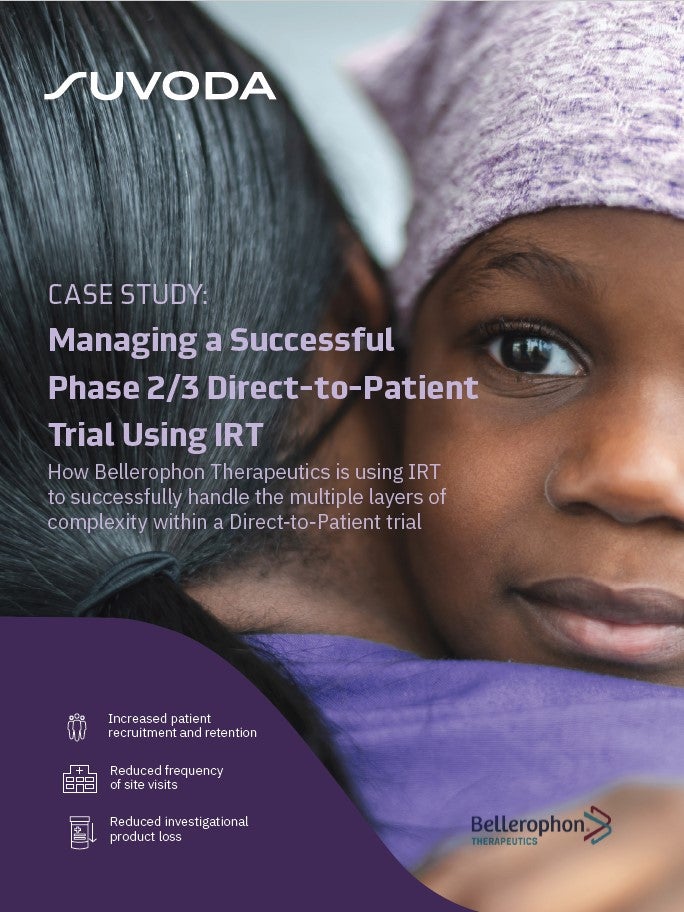 Direct-to-Patient Trials: How IRT Plays an Important Role in Bellerophon's Direct-to-Patient Trials
As the industry strengthens its focus on patient centricity, Direct-to-Patient clinical trials have emerged as a popular trial design that have the potential to increase patient recruitment and retention. IRT plays a crucial role in the success of a Direct-to-Patient trial. Because drug supplies are being managed and shipped from distribution facilities directly to patients' homes, a sponsor must have a high-quality system in place to accurately track the chain of custody, ensure patient-blinding and handle other logistical challenges. What You Will Learn Benefits and challenges associated with the Direct-to-Patient model Bellerophon's top considerations when implementing this trial design How IRT can equip study teams to successfully track chain of custody, ensure patient blinding, and handle logistical challenges
by Suvoda
The company secured the Drugs Controller General of India (DCGI) approval for the trial in April this year.
AQCH is being developed for the treatment of dengue. The drug demonstrated broad antiviral effect in-vitro and is being assessed as a potential Covid-19 treatment.
Sun Pharma has been working with DBT-ICGE and CSIR-IIIM since 2016 for the development of a phytopharmaceutical drug for dengue.
CSIR director general Dr Shekhar Mande said: "CSIR has had a long-standing association with the pharmaceutical industry in India and welcomes this collaboration with Sun Pharma in taking forward AQCH into clinical trials for Covid-19 patients.
"This collaboration aligns with our scientific rationale for the quickest way to develop drugs against SARS-CoV-2."
The Phase II clinical trial will be performed in 210 Covid-19 patients at 12 centres across India. The treatment duration for patients will be ten days, with results expected by October this year.
AQCH has already completed human safety study, where it was observed to be safe at the recommended dose for Phase II trial.
Sun Pharma managing director Dilip Shanghvi said: "This is the first phytopharmaceutical drug approved for clinical trials by the DCGI as a potential treatment for Covid-19. AQCH has shown anti-SARS-CoV-2 effects in in-vitro studies conducted in collaboration with ICGEB, Italy.
"These results combined with information on mechanism of action through in-vitro and small animal studies give us the confidence to evaluate this potential treatment option for Covid-19 patients."
Last week, Sun Pharma secured approval from the DCGI to conduct a clinical trial of pancreatitis drug Nafamostat Mesilate to treat Covid-19 patients in the country.
The drug has approval in Japan to improve acute symptoms of pancreatitis and treat Disseminated Intravascular Coagulation (DIC).
Free Case Study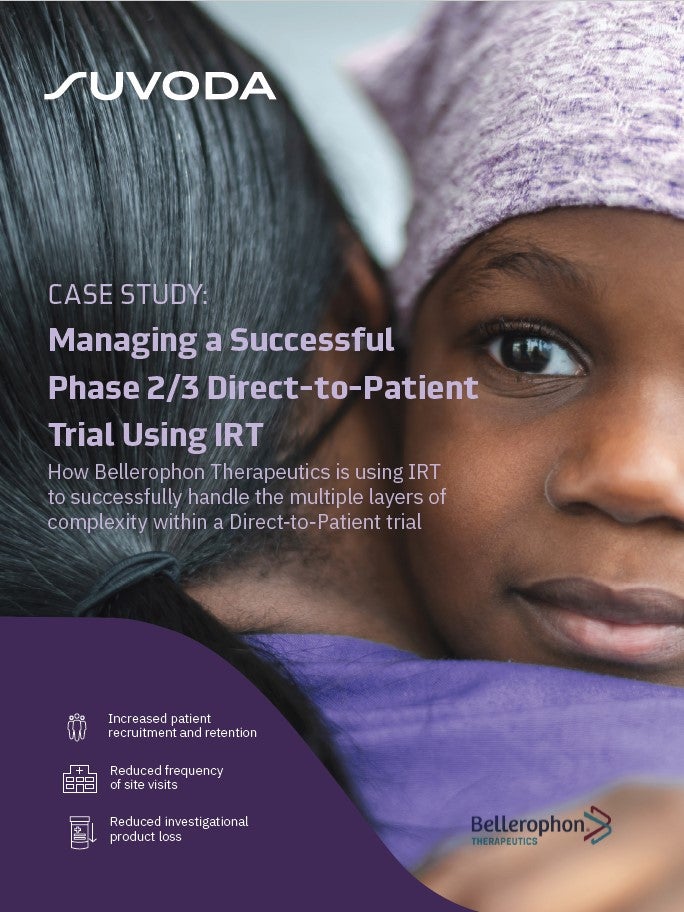 Direct-to-Patient Trials: How IRT Plays an Important Role in Bellerophon's Direct-to-Patient Trials
As the industry strengthens its focus on patient centricity, Direct-to-Patient clinical trials have emerged as a popular trial design that have the potential to increase patient recruitment and retention. IRT plays a crucial role in the success of a Direct-to-Patient trial. Because drug supplies are being managed and shipped from distribution facilities directly to patients' homes, a sponsor must have a high-quality system in place to accurately track the chain of custody, ensure patient-blinding and handle other logistical challenges. What You Will Learn Benefits and challenges associated with the Direct-to-Patient model Bellerophon's top considerations when implementing this trial design How IRT can equip study teams to successfully track chain of custody, ensure patient blinding, and handle logistical challenges
by Suvoda