UK-based company Synairgen has reported positive results from a clinical trial of its inhaled interferon beta candidate, SNG001, for the treatment of hospitalised patients with Covid-19.
Free Case Study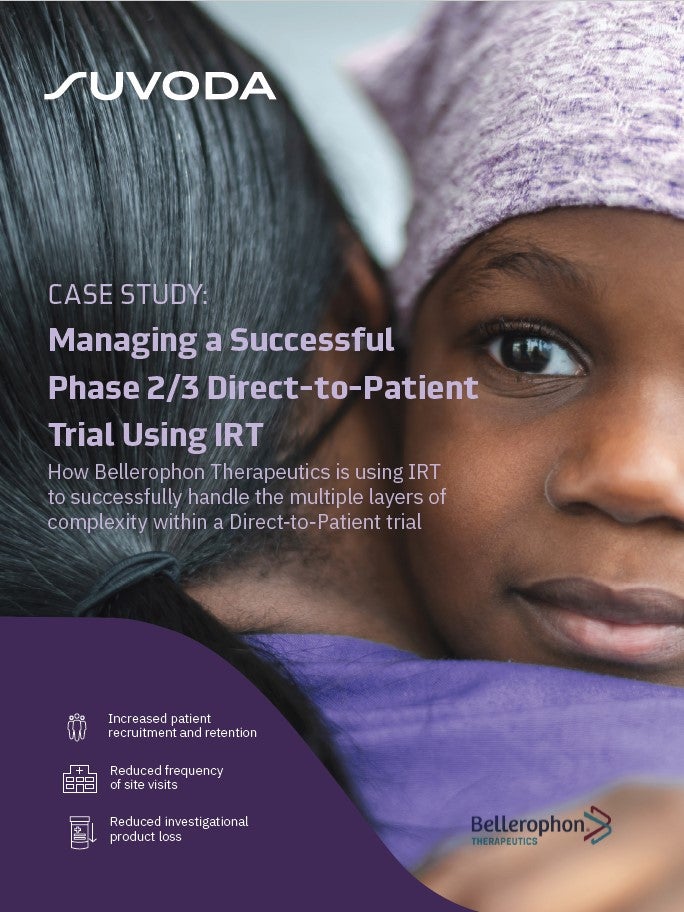 Direct-to-Patient Trials: How IRT Plays an Important Role in Bellerophon's Direct-to-Patient Trials
As the industry strengthens its focus on patient centricity, Direct-to-Patient clinical trials have emerged as a popular trial design that have the potential to increase patient recruitment and retention. IRT plays a crucial role in the success of a Direct-to-Patient trial. Because drug supplies are being managed and shipped from distribution facilities directly to patients' homes, a sponsor must have a high-quality system in place to accurately track the chain of custody, ensure patient-blinding and handle other logistical challenges. What You Will Learn Benefits and challenges associated with the Direct-to-Patient model Bellerophon's top considerations when implementing this trial design How IRT can equip study teams to successfully track chain of custody, ensure patient blinding, and handle logistical challenges
by Suvoda
The double-blind, placebo-controlled trial, named SG016, involved 101 patients across  nine hospital sites in the UK. It compared SNG001 to placebo.
Data showed that the therapy candidate significantly reduced the risk of developing severe disease during the treatment period by 79% compared to placebo.
Patients treated with SNG001 were also more than twice as likely to recover, added the company.
Over the therapy duration, the measure of breathlessness was found to markedly decrease in participants who were given SNG001 versus placebo.
While no deaths were reported in the SNG001 group, three subjects in the placebo arm died.
The company added that the likelihood of hospital discharge increased with its treatment candidate in patients who had more severe disease at the time of admission, but the difference did not achieve statistical significance.
The median time to discharge was six days with SNG001 and nine days with placebo.
Synairgen co-founder professor Stephen Holgate said: "Recognising that SARS-CoV-2 is known to have evolved to evade the initial antiviral response of the lung, our inhaled treatment of giving high local concentrations of interferon beta, a naturally occurring antiviral protein, restores the lung's ability to neutralise the virus, or any mutation of the virus or co-infection with another respiratory virus such as RSV, as could be encountered in the winter if there is a resurgence of Covid-19."
In May this year, the company expanded the SG016 study to include an additional 120 patients in a home-based setting.
In March, Synairgen obtained the UK Medicines and Healthcare products Regulatory Agency (MHRA) and Health Research Authority (HRA) approval to trial SNG001 in Covid-19 patients.
Free Case Study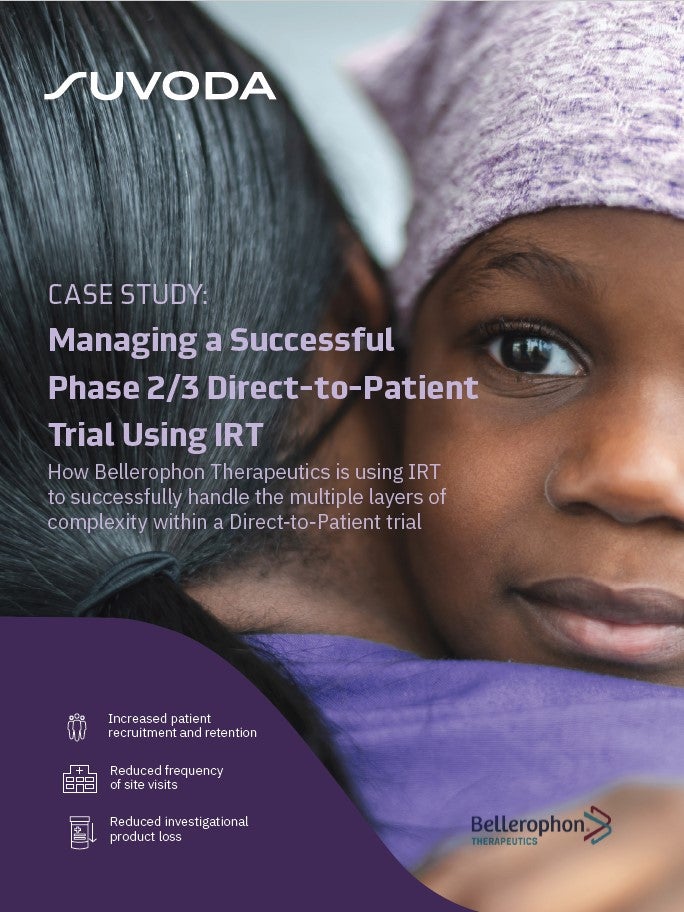 Direct-to-Patient Trials: How IRT Plays an Important Role in Bellerophon's Direct-to-Patient Trials
As the industry strengthens its focus on patient centricity, Direct-to-Patient clinical trials have emerged as a popular trial design that have the potential to increase patient recruitment and retention. IRT plays a crucial role in the success of a Direct-to-Patient trial. Because drug supplies are being managed and shipped from distribution facilities directly to patients' homes, a sponsor must have a high-quality system in place to accurately track the chain of custody, ensure patient-blinding and handle other logistical challenges. What You Will Learn Benefits and challenges associated with the Direct-to-Patient model Bellerophon's top considerations when implementing this trial design How IRT can equip study teams to successfully track chain of custody, ensure patient blinding, and handle logistical challenges
by Suvoda