Trialbee has launched a new centralised software platform designed for recruitment teams to expedite patient recruitment timelines in clinical trials.
Free Case Study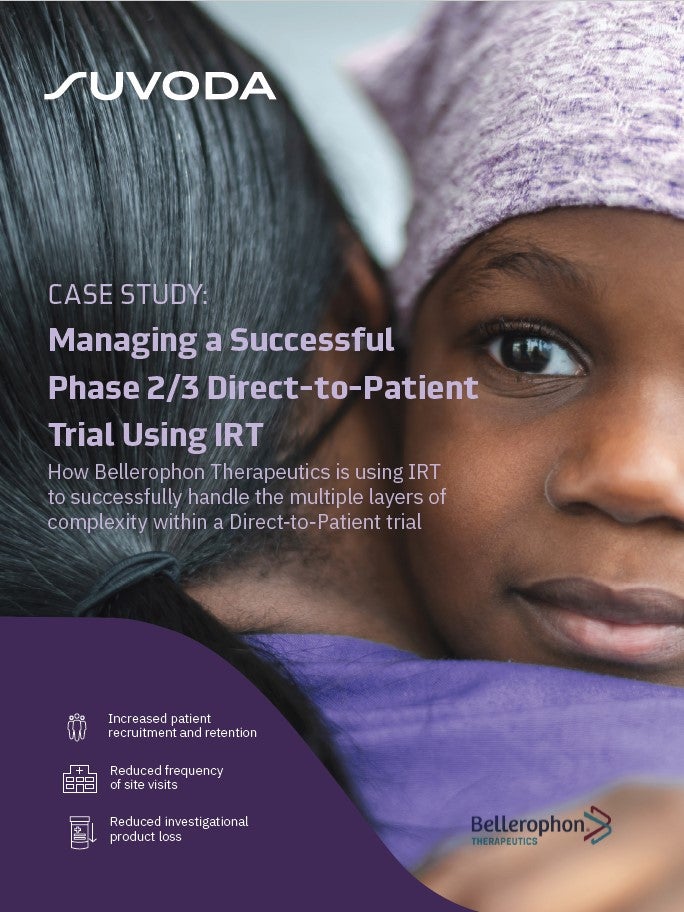 Direct-to-Patient Trials: How IRT Plays an Important Role in Bellerophon's Direct-to-Patient Trials
As the industry strengthens its focus on patient centricity, Direct-to-Patient clinical trials have emerged as a popular trial design that have the potential to increase patient recruitment and retention. IRT plays a crucial role in the success of a Direct-to-Patient trial. Because drug supplies are being managed and shipped from distribution facilities directly to patients' homes, a sponsor must have a high-quality system in place to accurately track the chain of custody, ensure patient-blinding and handle other logistical challenges. What You Will Learn Benefits and challenges associated with the Direct-to-Patient model Bellerophon's top considerations when implementing this trial design How IRT can equip study teams to successfully track chain of custody, ensure patient blinding, and handle logistical challenges
by Suvoda
The Trialbee Honey software platform enables real-time analytics for tracking, measuring, and evaluating all patient-related recruitment activities, irrespective of referral sources.
It is designed to empower sponsors, contract research organisations (CROs) and sites to ensure timely patient enrolment outcomes to support clinical trial goals.
Using Trialbee Honey, recruitment teams will be able to enrol and engage qualified patients for a study while optimising timelines using real-time analytics.
The analytics dashboard of the new platform provides patient recruitment transparency and foster communication, as well as engagement.
It also allows study teams to consolidate the recruited patients from different sources.
Trialbee CEO Matt Walz said: "Trialbee aims to crack the code in-patient recruitment through disruptive software products that optimise the patient experience, reduce site burden, and empower sponsors and CROs with data-driven insights into their enrolment programmes.
"The market needs have changed, and traditional approaches for matching and enrolling patients have become a bottleneck to bringing new drugs, devices, and therapies to the patients that need them most."
The complete journey from potential candidacy to patient recruitment can be mapped using Trialbee Honey, which also reduces the burden on the trial sites.
Trialbee product head Martin Kilsgard said: "Trialbee Honey manages all patient matching and enrollment activities, regardless of the recruitment source, in a single, purpose-built solution.
"The robust analytics dashboard enables transparency, streamlines recruitment processes and improves diversity representation in trials so that patient recruitment teams are empowered to make timely decisions that shorten enrolment timelines."
Trialbee and Castor entered a strategic collaboration last month to improve access to clinical trials, expedite participant enrolment and enhance engagement.
Free Case Study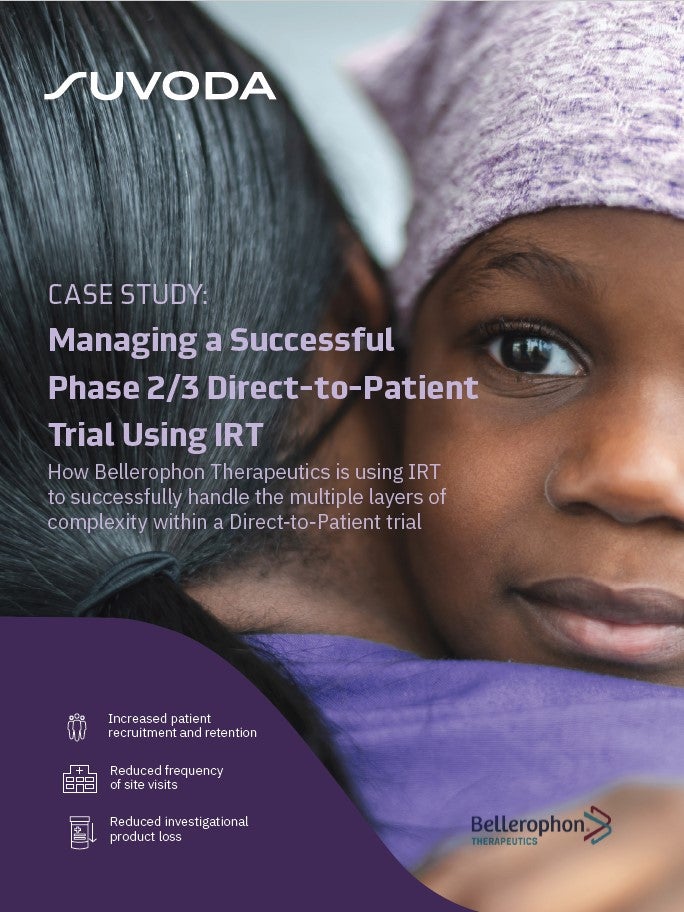 Direct-to-Patient Trials: How IRT Plays an Important Role in Bellerophon's Direct-to-Patient Trials
As the industry strengthens its focus on patient centricity, Direct-to-Patient clinical trials have emerged as a popular trial design that have the potential to increase patient recruitment and retention. IRT plays a crucial role in the success of a Direct-to-Patient trial. Because drug supplies are being managed and shipped from distribution facilities directly to patients' homes, a sponsor must have a high-quality system in place to accurately track the chain of custody, ensure patient-blinding and handle other logistical challenges. What You Will Learn Benefits and challenges associated with the Direct-to-Patient model Bellerophon's top considerations when implementing this trial design How IRT can equip study teams to successfully track chain of custody, ensure patient blinding, and handle logistical challenges
by Suvoda