Clinical data management on-demand firm TrialStat has implemented Pure Storage's FlashArray and Evergreen Storage subscriptions to expedite research in clinical trials.
Free Case Study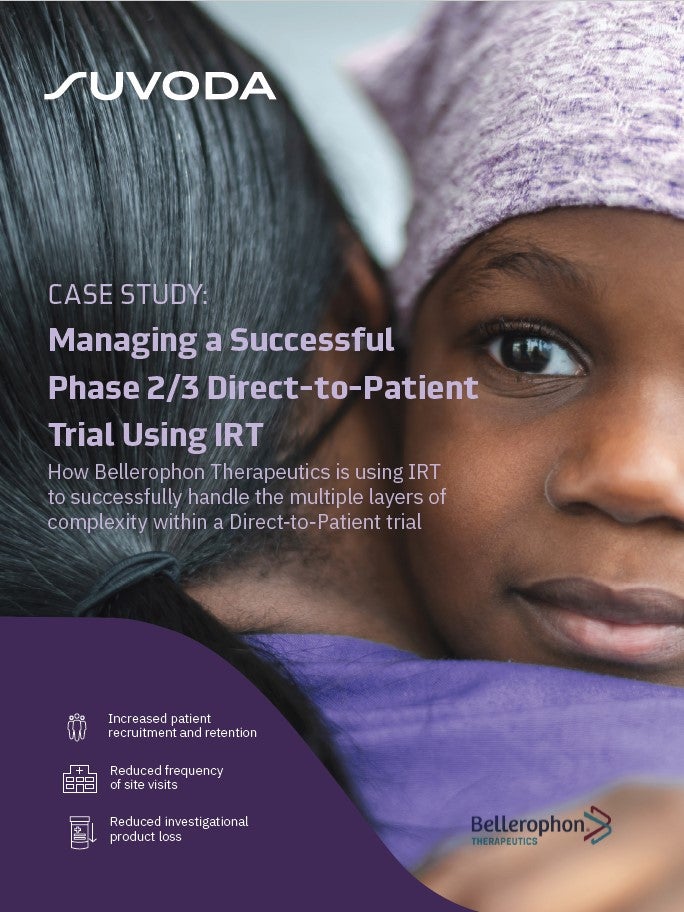 Direct-to-Patient Trials: How IRT Plays an Important Role in Bellerophon's Direct-to-Patient Trials
As the industry strengthens its focus on patient centricity, Direct-to-Patient clinical trials have emerged as a popular trial design that have the potential to increase patient recruitment and retention. IRT plays a crucial role in the success of a Direct-to-Patient trial. Because drug supplies are being managed and shipped from distribution facilities directly to patients' homes, a sponsor must have a high-quality system in place to accurately track the chain of custody, ensure patient-blinding and handle other logistical challenges. What You Will Learn Benefits and challenges associated with the Direct-to-Patient model Bellerophon's top considerations when implementing this trial design How IRT can equip study teams to successfully track chain of custody, ensure patient blinding, and handle logistical challenges
by Suvoda
The solutions will also enable always-on data management services for TrialStat clients.
Researchers in clinical trials gather and assess large quantities of information on the safety and efficiency of novel vaccines, drugs and medical devices.
One trial itself can run for years and generate millions of data from thousands of subjects worldwide.
The pace with which researchers obtain and work with the data determines the efficiency of the trial.
However, several data management solutions carry out batch processing overnight, increasing latency in capturing and access of data, thereby slowing the trial advancement.
To address this, TrialStat streamlines data management with an electronic data capture (EDC) platform that includes reporting in real-time, analytics and data extraction.
TrialStat substituted its traditional storage solution with Pure Storage FlashArray//X and could potentially provide researchers with quick and real-time access required to efficiently conclude trials.
The FlashArray's speed and capacity freed up by TrialStat's 11:1 data deduplication can expedite trial research and allow the company to devote time for novel innovations for storage maintenance.
Using Pure's Evergreen Storage subscription, TrialStat can update without interruptions and extend its infrastructure as required.
TrialStat president Chris Hamelin said: "Storage is now a competitive advantage for TrialStat, supporting clinical trials running 24/7 with real-time data access and reporting, and an uptime guarantee.
"We are proud to say that our solutions running on Pure Storage give our customers a strategic advantage by improving the time it takes to run clinical trials while controlling cost."
Free Case Study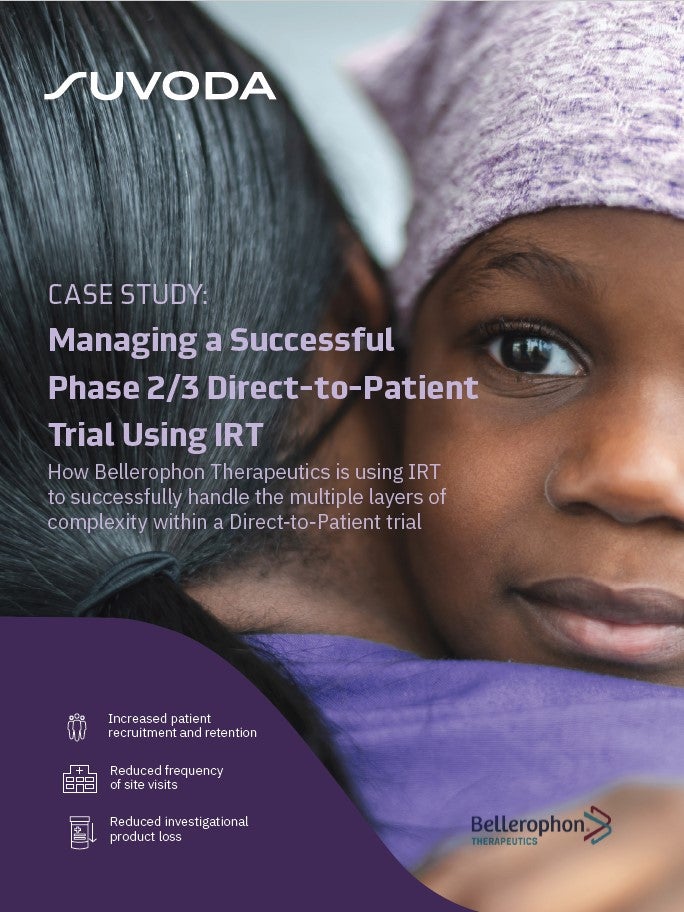 Direct-to-Patient Trials: How IRT Plays an Important Role in Bellerophon's Direct-to-Patient Trials
As the industry strengthens its focus on patient centricity, Direct-to-Patient clinical trials have emerged as a popular trial design that have the potential to increase patient recruitment and retention. IRT plays a crucial role in the success of a Direct-to-Patient trial. Because drug supplies are being managed and shipped from distribution facilities directly to patients' homes, a sponsor must have a high-quality system in place to accurately track the chain of custody, ensure patient-blinding and handle other logistical challenges. What You Will Learn Benefits and challenges associated with the Direct-to-Patient model Bellerophon's top considerations when implementing this trial design How IRT can equip study teams to successfully track chain of custody, ensure patient blinding, and handle logistical challenges
by Suvoda