Yamo Pharmaceuticals has enrolled and dosed the first subject in a Phase II clinical trial of L1-79 in adolescents and young adults with autism spectrum disorder (ASD).
Free Case Study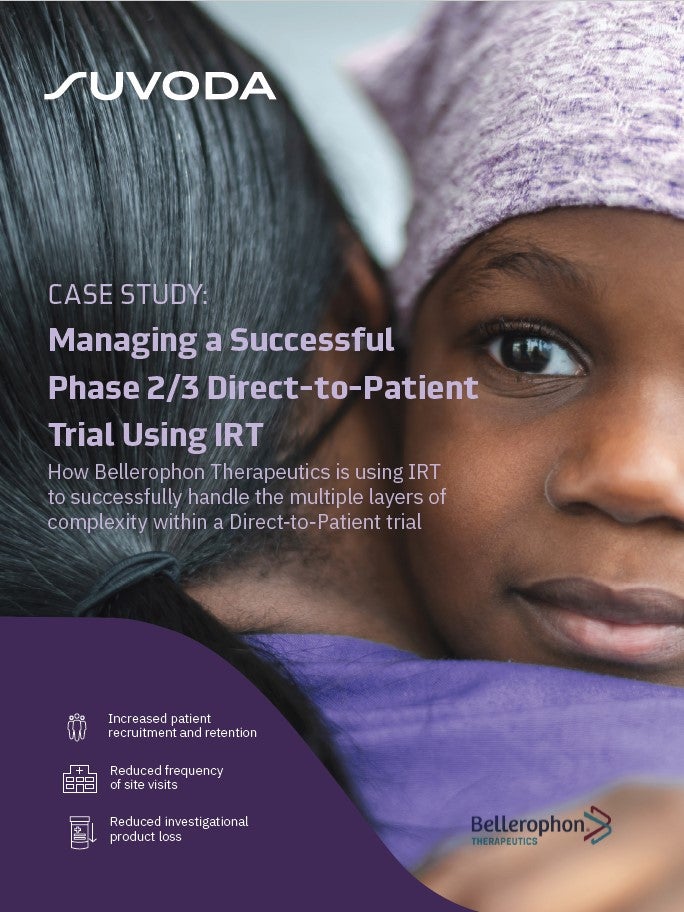 Direct-to-Patient Trials: How IRT Plays an Important Role in Bellerophon's Direct-to-Patient Trials
As the industry strengthens its focus on patient centricity, Direct-to-Patient clinical trials have emerged as a popular trial design that have the potential to increase patient recruitment and retention. IRT plays a crucial role in the success of a Direct-to-Patient trial. Because drug supplies are being managed and shipped from distribution facilities directly to patients' homes, a sponsor must have a high-quality system in place to accurately track the chain of custody, ensure patient-blinding and handle other logistical challenges. What You Will Learn Benefits and challenges associated with the Direct-to-Patient model Bellerophon's top considerations when implementing this trial design How IRT can equip study teams to successfully track chain of custody, ensure patient blinding, and handle logistical challenges
by Suvoda
The enrolment commenced at six research centres in the US.
An inhibitor of tyrosine hydroxylase, L1-79 can enhance the socialisation and communication symptoms by regulating the catecholaminergic pathways associated with ASD.
With a two-period, placebo-controlled crossover design, the multicentre, randomised, chronic-dosing Phase II trial will enrol nearly 50 subjects of the age 12 to 21 years.
These subjects will be randomised into a 1:1 ratio to one of two active therapy arms groups to receive 200mg or 300mg dose of L1-79.
On day one of Period 1, subjects in each dosing arm will be randomised and given either L1‑79 or placebo twice a day for 12 weeks.
On concluding this period, participants will washout for six weeks and will then be crossed over into Period 2.
Subjects who were given a placebo in Period 1 will receive L1‑79 and vice versa for another 12 weeks in Period 2.
Assessment of L1-79's effect on the key deficits in social communication and interaction as analysed using the BOSCC, Vineland Adaptive Behavior Scale Third Edition (Vineland-3), CGI-S and other social-communication interaction measures are the key goals of the trial.
Yamo CEO Chuck Bramlage said: "The design of this clinical trial builds on the insights gained in previous clinical experience with L1-79, in which a favourable tolerability profile and positive efficacy trends were observed in a smaller 28-day pilot study.
"The ongoing Phase II study will serve as a proof-of-concept to evaluate the impact of two doses of L1-79 in a placebo-controlled crossover study with two 12-week treatment periods in 50 adolescents and adults with ASD."
Currently, the only drugs approved by the US Food and Drug Administration for ASD are intended to treat irritability linked to autism.
Free Case Study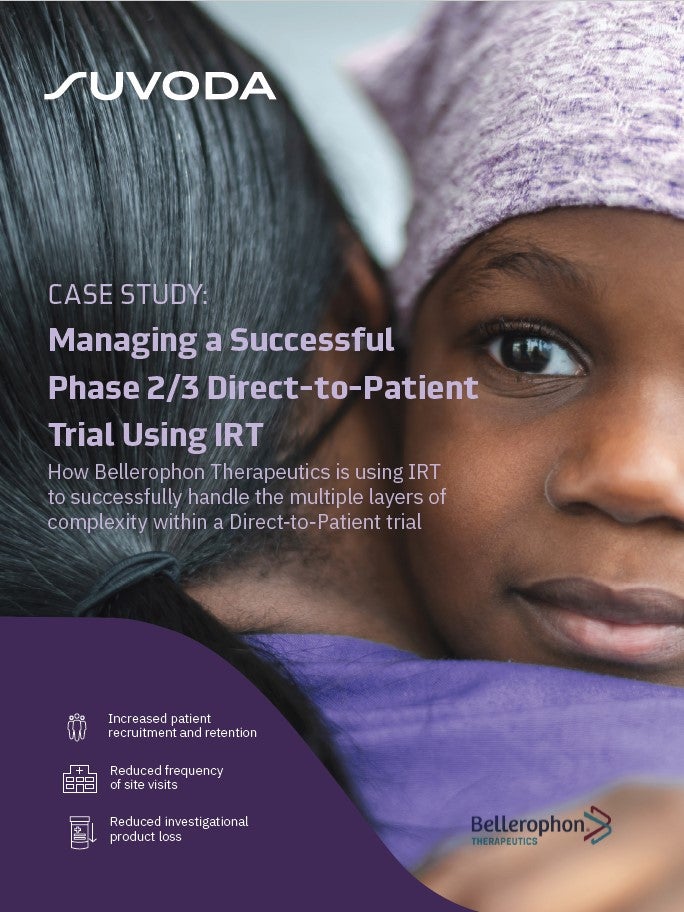 Direct-to-Patient Trials: How IRT Plays an Important Role in Bellerophon's Direct-to-Patient Trials
As the industry strengthens its focus on patient centricity, Direct-to-Patient clinical trials have emerged as a popular trial design that have the potential to increase patient recruitment and retention. IRT plays a crucial role in the success of a Direct-to-Patient trial. Because drug supplies are being managed and shipped from distribution facilities directly to patients' homes, a sponsor must have a high-quality system in place to accurately track the chain of custody, ensure patient-blinding and handle other logistical challenges. What You Will Learn Benefits and challenges associated with the Direct-to-Patient model Bellerophon's top considerations when implementing this trial design How IRT can equip study teams to successfully track chain of custody, ensure patient blinding, and handle logistical challenges
by Suvoda