Advarra has introduced a new platform called SiteIQ to expedite clinical trial start-up by facilitating protocol planning and site selection processes.
Free Case Study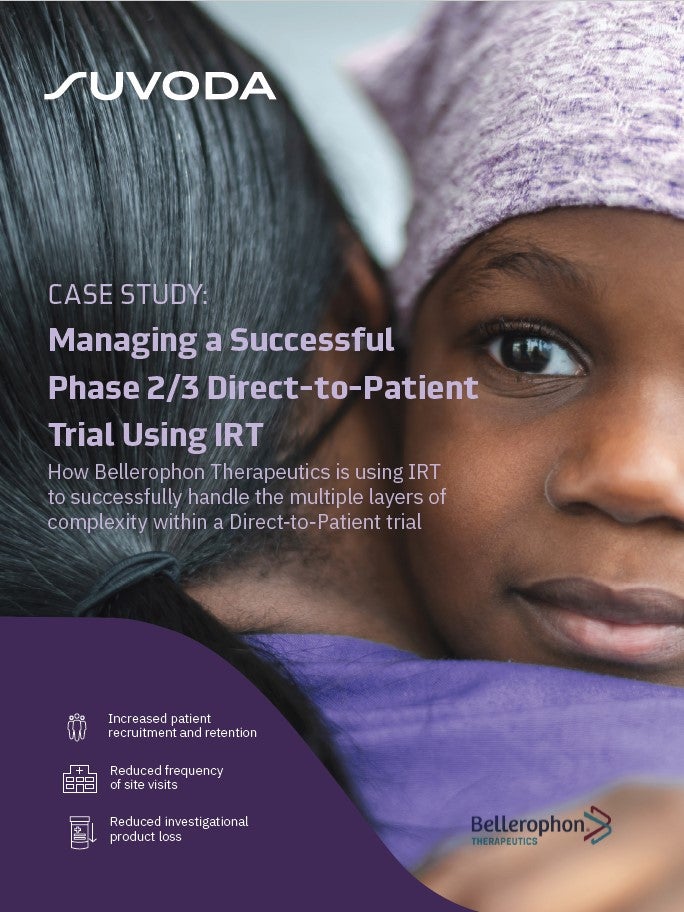 Direct-to-Patient Trials: How IRT Plays an Important Role in Bellerophon's Direct-to-Patient Trials
As the industry strengthens its focus on patient centricity, Direct-to-Patient clinical trials have emerged as a popular trial design that have the potential to increase patient recruitment and retention. IRT plays a crucial role in the success of a Direct-to-Patient trial. Because drug supplies are being managed and shipped from distribution facilities directly to patients' homes, a sponsor must have a high-quality system in place to accurately track the chain of custody, ensure patient-blinding and handle other logistical challenges. What You Will Learn Benefits and challenges associated with the Direct-to-Patient model Bellerophon's top considerations when implementing this trial design How IRT can equip study teams to successfully track chain of custody, ensure patient blinding, and handle logistical challenges
by Suvoda
The platform leverages Advarra's data resources and expertise to offer insights regarding clinical research site experience, capacity, quality and performance among others. It will also help in identifying the right participants for the trial.
The launch of SiteIQ is expected to help trial sponsors and contract research organisations (CRO) in making informed decisions on site selection and feasibility processes.
It also procures third-party data to offer curated recommendations to meet specific study requirements.
Swiss multinational biopharmaceutical company Ferring Pharmaceuticals is an early adopter of SiteIQ.
Ferring Pharmaceuticals Clinical Business Operations director Lindsey Mathew said: "In my experience as a big pharma sponsor, a mid-size sponsor, and a large CRO, having the ability to choose from a properly vetted selection of sites is critical.
"The lack of transparency in site quality, mixed with personal relationships with investigators, can create bias in the selection process that every sponsor wants to avoid.
"Advarra's service has proven time and time again to offer up a range of investigators that even adds to our efforts to ensure a diverse patient population more representative of the patients we hope to serve in the future."
Advarra chief technology officer Jeff Sidell said: "SiteIQ demonstrates our commitment to bridging the research ecosystem and connecting sponsors, sites, and patients through improved workflows and advanced technology solutions.
"With this holistic approach, we are addressing a key industry challenge through a data-driven solution."
Based in the US, Advarra focuses on providing regulatory review solutions. Earlier this year, the company launched the Insights Accrual Prediction Platform.
Free Case Study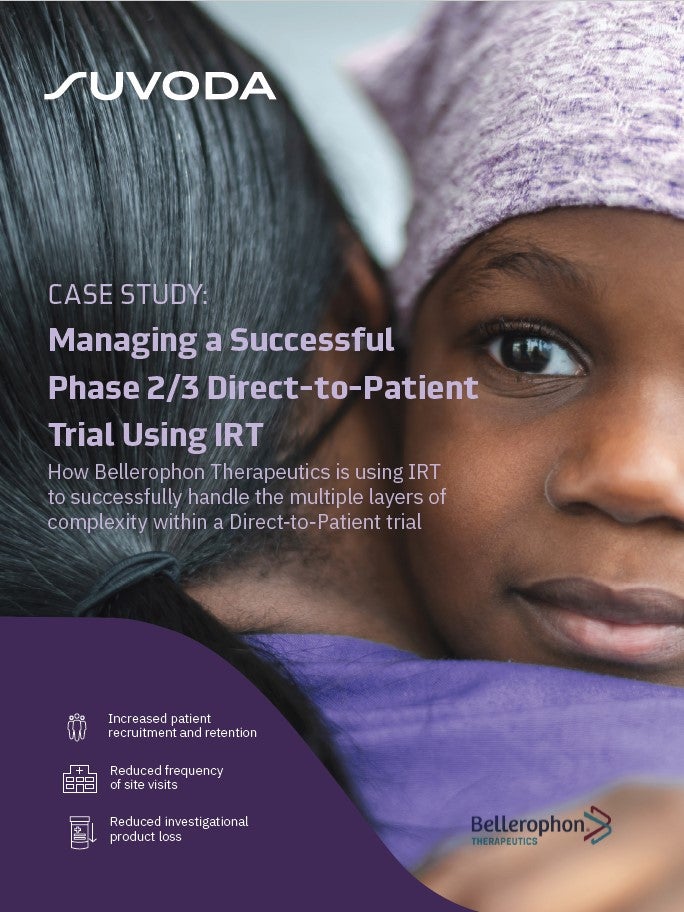 Direct-to-Patient Trials: How IRT Plays an Important Role in Bellerophon's Direct-to-Patient Trials
As the industry strengthens its focus on patient centricity, Direct-to-Patient clinical trials have emerged as a popular trial design that have the potential to increase patient recruitment and retention. IRT plays a crucial role in the success of a Direct-to-Patient trial. Because drug supplies are being managed and shipped from distribution facilities directly to patients' homes, a sponsor must have a high-quality system in place to accurately track the chain of custody, ensure patient-blinding and handle other logistical challenges. What You Will Learn Benefits and challenges associated with the Direct-to-Patient model Bellerophon's top considerations when implementing this trial design How IRT can equip study teams to successfully track chain of custody, ensure patient blinding, and handle logistical challenges
by Suvoda